February 22nd 2011


Hawks or falcons could be drafted in to get rid of nuisance seagulls in Carlisle.

The city council says it has received complaints about aggressive birds swooping to attack pedestrians during the nesting/breeding season from May to August.

The problem is so bad that Angela Culleton, the council's assistant director - local environment, has drawn up a report for the environment scrutiny panel, which meets on Thursday.

It says: "The majority of the complaints are related to industrial estates although some concern the city centre.

"More and more seagulls are moving into built-up areas to nest.

"The main reason is that food sources are readily available from people deliberately feeding them and the amount of takeaways and other food refuse strewn around roads and back streets.

"Kingstown industrial estate often experiences problems due to its gently-sloping roofs and its close proximity to Hespin Wood landfill site."

As well as swooping on pedestrians, the gulls are noisy and their nests can block gutters and gas flues, potentially with fatal consequences if fumes cannot escape. The gulls can also damage buildings by pecking at roof materials.

As a last resort, Mrs Culleton says, the council could employ "disturbance techniques".

She argues that the use of loud bangs to frighten off the birds is inappropriate in the city centre.

Birds of prey might be deployed, however. Her report adds: "The use of a hawk or falcon could be considered but if this method is used the birds of prey must be flown at least daily over a prolonged period."

Companies at Kingstown paid for a hawk to be brought in when they suffered a spate of attacks last May while McVitie's uses birds of prey to keep seagulls off its factory in Caldewgate.

February 17th 2011


THEY are a winged menace, often operating in gangs, swooping on innocent bystanders, stealing food from the hands of children and breeding at an alarming rate.

The seagull has made the rooftops of Birmingham city centre its home and complaints of 'mobbing' by the aggressive birds are growing.

Now Birmingham City Council pest controllers have vowed to fight back against the bird blight.

They considered shooting or drugging them, using distressing sounds, birds of prey, scarecrows, removing nests and even lasers to deter the gulls.

But, after ruling these methods out, they will replace the eggs with artificial ones to fool the birds to remain in their nests and out of harm's way.

A six-month trial begins in the Jewellery Quarter next month - the area from where most complaints have been received.

Head of environmental health Mark Croxford believes Birmingham is the first inland local authority to look at tackling the urban gull menace.

He said: "We are used to dealing with rats and mice, but there has been a sharp increase in complaints about gulls and we had no way of dealing with them.

"The herring gull has been almost as successful as humans at adapting to the urban environment, they see buildings as artificial cliffs and an ideal place to breed. They are not afraid of people and will travel hundreds of miles from the nest to forage.

"We will see if the artificial egg has any impact, and if it does then we can use it more widely and advise businesses to take their own action."

The methods ruled out included:

* Shooting: Not an option in a city environment

* Narcotics: Making large birds drowsy in flight is dangerous

* Sound boxes to mimic bird distress calls: Where used they have proved more distressing to residents than gulls

* Birds of prey: In urban areas gulls will attack larger birds in a 'mob fashion'

* Artificial bird of prey or scarecrow: Gulls quickly cotton on

* Removing nests: They build new ones pretty quickly

* Lasers: Cannot be used over a wide area as it has a 'light show effect'.

The seagull problem in urban areas has been growing. Areas hit recently include Cheltenham, Bristol and Gloucester, and solutions put forward have included making rooftops on new-build homes 'seagull proof', fining people who feed them, and using birds of prey to drive them off - a plan which was abandoned in Dumfries, Scotland, after the number of breeding pairs of Falcons soared, reaching 370.

The artificial egg trial is expected to be approved by councillors tomorrow.

February 11th 2011


A SEAGULL cull has been proposed in Dumfries.

Councillor Graham Bell suggested the radical solution to the town's problem with the aggressive birds.

He said this week: "Shooting the seagulls and having a cull would improve things."

The North West Dumfries councillor made the proposal at a meeting of the environment service committee.

Mr Bell asked fellow councillors to consider writing to the Scottish Government requesting a licence to cull the birds.

The suggestion came as councillors agreed to spend £40,000 to continue a seagull egg and nest removal scheme running for another year.

Mr Bell told the Standard: "The scheme does work but if you go up a ladder and remove eggs gulls will simply go and lay somewhere else.

"But if you poke holes in eggs, which it is legal to do, the gulls will continue to sit on them for several weeks and not lay more eggs."

He added: "The method of scaring off the gulls with hawks doesn't work as it just moves them onto other areas like Georgetown and Heathhall.

"I asked members to write to the Scottish Government asking for a licence for a cull of the birds. This has been taken under advisement."

Councillors agreed to seek government advice on the options available.

The council holds a general shooting licence but a special licence would need to be issued if a cull was to take place.

Meanwhile, eggs and nests will be removed from buildings in Dumfries and Heathhall over the next few months.

The project was introduced in 2009 following complaints from residents about attacks by aggressive seagulls.

In 2003 the council agreed to a temporary cull of the birds which angered animal rights campaigners.

February 9th 2011


Bird feeders have had their feathers ruffled by plans stop them throwing food and grain on Thorpe St Andrew River Green.

Councillors could attempt to impose a bylaw on the much-loved riverside spot, near Norwich, as they say the grass and tree roots are being destroyed by vast swathes of pecking geese, ducks and doves.

But wildlife enthusiasts, who regularly feed the birds, say it is a long tradition, they are not doing any damage and are, in fact, helping the birds.

Pat Woods, who is in her early 50s, lives at nearby Richmond Court, in Yarmouth Road. She said she goes out to feed the birds as much as she can.

"Bird feeding has been going on for years and years and years and lots of families come down and that's what they enjoy. They get enjoyment from feeding the birds. It is a bit like a sanctuary," she said.

She said the birds were not doing any harm and that recent improvements to the green had actually made it worse and some grass had disappeared.

Adam Goodrum, 29, of Yarmouth Road, was feeding the birds yesterday.

He said: "They are the main attraction here. Lots of families with kids come and feed the ducks. It has been such a harsh winter; if it hadn't been for people feeding them, they would have suffered. On a nice day like this, you think 'I'll go for a walk and feed the ducks'. The council should find better things to worry about than feeding the birds."

He said that the doves would not be able to get the feed if it were thrown on the water.

Last year, the council spent £60,000 building a bus shelter and a flag pole, and creating disabled access to the green. They are now hoping to plant grass seed.

They are advising people who want to feed the birds at the River Green to drop food in the river rather than on the ground.

Town councillor Eleanor Laming said that they wanted a "dialogue" with the bird feeders, but if they did not see an improvement in the future, they would consider a bylaw.

"It's better to have a dialogue with people and try to reach some sort of compromise", she said.

"We have spent an awful lot of money improving the river green.

"We would like it to look nice for everybody when they come.

"It think their intention is as nature lovers, but since there are other areas within a short distance, particularly in the marshes, that are more appropriate for the birds to live, we would encourage them to go there."

Fellow councillor Ian Mackie added that it was not about restricting families coming to feed the birds. "Everybody has done that in their time. It's about people not feeding the birds on an industrial scale", he said.

February 9th 2011


A £40,000 funding package to tackle the number of seagulls in Dumfries has been approved by councillors.

The money will be used to support an egg and nest removal programme, which is now in its third year.

A study has suggested the removal of eggs last year resulted in the reduction of young birds by nearly 90%.

Further efforts to tackle the urban gull problem will include extra signs discouraging members of the public from feeding the birds.

The number of breeding pairs of birds in the town has risen despite the scheme.

However, a council report said it would probably take four to five years for any "appreciable decrease" to be seen in the breeding gull population.

February 5th 2011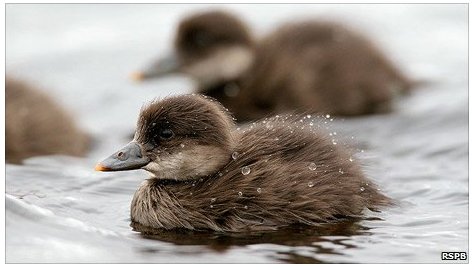 Climate change and mink could be among factors behind a decline in a species of duck, according to RSPB Scotland.

Dr Mark Hancock, an ecologist with RSPB Scotland, is at the end of the second year of a three-year study of common scoter in Caithness.

His research so far suggests that warmer weather has led to insects the birds prey on hatching earlier.

Mink, a predator, are also present around the remote lochs in Forsinard where Dr Hanock has been working.

The study is part-funded by Scottish Natural Heritage and has been carried out with the co-operation of local estates.

Dr Hancock said there were three possible factors affecting scoter numbers.

He said: "These are climate change, the availability of insects, molluscs and other invertebrates to feed the chicks, and predation.

"It could easily be a combination of all three but it is really too early to say at the moment."

The ecologist added: "We believe climate change may be a factor because warmer winters and springs could lead to aquatic insects such as mayflies and caddis flies hatching earlier in the season and not being available to the scoter ducklings when they hatch out themselves.

"And warmer winters may, over time, lead to more predators surviving and that could make an impact.

"Mink are definitely present in some scoter areas and part of the research is about finding out how many are about and what they are up to."

February 2nd 2011


Dumfries is one of many towns throughout the UK to have problems with seagulls swooping on members of the public.

It has seen a range of potential solutions suggested and implemented in recent years.

3 July 2006

An MSP suggested fines should be considered for people feeding gulls in Dumfries.

Dumfries MSP Elaine Murray wrote to the council to see what action might be taken, using current legislation, against anyone leaving litter on the streets, encouraging birds into the town centre.

Among her suggestions was a £50 fine for people deliberately feeding the birds.

1 August 2007

An appeal was made to the environment minister to find a solution to seagull problems in Dumfries.

Provost Jack Groom claimed the birds had been attacking the public, making the town centre a dangerous place for both visitors and residents alike.

He said he had witnessed seagulls swooping down to steal sandwiches from people walking in the area.

17 August 2007

Councillors hatched a new plan which they hoped would help rid Dumfries of its seagull problem.

It would mean that all new non-domestic buildings in the area would be subject to a planning condition that their roofs were made seagull-proof.

The move was unanimously agreed by members at a meeting of Nithsdale area regulatory committee.

24 June 2008

A summit in Dumfries hoped to tackle the growing menace of seagulls in urban areas.

The birds were being blamed for scattering rubbish and attacking people during the breeding season.

22 August 2008

The Scottish government unveiled a pilot project for destroying gull nests to tackle the "menace" of urban seagulls.

If successful, the project was to be considered for places like Aberdeen which also have major seagull problems.

However, the Royal Society for the Protection of Birds said a change in human behaviour would address the problem better than destroying nests.

9 January 2009

A three-year plan to tackle the problems posed by urban seagulls was drawn up.

A Dumfries and Galloway Council task force recommended a falcon be used to stop the birds nesting and action be taken to remove eggs from rooftops.

It was hoped the south west Scotland scheme could be used as a template for other areas to tackle their problems.

18 March 2009

A falcon patrol took to the skies over Dumfries in a bid to rid it of an urban seagull problem.

The predatory birds were being used to disturb the gulls and stop them from nesting.

It was hoped this in turn would help to reduce the number of incidents in the town centre where seagulls swooped on members of the public.

3 December 2009

A scheme using falcons to tackle urban seagull problems was dropped after the number of nesting pairs increased to 370 - an increase of 18.5% compared with the previous year.

A report to councillors said that due to the cost and outcome of the trial it was not recommended to continue.

14 September 2010

Councillors rejected the possibility of a by-law banning the feeding of seagulls in Dumfries town centre.

Dumfries and Galloway Council turned down both a by-law and rules which could have been enforced by its staff.

December 23rd 2010


New bins have been installed in an area of Bath that can be plagued by gulls.

The containers have replaced 15-year-old open-topped bins in Kingsmead Square.

There are a number of food businesses in the area and dumped leftovers have proved too much of a temptation for the pesky birds.

Local councillor Andy Furse (Lib Dem, Kingsmead) has been pressing Bath and North East Somerset Council to put in the new bins, which have strong flaps to keep out the gulls.

Mr Furse said: "Although it's been a long time coming, I am pleased to see these new litter bins and thank council officers for their persistence in securing funding.

"I believe this will contribute to reducing food sources for the gull population in Bath and will lead to a cleaner and more pleasant environment in Kingsmead Square."

December 5th 2010


| | | |
| --- | --- | --- |
| Flight risk ... A pyramid in action at Central Station. Pic: Ella Pellegrini Source: The Sunday Telegraph | | Light brigade ... RailCorp worker Brittany Foetschl with a pyramid at Central Station. Pic: Ella Pellegrini Source: The Sunday Telegraph |
THEY'VE tried trapping them, shooting them, baiting them and scaring them - and failed miserably to win the war against Sydney's pigeons. So how about blinding them with disco lights?

Sounds far-fetched, but Rail-Corp has unveiled its latest weapon to defeat the pigeon plague at city stations and it's a rotating, mirrored pyramid resembling a dance club disco ball.

The devices, called Eagle Eyes, work by reflecting light at various angles to confuse and disorient incoming pigeons. The company behind them claims the birds grow so irritated by the flashing lights they quickly find somewhere else to roost.

Fed up with flocks of pigeons pooping on commuters and staff and creating safety and hygiene issues, RailCorp has installed four of the devices at Central Station, with more to go up in the coming days. The pyramids have been placed in the ceiling of the main CountryLink concourse.

Another two will be located outside the tram stop. Special lights will be shone on the internal pyramids, while the two outdoors will rely on sunlight.

RailCorp customer service general manager Rino Matarazzo said the bird-deterrents had been well received by commuters, many of whom had thought the pyramids were part of RailCorp's official Christmas decorations.

RailCorp will install other pyramids at Hurstville and Waterfall stations by January.

The rail authority has for years tried to rid its stations of the birds, adopting measures ranging from trapping them in cages and moving them off to stringing up fake eagles to scare them.

But nothing has worked.

"The eagles seemed to keep the pigeons away at first, but then the pigeons got friendly with them, pecking at them, nesting on them and even trying to mate," Mr Matarazzo said. "We also tried putting up spikes everywhere, but the pigeons decided they were good places to nest."

Apart from being a pest, the mess left behind by pigeons created a slip hazard on platforms.

Hurstville station staff were so fed up with pigeons roosting there, they planned to hire a contractor to shoot them. That plan was dropped late last year after details of the planned shooting were made public.

October 19th 2010


Two pest controllers who spent their lunch break poisoning wildlife for their "personal amusement" have been jailed.

Terrence Webb, 28, and Mark Page, 35, were responsible for the deaths of 90 birds and a pet dog at a beauty spot in Wanstead Flats, east London.

The former Newham Council employees used bread laced with a deadly pesticide to kill birds and a pet dog at Alexandra Lake. The pair fed the toxic chemical used to kill cockroaches, fleas and bed bugs to birds over two days, boasting of what they had done to colleagues.

Experts said their reckless actions also put children playing around the lake in danger of being poisoned.

A Metropolitan Police spokesman said Webb and Page were jailed for four months and fined £7,000 each at Snaresbrook Crown Court.

The outbreak of animal deaths at the lake in March sparked a public health scare as police and wildlife officers sealed off the area for three weeks. At least 90 birds, including geese, moor hens, ducks and coot, as well as a pet German Shepherd, were killed.

Investigators discovered the two pest controllers had spent their lunch breaks at the lake on March 8 and 9.They baited bread with pesticide and left it on the ground before watching the animals die.

One of their first victims was a pet dog owned by a local woman who regularly walked it around the lake.

Webb, of Peregrine Road, Ilford, and Page, of White Hart Lane, Romford, admitted two counts of misuse of pesticides and two counts of theft. Charges relating to the storing of pesticide and the theft of a sprayer were dropped by the prosecution.

The two men were sacked by Newham Council once their actions came to light.

September 23rd 2010


Restaurants and takeaways in Gloucester have been warned of the consequences of inadvertently providing fodder for the growing gull population.

The city council has written to about 100 businesses after officers found evidence of takeaways while removing nests and eggs from rooftops.

The letters remind them they must provide bins outside their premises and keep the areas clean.

The council has introduced a "zero tolerance" campaign against litter.

Gloucester has one of the largest urban gull populations in the UK.

The letters also warn that the authority can take action if the businesses fail "to provide adequate provision for litter disposal".

Councillor Andrew Gravells said: "Everyone is well aware of the problems we have with gulls in the city. We are doing all we can to combat this and are seeking national advice.

"But businesses must play their part too. It is evident that the gulls are feeding on scraps from takeaway restaurants that are dropped in the street."

He added that people caught littering face fines of up to £80.

September 21st 2010


TWO PEST control officers who killed a pet dog and 90 wild birds with poison for their "own amusement" could face jail.

Mark Page, 35, and Terrance Webb, 28, spent their lunch breaks laying down bread laced with the pesticide Ficam-W at a beauty spot on March 8 and 9.

The pair wanted to see if the chemical, which they had stolen from their employer Newham Council, was capable of killing crows.

Instead a German Shepherd, described as its elderly owner's "sole companion", suffered violent convulsions and died 20 minutes after eating the poison on Wanstead Flats.

The corpses of 90 birds, including coots, moorhens, pigeons, crows and geese, were later found strewn over Alexandra Lake by the park warden.

Page and Webb both admitted theft charges and misusing Ficam-W during a short hearing at Snaresbrook Crown Court.

Ordering pre-sentence reports and bailing the men until October 18, Judge Simon Wilkinson said: "This is an unpleasant offence - all sentencing options will be open."

Page, of Barrington Road, Bexleyheath, Kent, and Webb, of Bancroft Chase, Rush Green, both admitted two counts of using a pesticide without approval and two counts of theft.

September 15th 2010


PLANS to ban people who feed seagulls from Dumfries town centre have been dropped.

Councillors yesterday backed away from a proposal to create a no-feeding zone.

They had been warned that it could be difficult to enforce a ban.

A vote divided the councillors of the planning, housing and environment services committee down the middle.

But with the vote at deadlock, the committee's chairman Roger Grant held the casting vote and opted to keep the status quo.

He said: "Clearly this is a problem in Dumfries, but we need to bear in mind the economic position we are in.

"I think we need to leave this for the winter and look to hold a campaign next year.

"We need to educate people about the problem and then approach it again in the future."

The report which went before councillors yesterday, suggested a no-feeding boundary of Buccleuch Street, Shakespeare Street, the Whitesands, and the High Street as an option.

The report also warned that repeat offenders of the gull feeding could recieve an exclusion order, forcing them to keep out of the zone.

But it was decided not to take forward the plans.

Councillors have tried removing nest eggs and introduced birds of prey around the town centre, in attempts to discourage the gulls from returning to the area.

September 2nd 2010


Those whose understandable frustration has led to calling for gull culls know all about the problems, but maybe less about the expense.

For sure, urban gulls have already cost millions. Culling involves shooting, poisoning or narcotising. Poisoning has long been illegal because of risks to other species and the active ingredient for narcotising was proscribed some years ago. For either to be used there would have to be a change in the law, which is unlikely.

So, we're left with shooting. This year, Bath supports 979 pairs (ie 1,958 breeding adults and, with non-breeders, a conservative total of 2,500 birds). That's a lot of birds to shoot and it would take a long time.

How would the cull be conducted? Would there be a team of vigilantes patrolling city streets, or snipers positioned on rooftops? And how would permission be obtained to shoot over the many hundreds of properties which make up the city of Bath?

The serious questions, though, are these: in the present security climate, how would such a plan be received by the police, the RSPCA, the RSPB and bird lovers? Who would pay for any damage to buildings caused by stray shots? And what would happen if someone were hit by a stray shot?

Wherever a niche appears, it will be filled. So, if only a hundred or two are killed, the difference in the population would probably not even be noticed by the following season.

Why? The large gulls do not breed until they are between three and six years old, so gulls hatched in Bath before 2010 could be seeking to breed for the first time from next year onwards, but so, too, will those hatched in all of the surrounding urban colonies which have been supplying Bath with recruits for many years.

Even if a large number of Bath gulls were killed, an even larger number would need to be killed in the other colonies in the Severn Estuary - a cull of more than 60,000 gulls. It would be unimaginably time-consuming and expensive.

What should we do? Just about everything in the name of pest control has been based on guesswork. How can we contemplate managing the issue if we don't know what we're dealing with? Without research, the inevitable prospect is one of problems and expense increasing in direct proportion to rapidly growing urban gull populations.

August 25th 2010


THE fight against seagull attacks on rubbish in Ilfracombe is continuing, with North Devon Council taking to the streets to raise awareness of the problem.

Over the last three weeks, staff and councillors have been talking to residents about how they can help the situation, covering areas such as Oxford Grove and the High Street. They've been joined by some of the town's street champions and representatives from Transform, the neighbourhood management programme for Ilfracombe.

Ward councillor and Lead Member for Waste and Recycling, Cllr Paul Yabsley, said: "Many people put out their waste and recycling the evening before their collection. This wouldn't normally be a problem. However, in Ilfracombe, waste is often targeted by seagulls, which means some streets are left littered with rubbish before our teams even get to them.

"Therefore, we've been speaking to local people face-to-face over the last few weeks to offer tips on how to prevent seagull attacks. This has included information about discounted gull guards they can buy or simply putting a blanket over their rubbish bags to deter the birds."

During the evening rounds, staff have also been offering general advice about waste and recycling services.

August 25th 2010


Contractors abseiling around Portsmouth's Spinnaker Tower have noticed signs of the local seagull population falling.

While cleaning the exterior of the 170m tower, they have noticed a much smaller amount of seagull droppings.

An RSPB spokesperson said: "Many of the UK's gull species are in decline".

Seagull excrement can react with water to produce a mould which attacks the masonry of the Spinnaker Tower.

Cleaners are called in to clean the viewing windows and exterior structure of the

Spinnaker Tower several times a year but recently have only had to spend half the time cleaning the droppings from the tower compared to the same time in 2009.

RSPB spokesperson Sophie McCallum said: It's very difficult to calculate gull numbers at just one site, but we know the herring gull population is falling dramatically."

The UK breeding population of herring gulls has declined from 750,000 pairs in 1993 to just 378,000 pairs now.

As a result, the herring gull is now classified as on the Red List of species most in need of conservation.

The figures may seem surprising to anyone living on the coast where seagulls nesting on rooftops and foraging in rubbish are seen as vermin.

However the RSPB says more birds moving into town is a symptom of a lack of food in their natural habitats.

Sophie McCallum said: "These are wild birds just trying to survive.

"Their marine habitat and food availability is under threat which is why we see so many of them moving into towns, but the population as a whole is under threat."

Ms McCallum appealed to people not to feed seagulls in towns which can cause them to become a nuisance.

August 19th 2010


PEOPLE are being urged to remove anti-bird netting from rooftops after a herring gull had to be released by the RSPCA.

The bird got tangled up above a shop on Mostyn Street in Llandudno. An officer from the animal charity had to be called in on August 6.

The officer managed to free the distressed bird from the three-storey high property. It flew away after unharmed. But it's sparked a warning message from RSPCA inspector Mike Pugh about the dangers house protection such as netting can pose to wildlife.

He said "Seagulls and other wild birds often nest on top of houses and shops.

"Whilst it is completely understandable that property owners will seek to protect their premises we would ask that they think seriously about the measures they adopt."

August 17th 2010


Londoners were today given an unprecedented warning against "divebombing" by seagulls.

After a spate of attacks across Britain, the RSPB today said the birds had become a new urban menace and told Londoners not to approach them or throw food out for them.

Experts say that a "perfect storm" of the breeding season combined with the first chicks hatching has led to an explosion in the birds across London.

The RSPB says that numbers of herring gulls have doubled in the capital since the Eighties, with about 20,000 pairs now nesting here.

Black-headed gulls, common gulls and black-backed gulls are also common. The birds are attracted in increasing numbers by the rubbish on the streets and in landfill sites.

Pregnant pop star Lily Allen has turned to Twitter to complain about the birds' distinctive calls, telling her followers: "Seagulls in W1. I've never heard them here before tonight. Must be a shift in the weather or summat."

The RSPB says that the birds have been unusually noisy this year. "City gull numbers have not massively increased, but the noise they make has," said spokesman Tim Webb. "It's made more Londoners aware of them.

"More and more birds are living here, because the fishing boats they normally follow just don't exist any more - instead they are nesting on London roofs."

The RSPB today warned Londoners not to approach the birds, which have been known to attack people. They also warned that if the gull population continues to increase, councils may have to come up with measures such as designing "gullproof" rubbish bins.

"I'd urge Londoners to be as tolerant as possible," said Mr Webb. "Gulls are often perceived as intimidating, but if they are aggressive it's because they're either protecting their young or feel threatened by us. They are very protective parents, but they'd much rather poo on people than peck them," he said. "However, they will divebomb people if provoked."

In Sussex, 29-year-old student Amy Derham was left with a deep head cut after she tried to walk round a baby bird lying on a pavement. It is thought the adult bird struck to protect the fledgling, although Ms Derham had crossed on to the other side of the road in Hove.

She said: "I saw a baby seagull sitting down on the pavement making a high-pitched squeak. I thought to myself I am not going anywhere near that' so I crossed the road. The next thing I know I was hit on the head by what looked like an adult seagull swooping down - it was extremely painful and happened all of a sudden."

August 16th 2010


SEAGULLS were illegally killed by pest controllers according to a charity set up to rescue and protect the birds.

Tim McKenzie from National Gull Rescue and Protection says pest control company Ecolab killed protected herring gulls while working at BT's premises in Polegate.

BT and Ecolab say the pest controllers killed two chicks which they thought were lesser black backed gulls, an unprotected bird, not the protected herring gulls. Ecolab has said the two species look very similar but Mr McKenzie has slammed their actions.

He said, "The lesser black backed gull and the herring gull look completely different and these people should know the difference - it is their business to know the difference. Lesser black backed gulls are so few and far between. I know there are no colonies in Polegate."

Mr McKenzie said even if the birds killed were lesser black backed gulls, the pest controllers would have had to get a special license from Natural England to legally cull the gulls. He said such a license is given out if the birds are causing a health and safety issue.

Mr McKenzie said, "This sort of license from Natural England would apply in the case of a hospital for example, not a BT depot with trucks driving in and out all day. What sort of a health and safety issue would be caused there?"

Ecolab employees have also been criticised by Mr McKenzie for using shovels as a deterrent to fend off the birds while on the roof.

Mr McKenzie complained to BT about Ecolab and has said the response he received is a 'whitewash'.

A statement issued by BT on behalf of both firms said, "BT employed a specialist firm, Ecolab, to deal with a pest control problem after gulls had created a hazard at its building in Eastbourne.

"Nesting gulls are recognised as a potential cause of hygiene, health and safety hazards, including diseases that affect humans and other animals.

"After the work was completed, BT received a complaint that the birds may have been protected herring gulls. Naturally, we take complaints very seriously and an investigation was undertaken. Of course, the policies of both BT and Ecolab are to comply with all applicable laws and regulations governing the humane removal of pests.

"BT and Ecolab are both independently recognised as environmentally responsible companies."

May 14th 2010


DUMFRIES is arming itself for the 2010 battle with seagulls as a councillor insists they have returned with a "vengeance".

An egg and nest removal swat team are now on hand for sites around the town.

But Councillor Andrew Wood (pictured) believes the problem is worse than ever.

He said: "I was parked up in Irish Street the other day and you can see them swooping down and there seems to be more of them this year.

"The gulls have returned with a vengeance.

"We need to do something which would have a lasting affect as what we did last year hasn't worked as well as it should.

"We need to bring in tougher hawks into the high street and do something to make the gulls' eggs infertile."

Dumfries has a long-running issue with the problem birds. Every summer, residents report being dive-bombed and having food stolen from their hands.

Last year, the authority spent £50,000 on having a falcon in the High Street to scare the gulls away. But in December it was admitted that the bird of prey plan failed – after seagull numbers went up.

Another £42,000 has been made available to continue the nest and egg removal programme.

Yesterday, a council spokesman said: "The council is undertaking a programme of egg and nest removals from affected residential and commercial properties again this year, with the aim of reducing the number of gulls in the town.

"Last year 671 nests and a total of 1,535 eggs were removed from around Dumfries and the council is keen to build on that success during the current breeding season.

"The egg and nest removals should decrease the numbers of gulls in the town making the remaining birds feel less confident about nesting."

May 14th 2010


Seagulls across Sussex are being shot and killed in their dozens.

Bird protection groups have offered a £5,000 reward to catch the gunmen responsible for the deaths of up to 50 gulls in a string of attacks across the county in the last fortnight.

The birds are being cruelly shot down from rooftops but in some cases the maimed birds are not dying instantly but are plummeting from rooftops and then dying slow, painful deaths.

The National Seagull Rescue and Protection (NSRP) campaign has had to be called out to care for many of the injured birds.

In the last week the charity has been called in to care for two birds attacked in Hove and another one Brighton, one in Seaford, plus nine in Eastbourne.

Investigators believe the same people are repeatedly shooting at birds. Residents in the Hazlewood Avenue area of Eastbourne have reporting finding about 40 dead gulls in the last two weeks alone.

All 11 species of seagull found in Britain, including the most commonly seen herring gulls, are protected species under the Wildlife and Countryside Act 1981.

Shooting a seagull is a criminal offence which carries a maximum sentence of six months in jail or a £20,000 fine.

Anyone with any information on the shootings should contact NSRP on 07765 114599 or Sussex Police on 0845 6070999.

May 13th 2010


A second nest and egg removal programme has been launched in Dumfries in a bid to curb the town's seagull numbers.

The scheme was first introduced last year as part of a Scottish government-backed anti-gull initiative.

The town hosted a national summit on the issue before being selected to pilot efforts to tackle the problem.

A first initiative was to fly a falcon to disrupt gull breeding but it was found that the number of breeding pairs actually increased after that effort.

The second phase of the programme was the introduction of a nest removal scheme which saw almost 700 destroyed along with 1,500 eggs.

The service - which is provided free by Dumfries and Galloway Council - is now being repeated in the hope that it will have a marked impact on gull numbers.

Business owners and householders in Dumfries and nearby Heathhall with nests on their properties are being urged to report them to the authority.

The removal scheme will run until the end of July.

May 13th 2010


Advice on how to combat birds

THE menace of marauding gulls has led to a leaflet campaign being launched yesterday giving advice to the public about how to combat the nuisance they often cause in urban areas.

Although Highland Council has no statutory duty to take action against gulls, it recognises the misery that gulls cause many homeowners and businesses throughout the nesting season, which is just about to begin.

Copies of a leaflet on seagull control will be distributed from council service points, libraries, transport environmental and community services offices and on the council website at www.highland. gov.uk/seagullcontrol

It provides information and advice on gulls and the law; problems caused by gulls; the controlling of gulls; deterrent measures; and education about gulls.

Councillor John Laing, chairman of transport and environment services committee, said: "Gulls are very opportunistic scavengers and take full advantage of the left-overs that we humans provide for them in our urban areas. Food sources can either be deliberately provided by putting out food scraps, bread and take-aways or indirectly by overfilling household bins or littering.

"I urge everyone not to drop litter in the streets and not to feed gulls at the riverside, harbour or park.

"I also call on homeowners not to feed seagulls in their gardens and to ensure that their bin lids are closed; and businesses to ensure that their waste is securely stored."

The leaflet also explains that only licensed contractors with specialist skill and experience are legally allowed to kill certain species of gulls. It also explains what homeowners and businesses can do to prevent gulls nesting on their properties and gives examples of the different types of deterrent measures that can be taken to try to prevent gulls from nesting.

Councillor Laing added: "There is no easy answer to dealing with the problem of gulls in urban areas but if we can help to educate the public and advise them of the measures available to them then hopefully we can make a difference."

May 12th 2010


A pair of seagulls have abandoned the high life to set up home at the bottom of a garden.

The seabirds, which usually choose the highest point they can find to set up home, have chosen a spot on the grass in Rosemary Howat's Hove garden to start their family.

Seagull expert Tim McKenzie said the case was extremely unusual and he had never heard of seagulls choosing to build their nest on the ground before.

Now conservationists are considering installing an electric fence around the nest to protect the endangered birds.

The gulls had been visiting the garden for several days when they started building a nest on the ground.

Then on Monday the female laid an egg. The love birds are nowfiercely guarding their precious charge.

Mrs Howat, of Livingstone Road, said: "The seagull had been coming and going for a while, but then on Monday morning I noticed she had laid the egg right on the ground and made her nest there.

"I have been trying not to get too close because they will probably be quite territorial. Both of them have been guarding it quite fiercely."

Keen to keep her new feathered friends happy, Mrs Howat has been feeding them pieces of bread and fish and said even the family's pet has been keeping clear.

She said: "I was worried that my cat would try and go for them, but it's been keeping well out of their way."

Mrs Howat's visitor is a herring gull, but all kinds of seagulls are protected species meaning the bird, their eggs and nests need looking after.

Mr McKenzie, of the National Gull Rescue and Protection charity, said: "This must be a first.

"I have never heard of a gull making its nest on the ground before – it's unheard of.

"The worry is as soon as it hatches a fox or a cat will help themselves.

"I cannot think of any reason why a gull would do this.

"We may have to look at putting an electric fence around it to keep them away.

"Moving the nest could result in a £5,000 fine and up to six months in jail."

May 4th 2010


PEOPLE who feed pigeons are adding to the borough's vermin problem, according to the council.

The authority has called on residents to stop giving food to the birds, which it warns carry harmful bacteria, viruses and mites.

A council spokeswoman said pigeon droppings, apart from being unsightly, can also damage buildings and block drains.

She said: "Residents often ask if Redbridge Council provides a pigeon removal or destruction service. The answer is no.

"Redbridge Council's Environmental Health Service reduce the number of pigeons through natural control methods only, which include asking people not to feed the pigeons, letting them know about the problems associated with feeding them and explaining why they should stop.

"The council also puts 'no feeding' signs up in public places where pigeon feeding takes place and gives advice on how to install anti-perching appliances to buildings to stop pigeons roosting.

"The amount of pigeons depends on the availability of regular food and the only effective way to control them is to stop feeding them and prevent them from roosting and nesting on buildings.

"Not feeding the pigeons won't result in them dying of starvation but they will breed less or move to another place."

May 4th 2010


Angry seagulls are regularly attacking workers on a Carlisle industrial estate, leaving some so afraid that they will no longer risk walking between buildings.

The huge birds are flocking to the Kingstown estate in growing numbers so they can nest on roofs.

But workers in the area are living in fear of the birds, which regularly "dive-bomb" them, probably because they consider them a threat.

Many say the attacks resemble scenes from the classic Alfred Hitchcock horror movie The Birds.

Some companies have now resorted to hiring a bird of prey expert, who has flown a hawk in the area to scare off the seagulls while other have used anti seagull sirens.

With the nesting season about to get underway, employees on the estate are bracing themselves for a surge in attacks as the seagulls battle to protect their chicks.

Truck and car companies are also being frustrated by the amount of seagull muck.

Ian Wheatcroft, branch manager at Ciceley Commercials, the Mercedes-Benz commercial truck and van dealership in Petersfield Road, said: "I've been dive-bombed on numerous occasions.

"The seagulls are protecting their young after making nests on the roofs round here.

"Some of these birds are a fair old size, with a wing span of about three feet. It can be quite frightening when they come swooping down at you."

He said his research suggested that seagulls often return to the place where they were reared, steadily adding to the bird numbers.

The firm's workshop controller Mark Walters said he had noticed a definite increase in seagull numbers, and he recently saw around 50 of the birds circling above the building where he is based.

"It's definitely getting worse," he said. "It never used to be a major problem here."

One of the key problems for the companies affected is the seagull mess – which has to be washed of vehicles quickly because it is acidic and would otherwise stain paint-work.

The firm hopes the use of a hawk or eagle of some kind may keep seagull numbers down.

At the nearby Graham (Commercials), on Kingstown Broadway, director Stuart Graham said: "The seagulls are a major problem. Basically, people don't feel safe walking from one depot to another because once the chicks are born the birds become very protective, swooping down on people. It's a problem across the estate.

"You can't walk round the corner without being dive-bombed. It's scary – you have to watch your back all the time. Even though it's just 100 yards from our office to our depot round the corner, some people won't risk it – they drive round in the van."

Across the road, at the Bendalls Hinds paint and body car workshop, general manager Darren Wildey said: "It's a big problem for us too.

"Because the seagull muck is so corrosive, it spoils paint-work, and we've had to redo vehicles because of it.

"The firm over the road used a siren, with a recording of a seagull in distress, but that just scared them on to other buildings."

Several of the firms said they were advised by environmental health officials that they would have to come up with methods of dealing with the seagull problem themselves. But the law prevents any person from interfering with a bird which is caring for chicks in a nest.

Gary Swainson, 39, who has been a falconer for 30 years, uses his birds to help McVities keep seagulls off their premises in Carlisle, said: "The problem is definitely getting worse.

"Many seagulls are just not going out to sea and many have permanently become inland birds.

"It's probably a lot to do with there being more fast food outlets, and that means they can make good living."

April 29th 2010


CARDIFF council has launched an unusual new scheme to tackle the persistent seagull problem in the city.

Fake seagull eggs are being offered to businesses in order to discourage the birds from congregating and in some cases attacking people.

The eggs are used to replace real eggs, which are taken away. With fewer young, the birds are less aggressive.

The gull population is on the increase in urban areas and can often lead to problems such as noise, nesting on roofs, swooping to protect young and the ripping open of rubbish bags.

A leaflet has been produced by the council's Pest Control and Waste Management services, which offers advice to businesses across the city.

Residents in Birchgrove faced a serious threat from the airborne nuisances in the past couple of years.

Unsuspecting home-owners on Groveland Road were dive-bombed by the birds and some were too afraid to leave their houses.

Now, due to the instalment of roof-top spikes, the problem seems to have subsided.

Jennifer Reynolds, who lives on the street, said: "Hopefully it's going to be fine this summer, but for the past three or four years, some of our neighbours haven't even been able to go out in their gardens."

Another resident, Susan Bull, said: "It's a really clean area around here so I don't know why they chose to nest here.

"They don't make a lot of noise, but then when they had their babies they were horrible."

Cardiff council has offered advice about the presentation of food waste for collection, particularly in areas served by the tri-bag system. Residents should put food waste in bio bags, which are collected in the morning.

If disposed of in black bags, which are collected in the afternoon, there is a longer opportunity for gulls to rip the bags open.

A trial scheme involving kerbside caddies will also begin shortly. Areas with the most reported cases of seagull nuisance will be some of those involved in this food collection scheme, which involves larger versions of kitchen caddies placed at the kerbside for collection.

It is also best to avoid putting out excessive amounts of food for wild birds in the garden, says the council. Gulls will return year after year to areas where they find food and will scare off other birds.

Cardiff council's cabinet member for the environment, Margaret Jones said: "It is clear that the seagull population in Cardiff is growing, as are the subsequent problems associated with the birds.

"By making helpful tips and recommendations available by leaflet, through our website and via the pest control service, we are giving people the opportunity to lessen the chances of seagull nuisance."

April 27th 2010


As the breeding season gets underway, Cardiff Council is offering support and advice to help minimise seagull nuisance.

Executive Member for Environment Councillor Margaret Jones said: "It is clear that the seagull population in Cardiff is growing, as are the subsequent problems associated with the birds.

"By making helpful tips and recommendations available by leaflet, through our website and via the pest control service, we are giving people the opportunity to lessen the chances of seagull nuisance."

The gull population is on the increase in urban areas and can often lead to problems such as noise, nesting on roofs, swooping to protect young and the ripping open of rubbish bags.

A leaflet by the council's Pest Control and Waste Management services offers information and advice to businesses across the city. The team also offers a service to commercial premises, where eggs are carefully replaced with plastic imitations.

With fewer young, the birds are then less aggressive.

Businesses are advised to:

Make sure left over food is quickly cleared from outside areas

Dispose of edible litter in gull-proof hidden bins

Present food waste for collection in wheeled bins or similar containers; plastic bin bags are an open invitation for gulls to explore

Discourage people from dropping food litter on the floor (this is an offence and the person committing the offence may be liable for a penalty)

Consider using parasols. These tend to "hide" food from seagulls' vision

Gulls are drawn to urban areas by the vast amount of food on offer and there are also cautionary measures that can be taken by residents. These include following the Council's advice about the presentation of food waste for collection, particularly in areas served by the tri-bag system.

Food waste for example, should be placed in bio bags, which are collected in the morning. If disposed of in black bags, which are collected in the afternoon, there is a longer opportunity for gulls to rip the bags open.

A trial scheme involving kerbside caddies will also begin shortly. Areas with the most reported cases of seagull nuisance will be some of those involved in this food collection scheme, which involves larger versions of kitchen caddies placed at the kerbside for collection.

It is also best to avoid putting out excessive amounts of food for wild birds in the garden. Gulls will return year-after-year to areas where they find food and will scare off other birds.

April 18th 2010


IT WAS meant to be an inspired way to stop flocks of seagulls terrorising a town centre. Eight falcons were brought in to Dumfries to scare off the pests. Their presence alone was expected to do the trick – to keep animal rights sensibilities they had not been trained to attack the intruders.

But the gulls quickly learned that they were in no real danger – so more actually flocked there. The trial project – the first of its kind on the UK – has been declared a disaster in an official report. A new trial is now being planned with birds of prey taught to exert "direct lethal control".

The Dumfries trial, which cost about £50,000, involved experts from the local council, the Scottish Government and Scottish Natural Heritage.

The problem was recognised by Mike Russell, the former SNP environment minister in 2008, who said it was time to "get tough on seagulls and tough on the causes of seagulls." The trial was expected to pave the way for seagull control in communities around the Scottish coast.

But the experts' report found that after being frightened by the falcons for the first five weeks of the ten-week study, the gulls then started to ignore the birds of prey.

Sensitive to complaints from animal rights groups, the falcons had not been taught to hunt by their trainers, in order to make sure they did not kill the gulls.

Instead, the falcons were expected to simply perch on buildings or fly around among the seagulls birds to intimidate them into fleeing.

However, in the report for the government, the trial organisers wrote:

"It was apparent, however, that both species of gull began to tolerate the presence of falcons as the trial period progressed and no actual threat occurred."

The report concluded that the total number of lesser black-backed and herring gull nests rose from 138 during 2008 to 149 last year.

"The programme implemented therefore failed to reduce the nesting population," it said.

The report recommends a further trial, which involves either "direct lethal control" by the falcons, or allowing the birds of prey to swoop down on already-dead gulls to scare the other birds.

The new kill-on-sight policy, however, has not found favour with the Royal Society for the Protection of Birds Scotland. A spokesman said: "The RSPB favours non-lethal solutions and believes that gulls should only be killed as a last resort."

April 1st 2010


PEOPLE in Ilfracombe are being offered help in their fight against seagulls and litter.

North Devon Council has bought 100 devices called gull guards, which aim to prevent seagulls from attacking rubbish left out for collection. These can then be bought by local people at a subsidised price.

The product is suitable for certain homes in the town where wheelie bins cannot be used. It is a smart, stainless steel tube that fixes permanently on a house wall. This contains a strong, retractable mesh bag, which can then protect up to three black bin bags.

Cllr Rodney Cann, Lead Member for Waste and Recycling, said: "As spring approaches, seagulls start their nesting season, which is a real issue for residents in Ilfracombe. This is because many homes leave their rubbish out in black bags, which are then at risk of seagull attack.

"These gull guards can help protect those bags from being ripped open, preventing roads and pavements from being littered, and saving residents the hassle of cleaning up afterwards."

The gull guard offer follows a successful pilot project organised by neighbourhood management team, Transform. The guards usually cost around £33 each. However, the council has bought these at a reduced rate, and is offering them to local people at a further discounted price of £12. They will now be handed over to the Ilfracombe Street Reps Network, to distribute to households that want to buy one.

Ilfracombe Street Rep, Wendy Butler, said: "Seagulls along the coast can cause real problems for residents and we are keen to help come up with a solution. We know that there are many responsible people here who make a great effort to cover their black bags, sometimes using things like sheets or curtains. However, this is often messy and ineffective. Therefore, our volunteer reps will be going out over the next few weeks to see if households in suitable areas want to take up the gull guard offer."

If the gull guards prove popular in Ilfracombe, the council will look at whether they could work in other coastal areas.

April 1st 2010


Fed up residents have signed a petition calling for the council to tackle the town's seagull population.

More than 250 people across town put their signatures on the document saying the herring gulls' noise were making their lives a misery.

Daphne May, of Winchelsea Road, who organised the petition, made her pleas at a cabinet meeting on Monday, calling for the council to take steps to limit gull numbers.

She said: "The noise from the gulls is horrendous and even earplugs and headphones barely blunt it.

"Food has been snatched from children by gulls in Winchelsea Road and two mothers had to leave the park while picnicking because they were harassed by the birds."

The pensioner called on the council to launch a campaign against feeding the gulls as well as spiking chimneys and roofs.

Legislation bans adult herring gulls from being culled as they are a declining species and protected by the British Trust for Ornithology.

Richard Homewood, the council's corporate director for environmental services, said a number of limited options were open to the council such as egg oiling and replacement to restrict new gull numbers, and deterring people from feeding the birds.

Councillor Robert Cooke said he had a 'lot of sympathy' for residents.

He said: "I remember being chased by a gull when I was 16.

"An educational campaign to get residents not to put out black rubbish bags before collection would go a long way."

Cllr Richard Stevens said gulls were 'part and parcel' of Hastings as a seaside town.

He said: "Where there is a food source gulls will concentrate in that area."

Cllr Phil Scott said: "If you live in a seaside town you should expect to see seagulls. I accept that for some seagulls are a problem and in some of the more problematic areas such as the Old Town, central St Leonards and parts of Ore.

"The council needs to work with residents in tackling some of the problems associated with seagulls such as ripping black rubbish bags apart.

"Black bags should only be put out on the day of collection, so residents may need to consider taking some responsibility themselves and proofing their roofs which would stop herring gulls from nesting.

"I do not accept a need to cull gulls as we are being advised that their numbers are in decline. In any event the herring gulls are a protected species.

"Hastings Borough Council has in place an animal welfare charter."

- After the meeting, the local authority said it wants people to think carefully about where they place bin bags.

Richard Homewood said: "Seagulls really are a part of Hastings but as the weather gets warmer we see a huge increase in the number of birds attacking bin bags and spreading their contents all over the street.

"I would urge residents to keep bin bags in a secure area until the morning of collection day and not to put them out until 7am."

March 24th 2010


CONCERNS have been voiced over the 'shabby' state of an Alnwick building which is used for weddings, but plagued by pigeon fouling.

Coun Susan Bell said The Centre on Fenkle Street – which houses the Registrar of Births, Deaths and Marriages and hosts wedding ceremonies on the building's ground floor – was looking 'messy' and it was clear that the problem with pigeon excrement still existed.

After the meeting, Coun Geoff Watson admitted the birds were causing a "terrific problem" by fouling on the front of the building and on the steps below.

But he said that plans were in place to try and alleviate the issue.

Coun Watson, manager at Alnwick Community Development Trust (ACDT) – which is also housed in The Centre – said he regularly cleans the area, particularly when there is a wedding, and the county council has also assisted when asked.

He added that a conservation officer has given the trust permission to put spikes on the front of the building to try and solve the problem but it was waiting for the county council to supply a cherry picker so the spikes can be fixed.

"Pigeons do create a horrible mess," he admitted.

"It is a problem in Alnwick and it is a problem at The Centre because we have wedding parties here."

February 11th 2010


The big freeze in Europe has helped attract record numbers of rare geese to an island off Northumberland.

About 4,000 light-bellied brent geese have landed at the Lindisfarne National Nature Reserve on Holy Island.

Normally only half of the species' world population of 6,000 come to the island from the Arctic, with the remainder wintering in Denmark.

But experts say frozen wetlands in the Scandinavian nation has led to more seeking refuge in England.

The coastal climate of the Lindisfarne reserve still provides an attractive feeding site for the birds, despite the UK suffering from prolonged cold weather earlier this winter.

Reserve manager Andrew Craggs said: "It is a sign of just how widespread the big freeze has been that these geese are present at Lindisfarne in such large numbers.

'Never touched down'

"The arrival of the geese is a treat for wildlife watchers, but it is a sobering thought that virtually the entire world population of these birds rely on only a couple of locations in Europe for their survival in winter."

Carl Watts, the reserve's community outreach officer, said mystery surrounded the location of the remaining light-bellied brents, with no sightings reported in Denmark or the rest of Europe.

He said: "It was expected that they would arrive at Lindisfarne but they never touched down.

"The geese are not radio tracked and Birdlife International, which works globally to conserve birds, has not reported any sightings in Europe to us.

"One possibility is that some could have died, but we hope that they have been able to find new grounds on which to winter."

The birds traditionally arrive in November after travelling from the Arctic island of Svalbard and they normally head back in March.

February 10th 2010


GARAGE owners yesterday pleaded with officials to deal with seagulls in Gloucester city centre.

During a debate at Westminster yesterday, MPs heard the problem had even prompted one firm to consider moving out of Gloucester.

Jeff Close, manager of Nick King Car Sales Ltd in Bristol Road, said his business had experienced problems for years.

"Between March and September we are out there every morning cleaning bird mess off the cars, it is horrendous,"

He added: "We have to employ a car washer just to deal with it, it really is awful."

He urged officials to do something about the problem.

"The thing is, when they are moved on from the tip, they just move into Gloucester causing problems for everyone who lives and works in the city," he said.

The birds have even attacked cars as they are driven onto the forecourt at Cotswold Motor Group, MPs heard.

And they heard claims the gulls' acidic droppings could corrode paintwork unless swiftly cleaned off.

The owners of Cotswold Motor Group, in Cole Avenue, were so fed up with the feathered menaces they considered relocating, MPs heard.

The plight of the firm and other businesses was raised during a parliamentary debate by Gloucester MP Parmjit Dhanda.

He told ministers there were around 2,800 breeding pairs of seagulls in the city which thrive on readily-available food, an abundance of rooftop nesting sites and a lack of natural predators.

Mr Dhanda said: "This is a growing and serious problem."

Seagulls can have wingspans of more than four feet and can 'dive-bomb' at 40mph.

Mr Dhanda said: "We are seeing far more aggressive behaviour from these gulls.

"More and more we are seeing these birds becoming bolder in their activity."

There are believed to be two colonies of seagulls in Gloucester – at the tip and also near Bristol Road.

"There are a number of businesses that have been in touch with me," said Mr Dhanda.

He urged ministers to fund research, to give a greater understanding of the birds' habits, and tackling the problem.

He said: "I don't want Cotswold Motor Group or other businesses moving away.

"I am not calling for culls either but we need to know what we can do to restrict the size of these populations."

Large sums have been spent trying to combat the problem, from removing and oiling gulls' eggs to installing netting and using birds of prey, but numbers continue to rise.

Rural Affairs Minister Dan Norris pointed out there was an obligation to conserve wild bird populations, and some species of gulls were in decline.

Tackling sources of food and available habitat was the long- term solution, he insisted.

Mr Norris added: "I don't think further research is necessary. My officials do feel we have a lot of information about gull behaviour."

February 7th 2010


A government-funded drive to wipe out the US interloper is not only expensive but doomed to failure, say wildlife activists

A controversial UK cull of ruddy ducks, a US native that has been compared to a "feathered lager lout" for its displays of thuggish and amorous behaviour, has cost the British taxpayer more than £740 for each dead bird.

Figures from the Department for Environment, Food and Rural Affairs (Defra) show that shoots of the chestnut-coloured bird have cost taxpayers £4.6m, yet only 6,200 have been killed.

The disclosure has sparked an outcry from ornithologists and animal activists who have protested since the cull began five years ago. They say that the bird, ­targeted because it had interbred with the threatened white-headed duck in Spain, should have been left alone. The cull is due to end in August.

Lee Evans, the founder of the British Birding Association, said that the cull should be abandoned. "It's appalling and pointless, a complete waste of taxpayers' money. What's the point of it all? Our ruddy ducks don't go to Spain, but the French ducks do, and the French are not culling their birds. These marksmen are getting away with murder," he said.

Sir Peter Scott, the respected conservationist, has been blamed for accidentally introducing Oxyura jamaicensis to Britain more than 50 years ago. After escaping from Scott's Gloucestershire sanctuary, the species soon gained an unfortunate reputation: its mating call sounds more like a belch, it boasts a penis half the length of its body and, after mating, it ignores its partner.

By the 1990s the population was estimated to be in the thousands and the bird had spread to Spain, where it had cross-bred with its white-headed cousin. This has resulted in hybrid youngsters that threaten the purity of the species and its very existence, according to some experts.

Birdwatchers say the plan to cull the birds is pointless because other European countries have not implemented a similar plan.

Hampshire-based estate manager John Levell claimed to have witnessed one shoot. He wrote on his website: "The Defra gunships turned up today in their attempt to obliterate the poor old ruddy duck. The cost of eight gunboats chasing half a dozen ruddys about must run well into the tens of thousands of pounds, and I can't imagine this government has money to burn in such a fashion."

At Pitsford Water, Northamptonshire, seven marksmen arrived in a four-by-four each towing a trailer and a boat, according to one birdwatcher.

The scheme has been run by the Food and Environment Research Agency (Fera), part of Defra. However, other European countries such as Holland and France have resisted a cull, with a resultant rise in the population.

A spokesman for the RSPB said it stood by its decision to support the cull. "We appreciate that members may feel great concern over birds being killed, and eradicating ruddy ducks from the UK is clearly not an action that anybody approaches with enthusiasm. However, we have long felt that it would be wrong to stand by, do nothing and allow the white-headed duck to become extinct. It is important that eradication from the UK is achieved as soon as possible."

In a statement a Defra spokesman said the ducks "threaten the survival of the globally endangered white-headed duck. Eradicating the ruddy duck in the UK is part of the European Life Project to conserve and protect the white-headed duck and is supported by conservation organisations such as the RSPB, BirdLife International and Wildfowl & Wetlands Trust. Extensive research has shown that culling ruddy ducks by shooting is the most humane way of eradicating them, and this is carried out by trained expert marksmen."

January 24th 2010


A well-intentioned attempt by ministers to prevent sparrowhawks from killing homing pigeons has turned into an embarrassing fiasco for the Scottish Government, the Sunday Herald can reveal.

An intensely controversial trial saw hawks being trapped and taken far from pigeon lofts. However, the project has achieved nothing as the number of birds involved was so small and the data so unreliable. It will not be repeated.

The final report of the trial, seen by the Sunday Herald and due to be published tomorrow, is bound provoke a storm of claims and counterclaims but it has failed to resolve any of the major disagreements.

Wildlife groups say that predation is natural and leads to the loss of only a tiny proportion of pigeons.

The owners of urban doocots, however, insist it's cruel and damaging.

In November 2007, the then Environment Minister, Michael Russell, decided to conduct an experiment to see if trapping and relocating sparrowhawks would protect the pigeons. The idea was opposed as ineffective by the Government's wildlife advisers, and was delayed in 2008.

Nevertheless, the £25,000 trial eventually went ahead, and ran from January to April 2009. Attempting to bring together the Scottish Homing Union, which represents 3,500 pigeon-fanciers, and the Government's conservation agency, Scottish Natural Heritage, it was dogged by strife over its scientific methods.

Its final report was delayed while they argued over how to interpret the results. The main problem was that so little data had been gathered.

Tomorrow's report will reveal that only seven sparrowhawks were relocated away from five pigeon lofts. One of them returned twice to the vicinity of the loft, and two others were replaced by other hawks. The report says: "The quantity and quality of the observational data collected meant that it was impossible to draw any firm conclusions."

'No conclusive data was found on whether relocation of sparrowhawks is an effective way of reducing predation in racing pigeons," said a Scottish Government spokeswoman, adding that there would be "no further research involving the trapping or translocation of raptors."

The homing union, however, completely rejected the report's findings. It insisted that the data showed that when sparrowhawks were removed the number of attacks on pigeons dropped from one every 10 days to one every 34 days.

"We are very optimistic that licensed trapping and translocation could at last provide some protection," said the union's secretary, Linda Brooks.

January 22nd 2010


LOCAL residents are being asked to formally complain about the pigeon nuisance in Market Rasen in a bid to get Network Rail to recognise the problem.

West Lindsey Environmental Protection Officer Tony Adams said the railway company is to carry out another assessment of the bridge at Queen Street as part of its policy and procedures which must be done before any work to clear the nuisance of pigeon mess can be authorised.

"The last assessment found the pigeons did not present a 'statutory nuisance' but marginally so and the problem has since been reduced by virtue of removal of the bill boards," Mr Adams said.

He added that at the time of the previous assessment there was no visible problem and the case lacked specific numbers and details of complaints, many of which have come through the Town Council.

"I ask the town council ensures complaints regarding pigeons at this bridge are reported and where possible any unreported records of complaint are compiled and forwarded as soon as possible," Mr Adams said.

Residents have reported numerous incidents of slipping in pigeon mess and it being dropped on them by the flying pests.

The pigeon population has begun to decrease but remains a nuisance underneath both the Queen St and Chapel Street bridges.

January 21st 2010


THE Scottish Parliament's "war" against a long-standing enemy has suffered a major blow, with the loss of one of its deadliest weapons.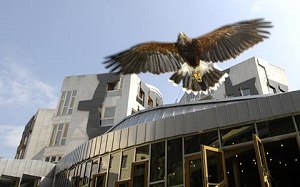 One of the hawks brought in last year to cut down on the mess made by pigeons. Picture: Phil Wilkinson

Tweed, a Harris hawk, who was drafted in at a cost of £44,000 to scare pigeons away from the Holyrood building, has gone AWOL.

He is understood to have moved to Salisbury Crags, near the parliament.

Since its completion in 2004, the £400 million parliament building has been plagued by dozens of pigeons, which roost in the air-conditioning vents and on window ledges.

The clean-up bill for the mess left by the "winged vermin" runs into tens of thousands of pounds every year.

But yesterday, the parliamentary authorities were forced to admit that one of the their birds of prey, which they hoped would end the problem, had apparently given up the fight and flown off.

It was unclear whether, after six and a half months of effort, the eight-month-old hawk had got fed up of the edict that prevented him from actually killing any pigeons.

The ruling was imposed as a condition of the hawks, work to make sure visiting schoolchildren were not upset.

The deal to bring in the hawks was secured last year by NBS Bird and Pest Solutions after other moves, including relocating some pigeons to Ayrshire, had failed.

Since last summer, Tweed and his fellow birds of prey have been seen several times a week flying over Holyrood.

A Scottish Parliament spokeswoman said yesterday: "Regrettably, one of our contractor's hawks has gone missing.

"However, this does not affect the cost or conditions with the contractor who supplies this service.

"The falconry contract is helping us deal with our pigeon problem and seven other birds of prey continue to be flown at Holyrood.

"In the long term, we fully expect to see a reduction in the money we spend on external cleaning as a result of pigeons being deterred from the parliament building."

In a report before the decision was made, parliament officials warned, under a section headed "The Risks", that they had assessed the use of three different birds, a red-tailed hawk, a Harris hawk and a Saker falcon, and said: "Both hawks were successful in flying to high points.

"The red tail was good at getting into some of the nooks and crannies, but often had problems on landing, failing to stop, and on one occasion flew into the windows of the members' restaurant."

However, the report failed to identify the possibility of Tweed going native.

January 9th 2009


RESIDENTS in Chard could be encouraged to work together in a bid to rid their neighbourhoods of problem dive-bombing gulls.

South Somerset District Council received plenty of complaints during 2009 from people worried about being attacked by gulls with the birds nesting on the tops of houses.

But council bosses have been left scratching their heads over what to do about the birds because they feel that if they solve the problem in one area, the gulls will simply move to another.

The council's principal environmental protection officer, Vicki Dawson, said in a report that a questionnaire sent out to 700 homes in the Forest Hill area of Yeovil showed that 82 people had been attacked by gulls in 2009. Twenty homes had gulls nesting on their roof and 33 chicks successfully hatched.

But she said: "Having undertaken extensive investigations into this issue, and having attended many meetings locally and regionally, it is concluded that there is very little that can be done on a district-wide basis to prevent problems with gulls occurring. The problem being that most action available will simply 'push' the problem around the district.

"But various options are available to householders and property owners to take action in relation to their own homes, and where small communities can work together, and in doing so the costs can be reduced."

The council believes that if neighbourhoods working together against the gull problem in Yeovil is successful, residents in other towns – such as Chard – could be encouraged to follow suit.

January 8th 2009


Pigeons could be put on the contraceptive pill to stop them plaguing the streets of Barnoldswick.

Contraceptives are just one option being considered to deter the birds from nesting in and around the Town Square.

The birth control pills, which would be administered in pellets left for the pigeons to eat, is considered one of the more humane options to tackle the problem, which has divided Barnoldswick.

Coun David Whipp said a number of options were due to be considered by Pendle Council's West Craven Area Committee.

"The problem with the pigeons could involve giving them contraceptives, erecting signs asking people not to feed them and people being given grants to pigeon-proof the buildings to discourage them from nesting or roosting there," said Coun Whipp.

"The town centre forum is also considering getting a falcon display team in during the spring to give the pigeons a bit of a fright.

"This issue is not without some concerns, for some parts of the town think it is a heinous crime to deal with these pigeons. Personally I am a vegetarian and I will not consider killing any creature, so for me these are some of the more acceptable options."

Town councillor Alison Sauer said: "I have been shocked by the emotions which this issue has stirred up."

Opinions are divided among Barnoldswick residents.

Amanda Robertson, who was shopping in the Town Square, said: "The pigeons don't bother me and I've never really noticed them. The kids seem to like feeding and chasing after them."

But shop assistants in The Shambles disagreed, saying something needed to be done. "The pigeons are well established and have been here a lot of years," said Tina Jackson. "They need controlling. The easiest thing to do would be to stop people from feeding them. I've seen people give them loaf after loaf of bread."

Fellow shop assistant Julie Jackson said: "People should stop feeding them. The window sills and the rooftops are covered in muck and they spread disease."

Julie is concerned about the safety of young children, including her 10-month-old granddaughter Lily. Her daughter, Katie Lawrence, lives in a flat on Frank Street which overlooks the square.

Katie said: "I have children and I can't open the window because of all the germs pigeons carry. Recently my house was full of flies because there was a dead pigeon behind the gas fire. I also found the skeleton of another in the gutter."

Pendle Council bosses have said in a West Craven Area Committee report that birth control could prove impractical as pills would need to be regularly administered to combat the problem.

January 6th 2009


A student who kicked a seagull to death has been ordered to make a £500 donation to an animal charity.

Dunfermline Sheriff Court was told Alistair Livingstone, 20, kicked the black-backed gull, which was sitting on a pavement, high in the air.

When it landed on the ground and started flapping about with its head lolling, Livingstone kicked it again and killed it.

Livingstone had pled guilty to intentionally killing a wild bird.

The incident happened in Dunfermline High Street in the early hours of 2 August, as Livingstone was making his way home from a night out.

The court was told a member of the public saw Livingstone, from Culross, killing the bird, and reported it to police.

When officers arrived and questioned Livingstone about the attack, he said: "It was only a seagull".

Fiscal depute Suzannah Hutchison told the court: "At this time a member of the public was holding the bird in his arms until it eventually died.

"CCTV showed the accused kick the bird into the air. He then kicked it again.

"When asked about this, he said he had attempted to kick the bird but did not think he would be able to do it.

"He said he then saw the pain it was in, and kicked it again to 'put it out of its misery'."

'Evil attack'

Defence lawyer Marjorie Socha said: "My client had been on a night out with friends and had been drinking, but he refuses to use that as an excuse for what he has done.

"He is deeply ashamed. He would never dream of doing such a thing again.

"He is at university doing an honours engineering course and by all accounts he is doing very well and this incident is grossly out of character."

Sheriff Craig McSherry deferred sentence on Livingstone until July for him to be of good behaviour, and ordered him to pay £500 to the Scottish SPCA's wildlife rescue and rehabilitation centre at Middlebank, Dunfermline, which cares for sick and injured birds and wildlife.

Sheriff McSherry said: "This was a particularly evil attack on what could be regarded as a defenceless bird - unless you live in Aberdeen.

"To kick it once is bad enough, but to kick it twice is quite appalling.

"To impose a fine would mean the money would not go to a charity which cares for animals after attacks such as these."

January 5th 2009


Birds of prey are to be deployed in North Wales to stop seagulls attacking shoppers. The Coastal Hawks Project will put hawks and falcons on patrol in Rhyl, with their handlers wearing medieval dress.

Mike Espley, a Rhyl councillor, said he came up with the idea after witnessing 30 seagull attacks on shoppers in a single day.

The first patrols, planned for March 1, will include a European eagle owl, two Harris hawks and a peregrine saker falcon. Three unemployed people will be trained at a Welshpool falconry centre to take part in the project. Mr Espley said the birds will always be tethered to the handlers, and will not be allowed to fly.

"The presence of the birds of prey will be enough to get rid of the seagulls. We are not aiming to hurt them. This is their home as well as ours, but there have been far too many attacks on people. It couldn't continue."

He said that as well as being a deterrent, the birds would will be a tourist attraction. "The handlers will be dressed in medieval costume and will give talks about them during the summer months and seasonal breaks." Mr Espley said that if the project is a success, he hopes to extend it along the North Wales coast.

January 4th 2009


RESIDENTS are to work together in a bid to rid their neighbourhoods of problem seagulls.

South Somerset District Council received plenty of complaints during 2009 from people worried about being attacked by dive-bombing seagulls with the birds nesting on the tops of houses.

But council bosses have been left scratching their heads on what to do about the birds because they feel that if they solve the problems in one area, the seagulls will just simply move to another.

The council's principal environmental protection officer, Vicki Dawson, has said in a report that a questionnaire sent out to 700 homes in the Forest Hill area of Yeovil showed that the main problems were experienced in Yew Tree Close and Beechwood.

The survey results showed that 82 people had been attacked by gulls in 2009 with 20 homes having gulls nesting on their roof with 33 chicks successfully hatched.

But she said: "Having undertaken extensive investigations into this issue and having attended many meetings locally and regionally it is concluded that there is very little that can be done on a district-wide basis to prevent problems with gulls occurring.

"The problem being that most action available will simply 'push' the problem around the district.

"But there are various options available to householders and property owners to take action in relation to their own homes and where small communities can work together and in doing so the costs can be reduced."

Members of the council's Area South committee will hear tomorrow (Wednesday) that residents in Yew Tree Close and Beechwood are already teaming-up to look at ways of preventing seagull problems in 2010.

While the council has looked in detail at the Forest Hill area, there have been problems reported from across Yeovil and other towns within the district such as Chard.

December 30th 2009


Thousands of pigeons roosting in derelict industrial buildings are causing problems for bosses at Sandwell Council.

Huge numbers of the birds currently nest in derelict factories in the heart of West Bromwich.

But the buildings are due to be demolished within the next two years. To tackle the problem, Sandwell Council will be drawing up an action plan in the new year. The factories will be knocked down as part of the multi-million pound Eastern Gateway development.

Neighbourhoods chief Councillor Mahboob Hussain said: "The council is aware of the problems for the town centre caused by the roosting of pigeons in a number of derelict and unoccupied buildings in the area of the Eastern Gateway.

"We will be considering how to address this matter in the new year."

A recent report to council bosses revealed pigeons fouling the streets is one of the main concerns for residents.

The document reads: "Pigeon droppings are a real concern for residents particularly in and around Farley Fountain, West Bromwich and Smethwick High Street.

"Sandwell currently has a non-lethal policy to deal with pigeons and carries out occasional education and enforcement programmes to deal with people who put down food.

"Over the next two years, the derelict factories on the nearby Eastern Gateway will be demolished, which will result in large populations of pigeons currently roosting in the buildings finding alternative sites."

The report also highlighted the geese fouling problems in Smethwick Hall Park, the scene of the recent Duckgate controversy. Mother Vanessa Kelly from Oldbury was fined for littering for feeding ducks with her 17-month-old son Harry.

From April 28 2002 to November 19 2009, there were 308 complaints or concerns about pigeons in Sandwell.

Complaints included people feeding the pigeons in Dartmouth Square, birds nesting under railway bridges and derelict buildings being overrun with them.

December 16th 2009


They steal your chips, leave thousands of droppings around Lincoln centre and get under your feet when you're trying to do your shopping.

But in the new year pigeon numbers could be cut down to a manageable level in Lincoln as the city's Business Improvement Group launches a plan to reduce the population.

But BIG have admitted that nothing has been done to develop the plan since they won a ballot to retain their management of the city centre back in October.

The group have a £6 million masterplan to develop and improve the centre of Lincoln.

Park-and-ride schemes, a blitz on street drinking and a crackdown on food left out for pigeons were included in the manifesto drawn up by the organisation.

Matt Corrigan, chief executive of the group, said the group would be working on a more solid plan in the new year.

"Controlling pigeons in the city does feature in our plans for next year," he said. "We will be working on a new leaflet and information. We will also be renewing the signage to tell people not to feed the pigeons."

The leaflets will contain information for the public and business owners about removing rubbish and not feeding the birds.

But Lincoln BIG said it will not be carrying out a cull of the birds.

"We will be working with the street wardens and the police to get the message out there," said Matt Corrigan. "No matter how much we cull the birds, if there's a large quantity of food around they will carry on breeding.

"We are never going to completely eradicate pigeons but we do want to cut down their numbers."

December 11th 2009


Not one complaint was received by a Black Country council about the feeding of ducks prior to a woman being handed a £75 fine for doing so, it was claimed today.

Last month Vanessa Kelly, aged 26, was hit with the fine for feeding ducks in Smethwick Hall Park in Londonderry Lane, Smethwick, with her 18 month old son. Sandwell Council later rescinded the penalty, but defended its policy, saying that it had received "many complaints" about the feeding of pigeons and wildfowl across the borough.

But, council records revealed under the Freedom on Information Act show that while pigeons have been the subject of many reports no complaint was made over ducks, swans or geese.

The information reveals that in the last nine years, from April 28, 2000 to November 19, 2009 there were 306 complaints about pigeons and nine about birds in general.

Malcolm Ford, the UK Independence Party representative in Sandwell which submitted the request for the information, said: "I didn't believe that there was anybody in the borough who had any problems with ducks. There is no problem with ducks."

But Sandwell Council today hit back saying it had received complaints about rats and the feeding of birds was linked to that problem.

The authority added that the information it provided did not include telephone enquiries received about the feeding of birds, where a member of the public would be given verbal advice but the call would not be recorded on a database.

Council leader, Councillor Darren Cooper, said: "The council has recorded thousands of complaints about the problems caused by the feeding of pigeons, geese and other birds since 2000.

"These complaints are recorded under different headings on our database.

"Council members get many complaints about the mess and nuisance of waterfowl," he added.

December 10th 2009


A seagull deterrent that emits a high-pitched sound is causing misery for residents and commuters around a popular city centre restaurant.

Glassboat, which is moored at Welsh Back next to Bristol Bridge, uses the device to keep flocks of troublesome gulls away from its roof.

But as well as frightening the birds away, the high frequency noise is proving an earache for people going about their daily business nearby.

Dr Annabel Murphy, 29, a chemistry researcher at Bristol University, says she is plagued by the gull deterrent every day as she walks to work from her home on Ferry Street.

But she is not the first person to complain about the sound. The Evening Post has received reports of a high-pitched sound around the Bristol Bridge and Harbourside area for months.

Dr Murphy, who moved to the area a year ago, says she and her friends have long been frustrated by the sound and thought it was a Mosquito device, a controversial high-frequency deterrent targeting under-25s to drive away rowdy youngsters.

She said: "I was outside Toto bar on the other side of the Floating Harbour with friends a couple of months ago and we could all clearly hear it.

"It was noisy and noticeable from a long way along the river, at least 100 metres away. It sounds a bit like when you hear lorries coming to a halt, when they screech. It is like that, but continuous and pulsing."

After a few months of not being able to hear it, last week Dr Murphy again found herself disturbed by the high-pitched screech.

She said: "It just drives me up the wall. I have to go past it every day and I find it very frustrating and unnecessary noise.

"It is near to residential properties and a hotel by the river.

"I can accept that seagulls are a real problem around there but I am sure there must be other ways to deter seagulls that don't cause sound pollution.

"It is just as annoying as a Mosquito device and I think it should be banned. It is a busy intersection in the centre of town and people shouldn't have to avoid it."

Dr Murphy says she complained to Glassboat in the summer and again last week.

Seagull deterrents can be bought off the shelf and do not require planning permission or a licence because they operate at a different frequency from Mosquito devices.

Arne Ringner, owner of the Glassboat restaurant, the nearby Spyglass restaurant and the Clifton Lido, said he had never heard of a Mosquito device before.

He said: "What we have is an anti-seagull device, not something to keep away rowdy people.

"It emits a sound which is interpreted by the seagulls as a distress signal and is identical to ones installed on the big apartment block at Redcliff Street.

"We do have it on 24 hours a day and we have had it for years. It is a commonly-used deterrent for seagulls and this is the first time anyone has complained about it.

"People have said to us they can hear it clearly but then a few days later they can't.

"I can't hear it at all, myself."

Mr Ringner said the boat does still get the odd gull but without the deterrent, seagulls would breed on the roof.

He said: "We have some spikes as well but it would be impossible to cover the whole roof with them.

"We don't have the deterrent on Spyglass because it is harder for the gulls to perch on that roof, because of the shape.

"If anyone has any concerns or complaints, please get in touch with us so we can explain."

City council spokeswoman Kate Hartas said: "This is a noise pollution issue and if Dr Murphy contacts the council's noise team they will be happy to investigate."

November 6th 2009


WYRE Forest District Council is seeking permission to install netting and spiking to deter feral pigeons at Bewdley Museum.

According to the council, the proposals have arisen as the result of an "ongoing situation" mainly concentrated in the back yard maintenance area of the museum.

A report submitted to the council's planning committee says: "Inspection of the site shows the museum and the local area suffer from flocks of feral pigeons.

"The complex roof tops and maintenance back yard provide a haven for shelter with well established roosting sites.

"The build up of droppings is causing problems with smell and defacement of the historic building.

"Pigeon guano around the ledges, roofs and floor of the back yard especially is now a health hazard.

"A risk from disease pathogens associated with feral pigeons has become a serious concern.

"The ever increasing number of birds is putting pressure on other areas of the museum and the newly finished barn area is already receiving visits from pigeons trying to roost and nest.

"During the survey one bird was noticed nesting on the floor inside the main entrance to the building."

The proposals have been subject to pre-application advice from both the conservation officer and English Heritage.

Stuart Allum, planning case officer, has recommended the application for delegated approval.

He said: "The proposed works are compatible with the historic character of these Grade II and Grade II* Listed Buildings and the character/appearance of the Bewdley Conservation Area would be preserved."

The delegated authority would be subject to a decision by the Secretary of State via the Government Office for the West Midlands not to call in the application.

The bid will be determined on Tuesday at 6pm in Duke House, Clensmore Street, Kidderminster.

October 26th 2009


GREEDY seagulls screech above Worcester's Elgar Retail Park, swooping to feast on the remains of meals discarded by the customers of takeaways. Our picture captures a scene that has become an all too common sight, and is making the lives of nearby residents a misery.

The food litter and the flocks of seagulls are quickly turning Worcester's Blackpole district into Blackpool, according to fed-up residents.

People living near a new KFC drive-through restaurant says they are being driven mad by the constant shrieking of gulls.

Matt Brown said people visiting the takeaway regularly dump their litter on the car park of the Elgar Retail Park - sometimes because the bins are full, attracting large numbers of gulls to the area.

"It makes Blackpole look like Blackpool," said Mr Brown, of Salter's Close. "The only thing missing is the tower."

KFC empties its own outside bins and run three litter picks per day, but the rest of the car park and bins are serviced by management firm DTZ.

Mr Brown and neighbour Norman James live just a few yards from the car park and say if the problem isn't sorted, the gull population will swell.

"It's spoiling our quality of life," said Mr Brown.

"In a few years I think you won't be able to sit outside with any food for fear of being dive-bombed." He also claims the takeaway has drawn late-night 'boy racers' who are roaring along the Blackpole Road and using the car park. Rising bollards have been installed to block car access except to the KFC, but they're not being used, say residents, with DTZ saying several are defective. Coun Alan Amos, who represents Warndon, has called for a summit meeting to sort the issues.

Agreement was recently reached with the nearby McDonald's over similar problems but KFC and DTZ have so far "passed the buck" rather then settle matters he said.

"People are using the bins provided but they aren't being collected often enough," said Coun Amos. "It is ridiculous that the problem has gone on this long."

KFC has increased litter picks and earlier this year agreed to fit a new air filter to mask food smells.

Neil Piper, KFC area manager, said: "It's not our responsibility, it's DTZ's job to provide sufficient litter pick cover.

"We've had nothing but positive feedback from the residents we've met."

Don Lemen, a director of Birmingham-based DTZ, said he wanted a "long-term solution" to the litter problem.

"Further budget has been set aside this year to ensure a higher specification of cleaning and litter services," he said.

He said a "design defect" had put some of the bollards out of action but an "urgent meeting" was being sought with designers to solve the issue.

Both sides have now offered to meet residents and Coun Amos about the problems.

October 19th 2009


The world's biggest population of Brent geese on Strangford Lough has fallen sharply this year.

Scientists report that few juvenile birds have managed to make the gruelling journey from their breeding grounds in the high Arctic.

A record 35,000 geese returned to winter on Strangford Lough last year but numbers have fallen to 28,000 and significantly the flock contains few juvenile birds.

So what's gone wrong?

No one knows for sure but James Orr of the Wildfowl and Wetlands Trust believes a number of factors may be involved.

"There are reports that it was a late spring in the Arctic that would reduce the narrow window in which the geese have to rear their young," he said.

Brent geese travel an exhausting 2,900 miles from Northern Ireland, stopping off in Iceland and Greenland before arriving at their summer breeding grounds in Canada's high Arctic.

A late spring would mean that food would be in short supply when the goslings hatched out and if foxes were short of food they may have preyed heavily on the flightless young geese.

Reduction

James Orr says its also possible that the geese may not have been in good enough condition when leaving Strangford and simply were not carrying enough fat reserves to rear young.

"We know that they don't necessarily breed every summer and last year there was a record population," he said.

While the reduction in geese numbers is being studied closely, so far the Wildfowl and Wetland Trust says its not unduly concerned.

"We know that most geese live for between eight and 12 years and some birds are up into their 20s," says James Orr.

The WWT says that 28,000 birds is still a very healthy population.

The hope is that the birds will winter well on the eel grass which grows on the muddy flats of Strangford and fly off in good condition next spring.

The loss of the juvenile section of the flock though underlines just how sensitive Brent geese are to even small environmental changes.

October 13th 2009


If the advertising hoardings currently attracting Market Rasen's problem pigeons are not taken down within a week a double pronged legal assault is pledged against the owning company.

Network Rail, which is leasing the sides of its railway bridges for the poster installations, is finally at risk of court action and fines after two years of inaction against complaints.

The roosting pigeons are making pavements beneath dangerous with their droppings and both the district and county councils are galvanising their legal teams for action.

Burt Keimach, a councillor on both authorities, told the town council last week, "We have decided to mount a double pronged legal attack against Network Rail which is primarily responsible for this mess.

"It's like a dirty shagpile carpet under these bridges; really quite disgusting," he said.

Part of the problem was the advertising hoardings at Queen Street, but also Network Rail's failure to, and refusal to allow other parties to, net the underneath of the three structures against the pigeons.

Primesite was supposed to be taking the boards down by mid-October but that still left the problem of the roosting ledges, said Coun Keimach.

"West Lindsey is power-washing as regularly as it can, but that's only a stop-gap measure until we can get Network Rail to clean up its act."

As well as the health and environmental risks as ground level, he was concerned that the acidic droppings could be destroying the bridge structure and said it was therefore in Network Rail's interest to act. Similar issues had inflated repair costs to Pelham Bridge in Lincoln from £100,000 to £450,000 for the county council.

Cases would be brought under the Public Protection Act 1961 and Environmental Protection Act 1990. Under similar action Network Rail was fined £200,000 in Hampshire recently.

The town council was told that in addition to the three rail bridges there were also roosting problems and consequent mess at the foodstore in Union Street and now at the Old Police Station where its offices and dentist are now based.

Union Street resident David Burton has requested permission to carry out a cull and, as previously reported, is seeking neighbours' co-operation as he says any deterrents like netting or removing the hoardings would only shift the problem.

October 9th 2009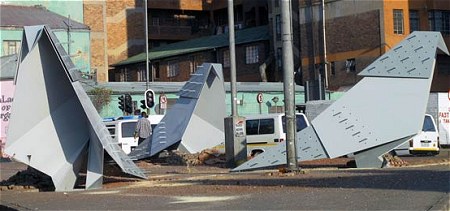 The pigeons are settling nicely into their new home in Pigeon Square in the CBD, lording it over the square and the other pigeons.

The three "origami-like pigeons" are three metres tall, standing in the triangle at the intersection of Main and Main Reef roads in Ferreirasdorp, just a block from Joburg's original Chinatown in Commissioner Street. This is a favourite spot of dozens of pigeons, which are fed by the local community.

When the call was made in March this year for proposals for a public artwork for the square, over 40 applications were received. Selected from five finalists, the winner was Gerhard and Maja Marx, with their outsized steel pigeon sculpture entitled Paper Pigeon.

"Constructed from steel, these large pigeons reference the oriental paper folding technique known as origami, homage to the oriental and Chinese community that has played a significant role in this part of the city," say the artists in a statement.

Gerhard Marx says the sculpture is "looking great" in the square.

The public artwork is intended as a city marker aimed specifically at vehicular traffic. The pigeons in the square were to be considered in the creation of the artwork, while it had to be robust and vandal-resistant, with a 20-year lifespan. The artwork is to mark the western entrance for vehicles into the inner city.

"The sculpture highlights the iconic presence of pigeons on Pigeon Square, not only in its visual reference to the pigeon as image, but also in serving as a perching pedestal for the vast resident pigeon community of Ferreirasdorp," say the artists.

Perching rods have been attached to the sculpture, and the "darker shapes of the seated birds will complete the recognisable tonal markings of the Paper Pigeon sculpture".

Installed this week, Gerhard Marx says that already the real pigeons are sitting on the rods, after being upset by workmen disrupting their usual daily feeding spot.

"Having the pigeons sitting on the sculpture has added to the finality of it," he says. "It's part of the choreography of the sculpture."

Historical and physical elements

The work had to take into account the historical and physical elements of the site, as well as the surrounding buildings. Landmark buildings in the immediate area include the Family Court, the Tramway Building, the City's department of arts and culture building, the Joburg Art Bank, Turbine Hall, the Bus Factory, and the Joburg Central Police Station.

"The pigeon is primarily famed for its profound homing ability, known as a messenger, and this focus on the home and community is appropriate to both its position in front of the Family Court and to those who enter or return to the city from its western side."

Marx adds that the sculpture also symbolises the centuries-old relationship between humans and pigeons.

The artists started work on the piece on May, and expect the installation to be completed by next week.

They have done other public artworks for the City. Maja Marx collaborated on a work called the Optic Garden on Houghton Drive Gateway, together with 26'10 south Architects, and commissioned by the Johannesburg Development Agency (JDA).

Gerhard Marx collaborated on the striking Fire Walker with William Kentridge, unveiled at the end of July this year, also sponsored by the JDA.

Judges for Paper Pigeon were drawn from staff at the JDA, the City, the University of the Witwatersrand, the University of Johannesburg, and independent art consultants.

About R500 000 was spent by the JDA on the sculpture, says Sophia Ndhlovu, the development co-ordinator at the agency.

October 8th 2009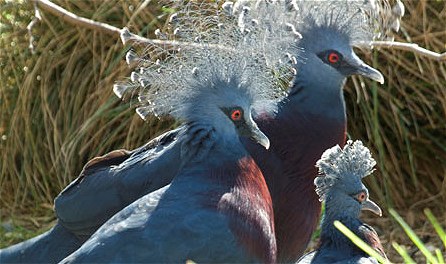 Curator praises 'fantastic accomplishment' as bird team engineers breeding despite falling numbers worldwide

The newly-hatched Victoria crowned pigeon is the very first of its kind to have been bred at London Zoo. Photograph: Zoological Society of London

It may be declining rapidly in the wild, but a colourful species known as the Victoria crowned pigeon is proving a welcome addition to the bird collection at London Zoo.

One of the rare breed, which sports cyan blue feathers, an auburn chest, tall plume and orange eyes, hatched last month and is the first of its kind to have been bred at the zoo.

It left the nest for the first time this week and has been exploring the surroundings of the Blackburn Pavilion exhibit.

The Victoria crowned pigeon, renowned for its dedicated parenting, mates for life with both parents continuing to care for chicks up to three months after they fly the nest. At present the chick - whose sex is still unknown - and its parents are the only examples of the species at the zoo.

The chick is only 20cm tall and eats fruit, grains and seeds, but will grow to 70cm - making the crowned pigeon, which originates from New Guinea, the largest members of the pigeon family. When fully grown, an adult specimen will be roughly the same height as a turkey.

"To breed the Victoria crowned pigeon is a fantastic accomplishment for our bird team, especially as this species is rapidly declining in the wild," said senior curator John Ellis.

"ZSL (Zoological Society of London) is part of a European breeding programme for this species, and our chick will help form a very important captive, back-up population."

October 6th 2009


'Netting' warning after 275 gulls rescued in two months

AN ANIMAL charity is urging people to think about the dangers of nets to seagulls after 275 rescues in two months.

RSPCA animal collection officer Chris Inman wants people to take more care when putting netting on their homes or go fishing.

The Torquay branch of the charity dealt with the rescues and collections of sick, injured or orphaned gulls in the summer months of June and July.

Chris, one of the animal collection officers, is employed by the RSPCA to help any sick or injured animal in the TQ post code area.

And he is standing up for the feathered bird, usually the victim of a bad press.

Despite successfully rescuing, rehabilitating and releasing a huge number of gulls, the summer months have seen a big increase in gull injuries due to competition for breeding, nest sites and food.

He said: "A big problem for gulls and animal collection officers is netting, normally put on roofs to deter gulls and prevent them from nesting.

"Gulls and other birds can easily get caught in netting if it is not made of the right material, properly installed and regularly maintained.

"This year I have removed many gulls from netting and often the birds have suffered horrific injuries from netting cutting into the skin and muscle or have been stuck for many days and are too weak and dehydrated to recover."

He urged people to make sure any netting put on roofs was the right sort, preferably thick and reinforced.

He said: "If people are thinking of having netting put on the roof, it should be a small mesh that birds cannot get legs, wings or heads stuck in.

"Something like garden netting is unsuitable as it deteriorates very quickly and cuts like cheese wire once a bird is caught in it."

He urged fisherman to dispose of discarded line safely and not to throw unused bait into the water.

"Fishing and crabbing lines are another major problem for these sea birds," he said. "In some cases birds become entangled in discarded lines. Again, this can cause terrible injuries.

"A number of gulls I have rescued have swallowed baited hooks. Many crabbers and fishermen will throw unwanted bits of bait into the water which is readily eaten by hungry gulls.

"Unfortunately birds do not differentiate between discarded bait and a baited hook so will also readily eat the hook and line."

October 2nd 2009


Tens of thousands of pink footed geese have begun arriving in Scotland from Iceland as part of their annual migration south.

The RSPB said the event was a spectacle not to be missed, with Vane Farm Nature Reserve in Perth and Kinross among the best places in the UK to see it.

The animal charity said the migration was happening later this year due to warmer weather conditions in Iceland.

Last year up to 20,000 geese passed through the reserve at Loch Leven.

'Passage south'

Visitor and publicity officer at RSPB Vane Farm, Andrea Habeshaw said watching the birds arriving was an incredible site.

She said: "People who live near the reserve may be familiar with the annual influx of birds but it's an entirely different experience to seeing them take off from the reserve at dawn.

"This is a great opportunity to experience the fantastic wildlife spectacle of internationally important numbers of pink footed geese arrive from Iceland on their passage south.

"Until you've seen something like this you can't imagine what it's like."

Each year the birds winter at Vane Farm before they leave to continue their journey south in the spring.

The RSPB at Loch Leven expects about 20,000 geese to arrive from Iceland over the next couple of days.

Across Scotland the number is likely to be well over 300,000.

September 30th 2009


Animal lovers living near Stratton-on-the-Fosse say they are outraged after finding numerous dead and dying birds in their gardens that have been shot illegally.

The residents, who have reported the problems to the RSPCA, say pigeons are being shot from the sky and often left to die where they fall. This is known as rough shooting, which is the shooting of any bird seen as a pest.

Many are found in gardens and at the roadside, making it a harrowing experience for the people who find them.

Now residents are appealing to anyone else who may have seen shooting taking place to report it to the RSPCA in order for prosecutions to be brought about.

Other birds are also being shot because they are mistaken at a distance for pigeons.

Stratton resident Geoff Collins said: "Most are shot ineffectually and left to suffer and die, in the most inhumane of circumstances.

"Several times a week we find dying birds in the road and in our garden."

Rough shooting is heavily restricted and legislated by the Department of Environment, Food and Rural Affairs (Defra) and the landowners must adhere to restrictions set out in a general licence.

Under the Wildlife and Countryside Act 1981, the lethal control or culling of wood pigeons is only permitted if the birds represent a risk to public health and safety.

The landowners must also prove that they have done everything within their power to reduce the population of the birds in a humane way.

Under the Animal Welfare Act 2006, if a bird is shot and injured, then it must be disposed of in a humane way. However if the bird is left to suffer, then it is illegal and the participant can face prosecution.

In Stratton pigeons have been seen to be lured in by dummy birds and then shot down.

Guy Merchant, from the Pigeon Control Advisory Service, reiterated the residents' call for people to report any instances of illegal culling of birds to the police or the RSPCA when he spoke to the Somerset Guardian.

September 21st 2009


The cost of flying a hawk to scare pigeons away from Trafalgar Square has soared to almost £60,000 a year.

The bird of prey is flown daily for up to four hours as part of efforts introduced by former mayor Ken Livingstone to disperse birds he dubbed "flying rats".

Since the scheme started in July 2003, a total of £354,829 has been spent on hawks and 130 pigeons have been killed. This equates to £2,729 spent per dead bird.

Figures released to the Standard show that in the last financial year the scheme cost £59,020.

Mike Tuffrey, leader of the Liberal Democrat London Assembly Group, said: "A hawk that costs the taxpayer more than £50,000 a year is a staggering amount. Alternative ways must be found, such as nesting prevention and chemical contraception in feed. Most Londoners will certainly welcome the reduced nuisance in Trafalgar Square, but the Mayor must find a far more cost-effective way to tackle the problem."

Feral pigeon numbers have dropped from about 4,000 to the present 120 to 140.

Julia Fletcher, of the Pigeon Action Group, which campaigns for the birds' welfare, said: "What it's doing with taxpayers' money is actually performing blood sports in Trafalgar Square.

"It's totally unnecessary, not only because of the costs to the taxpayer, but because it's not going to drive the pigeons away." Numbers had fallen, she argued, because they had been "starved out of existence" after feeding them in the square was banned.

A hawk does not prevent the pigeons returning, she said, because the birds are creatures of habit and always return home. The GLA pays for 75per cent of the cost and Westminster city council meets the rest. A GLA spokesman said increased spending reflected "the provision necessary to reduce the population". Cutting pigeon numbers had "improved the décor, safeguarded priceless cultural icons and created a cleaner and healthier environment".

For this financial year, more than £25,000 has been spent up to the end of last month, suggesting the total could top last year's figure.

The highest cost so far was £78,241 for 2003/04, but the Greater London Authority said that was because it was the first full year of the control programme.

The spending covers the contractor's costs for transport to the square and the hawk's handler. Usually two Harris hawks are delivered each day, although only one is flown at a time. Wardens also patrol the square to stop people feeding the pigeons.

September 17th 2009


Hiring hawks and falcons to scare pigeons away from the Scottish Parliament building has been hailed a success.

The project started about 10 weeks ago in an attempt to tackle the parliament's pigeon plague.

Officials at Holyrood said the site had seen a reduction in pigeon fouling in some areas.

The hawk project will last for three years with the first year costing about £13,000.

A Scottish Parliament spokeswoman said: "We are very pleased with the results to date.

"There is no overnight solution to our pigeon problem but we have already seen a reduction in pigeon fouling in certain areas at Holyrood since we began using these birds of prey as a long-term solution to deter pigeons."

Ian Cain, 46, NBC Bird and Pest Solutions area manager, told the BBC Scotland news website he had noticed a reduction of pigeons since he started working at the site with the hawks.

He said: "When we first started there were lots of pigeons looking for food at the parliament, I would say about 50 or 60 of them.

"The numbers are significantly less now.

"The test we have for the eight birds we use is that they have never killed before and that they are not aggressive to people.

"We have been using Harris hawks to flush the pigeons out of enclosed areas but we give the pigeon a flying advantage so it will never catch up with the pigeon or kill it."

September 17th 2009


Businesses and residents who leave rubbish out in a town which is then attacked by seagulls should be fined, it is claimed.

Ceredig Davies, a councillor in Aberystwyth, said gulls were protected, so Ceredigion council had to control people encouraging them.

People could also be issued with a type of hessian sack to protect vulnerable plastic refuse bags from attacks.

A task group will try to find solutions to problems posed by the town's birds.

Gulls are accused of encouraging vermin by ransacking refuse bags and leaving rubbish strewn along streets, and of defecating on cars and buildings.

Mr Davies gave a presentation to Ceredigion council's environmental services scrutiny committee about the issue.

He said: "I have been highlighting this issue for the last three or four years and I think the softly-softly approach doesn't work.

"I am looking for enforcement. I'd like to see people fined for putting refuse out in inappropriate receptacles, such as uncovered bins.

"Seagulls are protected and we can't control them, but what we can do is control the people responsible for encouraging seagulls."

Committee chair Mark Cole said there had been a "passionate debate" about the problem.

He said a type of seagull-proof hessian sack could be used to protect the plastic refuse bags from attack.

He added that wheelie bins could also be introduced, but some of Aberystwyth's streets were too narrow to accommodate them.

Ceredigion MP Mark Williams welcomed the council's decision to discuss the problem, and said solutions needed to be found and acted upon quickly.

September 14th 2009


A war hero pigeon who received a medal for his bravery is to be honoured in his home town of Carnlough.

Paddy the pigeon, who was bred in the townland of Moyleen, was the first bird to fly back with news of the D-Day landings in Normandy in World War II.

Now, a plaque is being put up at Carnlough harbour in honour of the only Irish pigeon to receive a Dickin medal.

Paddy received the animal equivalent of the Victoria Cross for a secret mission codenamed "U2".

Two days after D-Day, 30 pigeons were transported to France by a unit of the 1st US Army.

Paddy's task began in Normandy at around 0815 BST on 12 June, when he was released while carrying coded information on the Allied advance.

He returned to his loft in Hampshire in just four hours and 50 minutes, the fastest time recorded by a message-carrying pigeon during the Normandy landings.

After the war, the bird was returned to his owner in Carnlough, where he died in 1954, aged eleven years old.

At a special ceremony next Saturday the plaque will be unveiled by John McMullan, a well-known local pigeon breeder and friend of Captain Andrew Hughes, an army officer, who owned Paddy.

A song about the famous pigeon will have its first public airing at the event.

September 10th 2009




Broadband promised to unite the world with super-fast data delivery - but in South Africa it seems the web is still no faster than a humble pigeon.

A Durban IT company pitted an 11-month-old bird armed with a 4GB memory stick against the ADSL service from the country's biggest web firm, Telkom.

Winston the pigeon took two hours to carry the data 60 miles - in the same time the ADSL had sent 4% of the data.

Telkom said it was not responsible for the firm's slow internet speeds.

The idea for the race came when a member of staff at Unlimited IT complained about the speed of data transmission on ADSL.

He said it would be faster by carrier pigeon.

"We renown ourselves on being innovative, so we decided to test that statement," Unlimited's Kevin Rolfe told the Beeld newspaper.

Winston took off from Unlimited IT's call centre in the town of Howick to deliver the memory stick to the firm's office in Durban.

According to Winston's website there were strict rules in place to ensure he had no unfair advantage.

They included "no cats allowed" and "birdseed must not have any performance-enhancing seeds within".

The firm said Winston took one hour and eight minutes to fly between the offices, and the data took another hour to upload on to their system.

Mr Rolfe said the ADSL transmission of the same data size was about 4% complete in the same time.

Hundreds of South Africans followed the race on social networking sites Facebook and Twitter.

"Winston is over the moon," Mr Rolfe said.

"He is happy to be back at the office and is now just chilling with his friends."

Meanwhile Telkom said it could not be blamed for slow broadband services at the Durban-based company.

"Several recommendations have, in the past, been made to the customer but none of these have, to date, been accepted," Telkom's Troy Hector told South Africa's Sapa news agency in an e-mail.

South Africa is one of the countries hoping to benefit from three new fibre optic cables being laid around the African continent to improve internet connections.

September 8th 2009


PEOPLE in Steyning have had their feathers ruffled by the large numbers of seagulls which have descended on the town this summer. And it's not just the noise the birds make which has got residents in a flap - there have even been reports of birds swooping on unsuspecting people and sticking their beaks in where they are definitely not wanted.

The gulls have become such a problem that environmental health officers have been contacted.

District councillor George Cockman is also investigating the situation.

Aggressive

Mr Cockman said: "A lot of Steyning people have noticed a large increase in the number of seagulls in Steyning this year.

"Not only are they unwelcome for their loud and prolonged noise, but some are also decidedly aggressive.

"I have had a report of 'dive bombing' in gardens and even entry into a house."

The gulls, which some believe to be nesting at Steyning Grammar School's Shooting Field site, have been plaguing people with their squawking.

Noise

Caroline Ghaye, who has lived in Coxham Lane, near the school, for 15 years, first raised the issue with the parish council.

She said: "Since May of this year, flocks of seagulls have appeared and have been making the most horrendous noise, originally from around 4am at the height of the light morning, and continuing at regular intervals during the day and evening.

"They seem to have multiplied at an alarming rate, causing much nuisance in the area with noise and excrement.

"They regularly perch on the health centre and Croft Meadow, and there seems to be a 'flight path' between these buildings and the grammar school."

Feeding

Mr Cockman said the problem of the gulls might have been exacerbated by people feeding them - either intentionally or by leaving food outside.

"There is a strong consensus that we should not give them any encouragement," he added.

"Seagulls are not categorised as pests and, therefore, the district council's environmental health department does not have the authority it does in dealing with rats, for example.

"But, along with other authorities, the department does recognise the nuisance gulls can bring to the local community.

"In the right circumstances, it may be appropriate to invite an officer to come to Steyning and discuss the situation with residents who, wittingly or unwittingly, are encouraging gulls.

"I am sure the vast majority of Steyning residents would be extremely grateful if their neighbours did everything possible to discourage gulls from the town."

September 2nd 2009


PIGEONS are set to be banished from High Wycombe town centre with a hawk after years of council wrangling.

Councillors last night sent a plan for a dovecote back to the drawing board and instead agreed to bring in the bird of prey to frighten pigeons away.

They said putting a dovecote - a building for pigeons - in All Saints Church grounds was too expensive. It would cost £5,520 to install and £7,500 a year to maintain.

A Wycombe District Council meeting originally proposed to get officers to report back on alternatives.

But Cllr Roger Colomb said: "It is a little embarrassing. This has been going on for 13 years.

"How many pigeons have gone through their life cycle under that?"

The High Wycombe Town Committee then agreed to hire a hawk and look at the dovecote issue again. Maintenance costs were the main concern.

It was essential the birds are moved away "because we want to dive the café culture" Cllr Colomb said.

And he said he would use his own councillors' allowance to bring in a hawk if no-one else would.

And Cllr Tony Green said: "£7,500 seems a lot of money a year for someone to put a ladder up this dovecote and replace the eggs and destroy the eggs that have been laid."

He questioned whether the dovecote would only benefit the church but WDC officer Neil Stannett said it would attract birds from throughout the town.

And council leader Lesley Clarke said: "Quite frankly, I think the cost of this is ludicrous.

"Someone is going to get £120 a week to empty the eggs. Councillors on their allowances would be quite happy to go and do this."

Cllr Clarke said the plan was not value for money as the council was trying to balance a tight budget. This saw Holywell Mead swimming pool closed this year.

The £3,000 dovecot has laid in storage for three years.

Cllr Clarke said it could be sold to another council and joked: "Surely there would be a Conservative MP who could buy it on expenses."

Cllr Ray Farmer said: "Obviously the hawk is a good thing but what happened to the old fashioned man with a shotgun?"

There was only one sign in the town urging people not to feed pigeons, said Cllr Val Razzaq.

Cllr Jeanette Mann added: "When you try to tell them it is wrong they abuse you."

September 2nd 2009


Bath MP Don Foster is pressing the Government to take the issue of urban gulls more seriously.

In April, the Liberal Democrat failed to persuade Labour politicians that more investment was needed in research into the growth of the flying pests.

Now he is attempting to prove that ministers are being complacent - and are basing their policies on statistics that are wildly out of date.

Officials have told him that there are around 30,000 breeding pairs of gulls in Britain's urban areas.

The MP was initially told these figures came from a count carried out in 2002 but has now discovered that they hark back to a bird census dating back as far as the period 1985 to 1988.

Up-to-date counts by Bristol-based gull expert Peter Rock reveal there are well over 14,000 breeding pairs in the south west alone.

Mr Foster said: "Given that there are seven other regions we either have to assume we have half of all the gulls in just an eighth of the country or the Government figures are woefully wrong. With more accurate figures they might take the problem more seriously."

He is also attempting to persuade the Department of the Environment, Food and Rural Affairs to call a meeting of the local authorities in the west who have the biggest problems with gulls - including Bath and North East Somerset Council.

"The real need is more research to help us find an effective way of dealing with the issue. We know that, despite lots of money being spent, many of the methods currently being employed are not particularly effective."

In a debate in April, Government whip Helen Goodman told Mr Foster there was no need for further research into gulls - and that current laws were strong enough to deal with problems.

B&NES Council has oiled eggs in the past to stop chicks hatching and has used a hawk to deter the birds.

It is now in the process of investigating the most effective sort of hessian rubbish sack for a pilot scheme in the city centre.

It has visited other parts of the country to see such a scheme in action but there are practical problems - such as the potential eyesore of pavements strewn with the reusable sacks after they have been emptied.

September 1st 2009


FLOCKING seagulls could end up costing Cheltenham taxpayers £100,000 a year.

Pest control expert Phil Luker said the number of breeding pairs in the town is growing and needs to be controlled.

He says there are between 1,000 and 1,500 pairs, and this could rise unless measures are brought in to stop the migration.

Mr Luker, Rentokil's pest bird development manager for the south, tours town and city centres to offer advice on gull prevention to authorities.

"There are many problems associated with a high population of urban gulls," he said.

"They are very noisy at the break of dawn, leave a lot of bird splatter, will steal food in the open and can be quite aggressive around breeding season - swooping, pecking, defecating and vomiting on people.

"We're currently seeing a continuous rise in numbers across most towns and cities in the region. Some areas like Bath have reached capacity, with no more scope for gull population growth, but Cheltenham has a lot of potential for more."

Mr Luker estimated the potential scale of Cheltenham Borough Council's problem could cost it about £100,000 a year. This would be made up from removing nests, oiling eggs, gull-proofing buildings with nets and spikes, clearing up mess, and business costs.

The architecture is one of the main reasons the town is suffering, particularly the flat roofs on the Promenade, which make perfect nesting spots.

Rather than culling the birds or covering everything with netting, he said the solution lay elsewhere.

"The main issue with rising gull populations is the availability of food," said Mr Luker.

"Councils need to make sure all their bins have lids, encourage business to make sure they're careful with food and make sure landfill sites are as clear as possible.

"One main source of food for urban gulls is fast food debris strewn about the streets after busy nights like Friday and Saturday."

In July, St Paul's residents called for action to get rid of seagulls nesting on the top of Matalan in Swindon Road.

Melissa Buttigieg, who lives above the Hogshead in High Street, which she manages, said the problem is also rife in High Street.

"I've got some nesting on my roof and the noise they make is ridiculous," she said.

"It also makes carrying out maintenance above the pub very difficult. We're always getting attacked and they're scary animals when they're up close, very viscous."

Town centre manager Martin Quantock added: "I don't think they've become a big problem yet, but only the other day I was meeting someone in the Promenaded and we were distracted by them squawking away."

A council spokesman said it was unable to confirm whether or not the problem is getting worse or how much it costs to deal with.

But Coun Barbara Driver (C. Lansdown), who has campaigned for action on the birds, said: "They're becoming more of a problem and more expensive to deal with. The council, businesses and individual residents all need to work together more, particularly agreeing on measures to protect more roofs."

August 31st 2009


Seaside visitors in Angus are being warned to avoid feeding gulls in an effort to cut down on problems created by the birds.

Around 24 signs are to be erected in Arbroath and Montrose.

The move by Angus Council follows the introduction of a free nest and egg retrieval service for householders to help control gull numbers.

It was introduced after residents in coastal towns complained that birds nesting on their properties could be aggressive.

So far 263 treatments have been carried out.

Infrastructure services convener Councillor David May said the introduction of the signs had been approved after consultation with local communities.

He also said they will be located in areas worst affected.

In Arbroath they will be installed at the harbour, the promenades at Victoria Park, Queen's Drive and West Links, at the library and Angus Council's Access Office, Bruce House, Keptie Pond and the Saltire Leisure Centre.

In Montrose they will be sited at the town house, the town hall, Mid Links, Wharf Street, the seafront Splash area, the Curly Pond and the leisure centre.

Mr May said: "Since the approval of funding in February 2009 the council has consulted with the local community councils regarding the most appropriate locations for the new signs.

"The new policy to combat the seagull menace was agreed at the budget earlier this year and through it residents are benefiting from the free service to remove gull nests and eggs.

"Inevitably it will take some time before we can reverse the increase in the gull menace that has occurred in previous years but there's no doubt that the new gull nest removal service we introduced has made a difference.

"We will be able to further reduce the gull nuisance in our streets and open areas if people stop feeding them, so I urge people to heed the message."

August 28th 2009


COUNCILLORS have approved the location of 11 new signs in Arbroath which will warn people not to feed seagulls.

At a meeting of the infrastructure services committee in Forfar on Tuesday, it was agreed that the notices should be erected at the eight proposed locations around the town in a bid to curb the urban gull problem.

Now 11 new signs, which will include three at Victoria Park, two in Queen's Drive and two at the West Links will state: 'Please do not feed the gulls - they may become aggressive.'

Other locations for the signs are the library, the ACCESS office, Bruce House and the Saltire Leisure Centre.

The noticeboards at Keptie Pond and the West Links pavilion will also be displaying notices urging people not to feed the birds.

Three signs already exist in Arbroath Harbour warning people against leaving food for the gulls.

Infrastructure services convener, Councillor David May hopes that people will take notice of the signs and heed their warnings.

He said: "Since the approval of funding in February 2009 the council has consulted with the local community councils regarding the most appropriate locations for the new signs.

"The council's free nest and egg retrieval service has been well used since its introduction in April and we will be able to further reduce the gull nuisance in our streets and open areas if people stop feeding them, so I urge people to heed the message on the new signs."

As reported in the Herald last week, Arbroath councillor Donald Morrison said he was 'exasperated' by the length of time it took Angus Council to approve the signs.

He added it took the authority two years to approve the signs after a motion on the plans was brought forward by the SNP group.

However, Councillor May argues that in order for the signs to be put in the right locations and have the most effect, a local consultation process had to be carried out.

He explained: "I would like to point out that following the budget decision, we agreed to consult over where the signs should go and we have taken account of all the suggestions.

"This has now taken place and my committee passed the report on signage earlier this week.

"It might be that the SNP's Councillor Morrison does not believe we should consult the local community as this would speed up decision making, but I can assure him that the Angus Alliance do believe in involving the local community and to do this properly takes time."

Since the council introduced the free gull nest and egg retrieval service for householders in April, 263 treatments have been carried out.

August 24th 2009


Damage to a Lincoln bridge caused by pigeon droppings is set to cost about £500,000 to repair.

Years of accumulated bird mess had corroded steel girders under the 50-year-old Pelham Bridge and the damage has proved worse than first thought.

Cleaning and treating the metal is now expected to need up to 8,000 man hours of work.

The project, which was initially expected to have finished this week, will now end in mid-September.

Dave Walton, from Lincolnshire County Council, said: "The droppings of the birds have got lime, ammonia and acids in them and that is known to corrosive. These are concentrated under the bridge because it is a safe haven and the pigeons congregate there.

"Part of the work we are doing is to exclude them in the future by putting pigeon netting up and we are putting pigeon spikes on the end of the beams to stop them perching there."

July 31st 2009



ANGUS Council may have to rethink its free seagull nest and egg removal service.
Amazingly, the herring gull, a menace to Arbroathians throughout the year but even worse in the summer, has been placed on the UK's 'Red List' of species of high conservation concern, which means they need to be protected rather than controlled.

Herring gulls are opportunists and will eat most things including fish, crabs, insects, eggs, young birds, small mammals and garbage.

They usually nest in colonies on ledges of sea cliffs or in dunes, but also on the roofs of building, particularly flat roofs. The nest is built by both birds from grasses and seaweed.

The gulls become aggressive at this time of year as their young leave the nest and walk about near houses and workplaces until they can fly. Often the parent birds 'dive bomb' anyone who comes too close and they can be very intimidating.

The listing could put a stop to Angus Council's recently introduced programme of egg and nest removal as a means of controlling numbers.

In April, the local authority introduced a free scheme whereby householders could have unwelcome gull nests and eggs removed from their properties.

Previously, the council had imposed a charge of £18.50 to private householders for the removal of a nest and eggs, with a maximum of six visits required for each nest.

In the first six weeks of the free service 139 treatments were carried out - 78 in Arbroath, 49 in Montrose, eight in Carnoustie and two each in Monifieth and Brechin.

Since the introduction of the free gull nest and egg retrieval service, they have carried out 263 treatments.

A council spokesperson concluded: "We will await guidance from the Scottish Government on this matter."

Arbroath councillor Jim Millar said: "I find it astonishing that herring gulls are now on the conservation 'Red List'. Over the years, these birds have become an increasing menace, especially during their breeding season.

"Their aggressive behaviour towards people has been a source of concern for some time, and at just over two feet long with a wingspan of up to five feet, they can be very intimidating.

"Clearly, the council will have to review its current policy, but I personally feel we should challenge this given the situation we have in Arbroath and other coastal towns in Angus."

He concluded: "In the meantime, I would urge people not to feed these birds and to dispose of food packaging such as fast food containers properly, as discarded food wrappers simply encourages their aggressive behaviour."

28th July 2009
Please note that as of the 28th July the PiCAS UK phone number has changed. PiCAS UK can be contacted on the following number:
0844 736 6272. This new number is a Local Rate number with all calls being charged at local call rates.

July 24th 2009



The Sheriff of Nottingham is getting tough on people feeding the wildlife at Victoria Embankment by installing new signs which outline the hazards.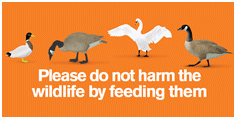 Feeding bread and other 'human' food to geese, ducks, pigeons and other wildlife is harmful for them as it is not their natural diet. Eating unsuitable food also lowers immunity to disease and causes the animals to suffer digestive problems.

It also has a negative impact on the environment as feeding the geese and ducks increases the amount of droppings on banks and paths, making them slippery and unsafe for people visiting the area. It also makes the area look untidy and the food can attract rats and other pests.

The Sheriff of Nottingham, Councillor Leon Unczur, will erect the new signs on Monday 27th July at 2pm along with local residents.

The Sheriff said: "Nottingham is my city and I will be after any one who feeds these birds and causes a nuisance for people visiting the area. It's my role to serve the people of Nottingham and I will make sure they have a clean, safe environment to enjoy over the summer months."

Nottingham City Council has been working with local residents on ideas to make the Embankment free from goose mess and it is hoped the signs will change people's attitude and deter them from feeding the wildlife.

Anyone found to be feeding the wildlife could receive a £75 fine for littering.

The signs will be in place before Nottingham City Council's Riverside Festival on Victoria Embankment from Friday 31 July - Sunday 2 August 2009.

All media are welcome to attend the launch of the new signs for photo and interview opportunities.

July 23rd 2009


THEY have become an ever- increasing menace in towns and cities, attacking people and pets as they scavenge for food.

But now The Scotsman can reveal that measures to control the growth in seagull numbers will have to be revised after one of the most common species was given special protection.

The herring gull, one of the most prolific seabirds found in our towns, has been placed on the UK's Red List of species of high conservation concern - meaning they need to be conserved rather than controlled.

This is because even though the numbers of gulls seem to be growing in towns, overall numbers in the UK have plummeted by around 70 per cent since 1970.

Experts have said that councils will now have to reconsider actions aimed at reducing the numbers of gulls in towns, such as destroying nests and eggs.

Local authorities planning to cull herring gulls will need to provide strong evidence of public health or safety factors - rather than simply claim the birds are a nuisance.

The status of our native birds is periodically reviewed in a joint effort by all of the main UK conservation groups. Species are placed on green, amber and red lists according to the degree of concern for their populations. In the 2009 review, herring gulls have been moved onto the highest conservation Red List.

Dr Andy Douse, chief ornithologist for Scottish Natural Heritage, told The Scotsman that SNH would need "a very strong evidence base indeed for any lethal control methods to be undertaken on herring gulls".

Keith Morton, of RSPB Scotland, said that while RSPB recognised that urban nesting gulls can cause real problems for householders and local authorities "some of the intolerance is irrational and these birds should not be demonised".

About 8 per cent of herring gulls in Scotland nest in urban areas. In Aberdeen alone there are more than 3,000 breeding pairs, representing the majority of those found in the city.

Across the country beleaguered local authorities have tried many methods to deter the birds by putting wires, spikes, or sticky pastes on buildings, or trying to frighten them with loud noises or flying falcons.

Removing nests, eggs or chicks or culling adult birds is also carried out in some cases, but these techniques are likely to come into conflict with the new conservation status of herring gulls.

Up to now the control of herring gulls has been covered by a general licence, leaving councils almost free rein to tackle the problems.

However, a consultation on removal of the herring gull from the general licence is already under way in England, and the situation is being closely monitored in Scotland.

A spokeswoman for Aberdeen Council told The Scotsman that in the light of its new conservation status: "We are now reviewing our policy and procedures for herring gull control".

Just last year then environment minister Mike Russell launched a new task force to destroy nests in Dumfries.

He promised to be "tough on seagulls and tough on the causes of seagulls", calling them a "menace".

A spokesman for Dumfries Council said it would now be revising its policies, possibly leaving herring gulls alone and targeting control at lesser black- back gulls.

The reason for the drop in numbers of herring gulls over the past quarter of a century is not known. Several other seabird species, especially inshore species, have also declined but not so dramatically as herring gulls.

"The extent of this herring gull decline has taken us by surprise' said Dr Douse. "It signals a major change in the ecology our coastal environment that we do not fully understand".

BIRDS WITH TOP BILLING

THERE are two species of gull commonly nesting in towns in Scotland.

- THE HERRING GULL

Has a white head, yellow bill, pale grey back and pink legs. In the 2000 census over 70,000 pairs nested in Scotland. Urban breeding colonies occur all down the east coast and in Aberdeen numbers are running into thousands.

- THE LESSER BLACK-BACKED GULL

Slightly smaller than the herring gull with a much darker slate-grey back and bright-yellow legs. In 2000, over 21,000 pairs nested in Scotland, with over 1,500 pairs recorded in Glasgow.

July 20th 2009


Traders in coastal towns are calling for a mass cull of seagulls because the birds are becoming a menace.

Seabirds have shops owners in Shepway and Thanet in a flap because of their unusually aggressive behaviour. Some are snatching food out of visitors' hands and from al-fresco diners' plates, while others tear open bin bags, leaving streets strewn with litter.

Giovanni Ioannou, of Le Cafe Ganmac, in Folkestone's Sandgate Road, said this week that birds hang around his cafe "like thugs".

He added: "If you don't get out and clear the tables quickly, they hop up and eat as much as they can. I don't like it at all. A gull got inside once, through the back door. It was as if the bird had planned it. They knock plates and cups off our tables and smash them. Too many people are feeding them. You see them getting scraps and they're becoming tame. Something needs to be done."

Greig Hughes is head chef at Emma's Cafe in Foord Road, Folkestone. He said gulls take anything they can get their beaks into, including condiments: "When we're very busy it's hard to get all the outside tables cleared quickly. Gulls swoop down and grab sachets of sugar. They're scavengers."

Another cafe worker on Folkestone seafront, who did not want to be named, said: "On rubbish day, just as I get here about 6.30am, the bags people put out have been ripped to shreds by gulls."

The problem is also seen along the coast in Thanet. Gerry O'Donnell runs the Tollgate Kiosk in Ramsgate. He said: "A few days ago I made toast for my wife, set the plate down and turned my back. Seconds later, a bird bombed out of the sky and grabbed the toast. It's frightening. One customer told me a bird snatched a full ice cream out of her daughter's hand, leaving her in tears."

Another Ramsgate businessman, who did not want to be named, said: "The council should organise a cull. There's far too many of them and they're putting people off."

A Thanet council official said there were no plans for a cull.

A Shepway council spokesman said: "There have been isolated reports of gulls dive-bombing people.

"Although gulls can be more aggressive when protecting their young, attacks rarely result in physical contact although their behaviour can be intimidating."

He said herring gulls were protected by the Wildlife and Countryside Act 1981.

He added: "A licence is needed to kill gulls or to destroy their nests and eggs. This licence would be granted to prevent serious damage to agriculture, to preserve public health or air safety and to conserve other wild birds.

"House owners may not kill gulls simply because they are noisy, messy, damage property or aggressive."

The RSPB urged residents not to feed gulls as it made them tame. A spokeswoman said: "Gulls are just trying to survive in a hostile environment and only visit urban areas as a result of human activity elsewhere."

July 19th 2009


CONCERNS have been raised about an "inhumane" method of discouraging gulls to nest on rooftops after a number of birds were injured in a Suffolk coastal town.

Both the RSPB and the fire service have been called to Aldeburgh in recent weeks to rescue the stricken birds, which were stuck in wire netting.

The mesh has been put up on the roof of some properties in the town, seemingly to try to stop the gulls from nesting.

But instead they simply become trapped and concerned residents have been forced to call the emergency services in a bid to get them free.

The problem was brought to light by John Digby at a meeting of Aldeburgh Town Council on Monday night.

He said: "It's totally inhumane and I think something should be done. It's terrible - whoever has done it should be ashamed and the wire should be taken down.

"The birds are nesting and getting stuck in the wire. I know of a couple of incidents where the RSPB has been called out as well as the fire service - which costs a lot of money."

A spokeswoman for the RSPB said gulls were a protected species and that harming or killing them was illegal under the Wildlife and Countryside Act.

"Obviously this is not something that we like to see happening," she said. "We appreciate that some birds can be pests - especially in town centres - but there are other, more humane ways of trying to discourage them to nest.

"For example people can reduce the availability of food on the streets or put up a solid, physical barrier - which is more preferable to netting because they don't get caught."

For more information on ways to discourage gulls contact the RSPB Wildlife inquiries number is 01767 693690 or visit www.rspb.co.uk.

July 4th 2009


Their squawking, attacking of black bin bags and overall presence tends to divide opinion.

Many people love the sight of seagulls in Sussex, while others would love to see the back of them.

Now a warning has been issued to watch out for 'dive-bombing' gulls and not to feed them from hand.

The advice, from the Royal Society for the Protection of Birds (RSPB), comes as the birds are currently breeding.

RSPB spokeswoman Hester Phillips said: "Herring Gulls nest in May and June. Once hatched, parents will look after young for around six weeks. This means we are slap bang in breeding season now.

"A complaint against gulls is that they can 'dive-bomb' people, especially at this time of year.

"It's true that gulls will swoop to protect young and this can be distressing if it happens. But gulls don't generally make contact with humans unless they have to, as nine out of ten times they'll come off worse.

"If you think about it, they are just trying to be good parents and protect their young. They can easily be scared away by waving your hands over your head, or holding an umbrella out above you.

"One bit of advice well worth heeding is not to feed gulls from your hand. This teaches gulls that it's okay to come near humans and might make them braver when they are protecting young.

"Keeping rubbish off the streets is another sure fire way to stop gulls from getting too near to humans.

"Above all, we'd ask people to be as tolerant as possible. Just like us, gulls are just trying to survive, and only exist in large numbers in places like Brighton as a result of human action."

Although a common sight in coastal towns, the numbers of gulls has halved since the 1970s and they have now been put on the endangered birds list.

Gulls are protected under the Wildlife and Countryside Act 1981 and it is illegal to intentionally damage or destroy a gull's nest site.

The Herring Gull is the most popular type of gull in Sussex.

Ms Phillips added: "If gulls are already nesting on your roof and are genuinely causing problems it's unfortunately too late to do anything about it this year but once the breeding season is over, deterrents which stop gulls from landing on your roof in the first place are the best option."

Tim McKenzie, from National Gull Rescue, told The Argus if anyone comes across a stranded baby gull which had fallen off their roof then the best course of action would be to try and place it back onto a roof near its parents.

He said: "If that is not possible then people can call National Gull Rescue on 07765 114599."

July 1st 2009


Conservationists have urged ministers and the police to intensify their efforts to protect peregrine falcons, after new figures suggested very high levels of peregrine persecution this year.

The Royal Society for the Protection of Birds reports today that it has already received more than 50 reports of peregrines being deliberately poisoned, shot or snared since the beginning of January.

There were 79 incidents reported for the whole of 2007, and interim figures suggest there will be 85 reported incidents recorded for 2008. The RSPB fears that will be exceeded this year, with incidents including one female peregrine found dead, peppered with shot near the Forest of Dean; a racing pigeon found in Walsall with a poison capsule on its leg, after local pigeon fanciers warned they would target peregrines; and three pigeon baits found in Cumbria near a peregrine nest.

Mark Thomas, an RSPB investigations officer, said this was further proof that peregrines - there are about 1,400 breeding pairs across the UK - were being systematically persecuted.

He said they needed to be included in the list of five threatened birds of prey being given higher priority by police wildlife crime officers and the government: the golden eagle, hen harrier, sea eagle, red kite and goshawk.

"It has been a terrible year. One of the worst I can remember," he said. "These crimes are cruel, needless and selfish."

Their persecutors included "rogue elements within the pigeon racing and game shooting communities, who blame them for the loss of their birds. Then there are those crooked individuals intent on taking eggs and chicks for falconry."

The RSPB acknowledges that proven persecution cases are lower than reported incidents, often because suspected cases cannot always be conclusively linked to a dead peregrine or an attempted killing. Some are wrongly reported. There were 22 confirmed incidents across the UK in 2007, with a recent high of 35 in 2005.

Grouse moors and pheasant shooting estates are repeatedly linked to bird of prey persecution, but the RSPB believes pigeon fanciers and racers are also deliberately targeting peregrines and sparrowhawks.

Brian Mead, a vice-president of the Royal Pigeon Racing Association, said peregrines habitually killed pigeons, and said racing enthusiasts were becoming increasingly frustrated by the growth in peregrine numbers - frustrations the RSPB had ignored.

"We certainly don't encourage or condone illegal killing in any way," he said. "But there's a network of pigeon nests throughout this country and each one of those peregrines will eat a pigeon every day."

A spokesman for the Department of Environment, Food and Rural Affairs denied that peregrine persecution was being ignored. He claimed that its exclusion from the high priority list did not mean they were not a priority.

"The persecution of all birds of prey is a serious wildlife crime that if left unchecked can threaten the future of all these beautiful birds, which is why the government has made it a wildlife crime priority," he said.

June 17th 2009


An animal charity is caring for 22 pigeon chicks after they were found in Clackmannanshire.

The Scottish SPCA said the squabs, aged between a few days and a few weeks old, were anonymously left on the doorstep of a local duck keeper last week.

It is thought their nests were destroyed by someone carrying out building or garden work.

The charity has used the discovery to remind householders that it is illegal to disturb an active bird's nest.

Scottish SPCA Inspector John Chisholm said: "It's possible that someone has cut down a hedge or repaired a roof in an old building without realising there have been nesting birds.

"The gentleman who found them keeps ducks so it may be that whoever collected the nestlings knew this and thought that he might be able to rear them.

"However, the best ones to rear baby birds are their parents and they should not have been disturbed."

Mr. Chisholm said that under the Wildlife and Countryside Act 1981 all birds' nests were protected and it was an offence to intentionally or recklessly disturb an active nest.

He added: "Anyone considering external house repairs or tree work should ensure that the area is free of nesting birds before attempting any work."

The baby pigeons are being cared for at the charity's Wildlife Rescue Centre near Dunfermline, Fife.

The first of them are expected to be released in the next six weeks.

June 17th 2009


Seabird populations across Britain are disappearing at an alarming rate, the RSPB has warned.

Britain is home to more than a third of the global population of several species but a new report has revealed a worrying decline in numbers since the 1960s.

The report by the Joint Nature Conservation Committee (JNCC) shows that overall the UK's seabird population has reduced by 9 per cent since 2000.

The rising sea temperature causing changes in plankton populations is being blamed for years of bad breeding seasons because the birds cannot find enough food at crucial times.

At least nine of Britain's 25 species of seabirds have decreased dramatically including the kittiwake population, which is the largest in Europe, has dropped by 40 per cent.

Although a common sight in most coastal towns the herring gull is also facing problems at their natural breeding sites and their numbers have dropped by a third.

The herring gull is often considered to be a pest but it is now "red listed" - which means they are a species of high conservation concern.

On the Isles of Scilly, for instance, they have declined by 21 per cent over eight years.

Dr. Sharon Thompson, a marine policy officer with the RSPB, said: "We believe the new figures emphasis's a deeply worrying trend, not just for seabirds but for those whose livelihoods and well-being depend on the marine environment. "We have an international duty to do all we can to conserve our seabirds."

Other struggling seabird populations are the shag, which has dropped by 25 per cent and the Arctic skua, which has dropped by 58 per cent.

In Scotland, where the majority of the UK's seabirds occur, numbers have crashed by nearly 19 per cent.

Douglas Gilbert, a reserve ecologist with RSPB Scotland, said: "We are now beginning to see the effects of many years of poor breeding success for some seabirds.

"There just aren't the numbers of young birds being produced to maintain stable breeding populations into the future."

"The situation for the Fair Isle, reported by JNCC, reflects what is happening on our reserves as well - particularly in Orkney where kittiwakes and terns have virtually failed to produce any young for several years now."

Population counts last year on the island of Copinsay, an isolated island off the east coast of Orkney mainland, showed a 70 per cent decline in razorbills, 57 per cent decline in kittiwakes and a 25 per cent decline in guillemots since 2000.

Doug continued: "If the declines continue at this alarming rate, then many of Scotland's famous seabird cities could be virtually deserted within a decade.

He said in the past decade hopes of a good breeding season have been crushed, as eggs are deserted or young chicks starving in their nests because the adult birds cannot find enough fish.

"We now know that plankton populations underpinning the whole ecosystem of the North Sea are changing fast because of warming waters. That's fine if you just want to take a dip to cool off in the summertime, but if you are a seabird whose life depends on finding fat sand eels at the right time and in the right places, this is a big problem."

The UK has more than one third of the global population of several species of seabird, including great skua, shag, gannet, and Manx shearwater.

The UK also has the largest European Union population of several seabirds, including the Arctic skua, great black-backed gull and kittiwake.

It is hoped forthcoming marine protection legislation going through Westminster will help ease some of the issues seabirds face.

Dr. Thompson said: "New legislation will not be a silver bullet that makes all the problems facing seabirds disappear. "However, it will signal a shift from simply exploiting resources to safeguarding the future of our marine heritage, including our world-famous seabird colonies."

June 17th 2009


A WILDLIFE presenter has been slammed for irresponsibly feeding Llandudno seagulls.

Simon King of BBC's Springwatch was filmed holding out a tray of chips to the many gulls on the town's promenade. The large birds swept down to eat the food as Mr King spoke of their beauty. The show was aired on Monday, June 8.

Cllr Gareth Roberts, who represents Craig-y-Don, said it was irresponsible of Springwatch to encourage the feeding of seagulls. He said: "They are very dangerous and are nesting at this time of year. The female birds try to protect their chicks and this makes them more aggressive. Year after year we see the elderly and youngsters injured in Llandudno by these large birds."

During the show Mr King told viewers that a child's hand could be damaged by a seagull's beak if it snatched a chip from their hand. He told how there are few large wild birds that give such wonderful views. As the birds gathered around to eat the food, he said: "And if you wanted a close up view of a bird in flight, it doesn't get much closer than this."

Martin Bailey, Ecologist at Wildlife and Countryside for Llandudno, argued it was wrong of the presenter to feed the birds. He said: "Seagulls are opportunists. If someone has offered them food, they may think they can grab food from other people. If children try to feed them it is worrying. They are big birds and can cause injuries."

A spokesman for the BBC said: "Simon King was not actively feeding the gulls, merely demonstrating their opportunistic and thieving nature. He makes clear in the item that the gulls are a potential hazard and that many local authorities discourage feeding the birds."

June 13th 2009


THEIR antisocial behaviour and reputation as litter louts have made them among the most notorious of city residents.

But after years of defying measures to clip their wings, Edinburgh's seagulls look to have finally met their match - canvas bin bags.

Council chiefs are set to trial the reusable bags as a way of putting an end to the nighttime raids which regularly leave the Capital's streets strewn with rubbish. The New Town, where fixed on-street bins are banned, will be the first area of the city to introduce the sacks.

A similar scheme is already in operation in Totnes, Devon, where local residents can buy the bags for £4.50.

Councillor David Beckett, who represents the city centre, said: "There's a real problem with domestic waste management in the New Town. People put their bin bags out at nighttime, and in the morning they wake up to find rubbish strewn across the street because the foxes and seagulls have been tearing into it.

"It's a particular problem in Great King Street and Dundas Street, and other areas that don't have space for the large bins that you see in other parts of the city.

"The idea came from Devon, where they have a thick, seagull-proof bin bag. Everyone in the town has been given one, and it's able to hold two regular bin bags, which are placed inside the thick, reusable bag. It's a fairly simple idea which means it doesn't cost the council a lot of money."

Last year, the Scottish Government announced plans to destroy seagulls' nests in an initiative to get "tough on seagulls and tough on the causes of seagulls".

However, despite complaints about growing numbers of rats and seagulls, there were protests when the council attempted to introduce wheelie bins in the New Town five years ago.

Councillor Robert Aldridge, the city's environment leader, said: "The council has a responsibility to ensure that our waste collection arrangements are suitable for whichever residential area.

"Ideally this involves the use of rigid containers to prevent the scattering of waste by vermin and other animals.

"However, as it lies within the World Heritage Site, the New Town has particular heritage issues which make the use of such containers difficult in some locations."

He said plans for a trial of the bags was one part of a review of arrangements currently being carried out within the World Heritage Site.

The council said it had also introduced nighttime bin collections in areas affected by the tram works, which was helping to tackle the problem.

John Knight, a member of New Town and Broughton Community Council, said leaflets put out by his organisation reminding residents to wash out food containers and tin cans had helped reduce the number of foraging seagulls.

June 12th 2009


BUDLEIGH Salterton police are warning people against removing seagull chicks from their nest in attempt to cull the 'nuisance' birds.

The message comes after the police received an anonymous tip-off, claiming four homes in the Fore Street area had illegally removed chicks in a bid to reduce numbers.

Bird lovers feared the chicks were being taken from their nests because some believe they are vermin.

Police said further investigations revealed chicks had legally been removed from nests at three homes by a licensed company.

Budleigh Salterton police community support officer Malcolm Maguire said residents from three homes had legitimate reasons for removing the birds - which included homeowners being attacked by adult gulls that were protecting their young.

PCSO Maguire said the birds had been 'humanely' removed by the pest control company.

He said investigations were continuing over the removal of chicks from a fourth property.

The officer said anyone without a licence found removing seagulls would be breaking the law - and could be prosecuted - because the birds are protected during nesting season.

PCSO Maguire said: "The advice would be that, if you have problems with seagulls, contact an approved contractor and enlist their help.

"There are legitimate reasons, such as health and safety issues, when chicks can be removed.

"A number of residents told me chicks were being taken and we had an anonymous letter at the police station.

"We want to reassure bird lovers that there isn't anybody going around dressed in black, climbing roofs that don't belong to them, to take the birds."

The Wildlife and Countryside Act 1981 states that it is an offence, intentionally or recklessly, to take, damage, destroy or interfere with the nest of any wild bird while it is in use or being built. Anyone found to have breached this law could incur a fine of up to £5,000.

May 29th 2009


Farmers' markets and antique stalls could be established around Westminster Cathedral as part of a £2.5million plan to rejuvenate the "tired and unattractive" space.

Westminster has hired architects to "design out" homeless people and pigeons amid fears that the piazza in front of the cathedral and nearby Wilcox Place has become a no-go area for residents and commuters.

A report on the plan complains about the large numbers of rough sleepers attracted to the area by the proximity of Victoria Coach Station and soup kitchen, The Passage.

It states: "Since the UK opened its borders to EU migrant workers, there has been an influx of transient workers a large proportion of these arrive at Victoria Coach Station. Some of these new arrivals have no money and no accommodation."

The council said it had "worked hard" to persuade the soup kitchen to leave the area and claimed "local stakeholders" believed the charity was attracting anti-social behaviour and crime.

The brief for the new design will include attempts to make the piazza less attractive to rough sleepers. Over the next year the council will invest £185,000 on a design for both spaces. Over the next five years it will spend another £2.4million on reinventing the area, and may set up an antiques market or farmers' market.

Alison Gelder, chief executive of Housing Justice, which runs the London Soup Run Forum, said she was deeply concerned about Westminster's intentions.

She admitted the piazza is popular among rough sleepers because of its abundance of nooks next to warm air vents, but added: "We are concerned Westminster might use aggressive tactics. One of the things we are worried about is that in the City they have been using street cleaning teams to wet places where rough sleepers lie - and in some cases their possessions and even the people themselves.

"Other councils wake people up and engage them in conversation to deter them. Our preference would be working to make sure they have somewhere to sleep. They are human beings. And if you do not find them somewhere to stay they will only move elsewhere."

Rosemary Westbrook, Westminster's director of housing, said: "Westminster works very hard to get rough sleepers' lives back on track, and with our network of hostels and centres, in the last year we helped more than 750 off the street.

"We have no plans to target rough sleepers in an aggressive way. Any work we undertake to clean the streets where they may have been congregating is done sensitively."

July 27th 2008

Massive Increase in Bird Crime in 2007
The RSPB has announced a massive increase in crimes against birds, with particular emphasis on birds of prey. Reports of bird crime in the UK have increased for the second year running with 1,208 separate incidents reported to the RSPB's Special Investigations Unit in 2007.

The RSPB is now urging the government to make the illegal persecution of birds of prey and other wildlife a much higher priority for the UK's police forces. Ian West, Head of Investigations at the RSPB, said: "It is hard to say whether the problem is increasing or whether we are just getting to hear about more of the offences that are taking place."

"What is clear is that very large numbers of birds are being illegally killed every year and that is totally unacceptable in a civilised society. There has to be a greater effort to enforce the law."

The RSPB is also asking members of the public who care about our birds of prey to pledge their support for an end to illegal killing at: www.rspb.org.uk/birdsofprey.

Although birds of prey are one of the most commonly abused species of wild bird in the UK, the RSPB has also highlighted the plight of gulls, swans and swallows. The charity confirmed that these species are being more commonly targeted by wildlife criminals.

The RSPB's Sophie Atherton said: "We understand that gulls' behaviour and habits can be annoying to some people, but that is absolutely no excuse for the sort of violent acts that have been committed against these birds."

"Gulls are legally protected and it is a crime to wantonly kill or injure them. It is also incredibly cruel."

There have been numerous reports of gulls being shot, but also some incidents of them being kicked or beaten to death - but they aren't the only victims. Even garden birds like pied wagtails, blackbirds and blue tits have been hit.

Ms Atherton added: "The statistics and details that have come to light through this report are shocking and disgusting. The only glimmer of hope is the knowledge that there are many more people out there that love wildlife than the minority that are prepared to destroy it through criminal acts."

One species of wild bird that is criminally abused significantly more than birds of prey and the other species highlighted by the RSPB is the pigeon. Pest control companies and those offering bird control services kill huge numbers of pigeons illegally every year and yet few if any are ever brought to trial. A lack of resources and a general lack of wildlife crime officers throughout the UK mean that few reports of illegal killing and cruelty are ever investigated by the police.

One police force, however, is determined to tackle the problem. Craven's new wildlife crime officer PC Vanessa Bateson wants the public's help to stamp out crimes against birds and animals. PC Bateson is based in the Grassington area of Yorkshire and has been a serving police officer for 11 years. PC Craven's role will cover the whole of the Craven area.

PC Bateson said: "Being blessed with the fantastic countryside around us and having a natural interest in ornithology and wildlife, it was a natural progression to become involved in the prevention and detection of wildlife crime. My role is to deal with or advise on all aspects of crime against any form of wildlife. I am particularly interested in crimes against indigenous birds, birds of prey and all wild mammals. Being newly appointed, I am by no way an expert on anything. However, this role involves a multi-agency approach, so dealing with any incident is more than achievable."

Agencies such as the RSPB, RSPCA and Yorkshire Dales National Park Authority have dedicated enthusiastic employees involved in conservation and protection and in addition have a vast knowledge of species and correct procedures.

People can be incredibly cruel to wildlife and class it as sport; poisoning birds of prey who suffer a painful death leaving their starving young abandoned, destroying bat roosts, badger baiting - causing dogs and badgers to fight to the death - the collection of prohibited bird eggs, disturbance of nests, trapping wildlife illegally, poaching, importation and exportation of endangered species, the list goes on.

The law protects against this cruelty; offenders will be prosecuted.

I want to encourage the public to get involved. If you see anything suspicious involving wildlife crime, or anything you believe may be illegal, I urge you to come forward and inform North Yorkshire Police.

Also, if you are aware of persons who have committed crimes in the past, please do come forward; we need your help. If you are walking in the Dales and see animals in distress in traps, or a deceased animal or bird which looks poisoned or shot, again please inform the police."

PC Bateston has issued advice for anyone who comes across a suspected scene of a crime.

She says:

• Do not walk about unnecessarily or move any items

• Do not touch dead animals or birds you suspect have been poisoned - substances
used are usually very dangerous to humans too

• If possible, photograph the scene

• Do not approach any suspects

• Write down suspicious vehicle registration numbers

PiCAS UK fully supports the endeavours of PC Bateson. If other police forces in the UK took a similar stance on wildlife crime there is no doubt the ever-growing incidences of cruelty would start to decrease.

Contact details for the Wildlife Crime Unit are as follows:
Tel: 0207 230 3641; Fax: 0207 230 4020;
Web: http://www.met.police.uk/wildlife/;
Email: wildlife@met.police.uk

Contact details for the RSPB's special investigations unit are as follows: http://www.rspb.org.uk/supporting/campaigns/birdsofprey/

July 23rd 2008

Bird Poo Hits the Headlines (and the Car!)
The issue of bird poo has once again hit the headlines, this time as a result of the damage it can do to car paintwork. The issue has been raised in a report compiled by insurance giant Zurich Insurance and has hit the headlines as a result. Zurich claims that the damage done to car paintwork by bird fouling is having a significant effect on used car values in the UK.

Bird control expert Guy Merchant, also Director of PiCAS International, confirmed that bird excrement can seriously damage car paintwork if it is not cleaned immediately. The uric acid found in bird droppings can literally eat away at the paintwork if it is not cleaned off and these problems are compounded when birds are feeding on fruit and their excrement is coloured as a result. Light-coloured paintwork can be stained red or black as a result of being hit by poo from a bird that has been feeding on blackberries or blackcurrants.

Zurich suggests that the average cost of refinishing paintwork as a result of being damaged by bird poo is £33.33 but in individual cases the cost can be significantly higher.

Guy also warned that cleaning bird poo from car paintwork by rubbing it with a cloth can cause even more damage. Many hard seeds pass straight through a bird and will scratch car paintwork when rubbed, as will grit which is also eaten by some birds to aid digestion. The only safe method of cleaning dried-on bird poo is to soak it thoroughly before cleaning it off and even then only use a cloth very gently.

Guy's top tips include:

• Carry a small bottle of carbonated water (with no salt content) in the car glove
compartment and if the car is hit by bird poo just shake up the bottle, aim it at the
bird poo and blast it away. This method is safe and won't scratch paintwork.
• Buy a car cover if your car is parked under trees overnight. PiCAS UK receive
more complaints and enquiries from car owners who have to park their cars under
trees that overhang their driveways than virtually anything else. The problems are
magnified during the breeding period (March-August) when bird activity is
heightened.
• Check your car daily during the summer months when bird poo can dry to a
consistency of concrete when exposed to direct sunlight and always clean bird poo
as soon as you see it, don't wait or the next trip may be to the bodyshop!


July 11th 2008

Controversial Dovecote Granted Full Planning Permission
A dovecote provided by a regeneration group in Leamington Spa (Regenesis) has been granted full planning permission to remain after the temporary planning permission granted in 2007 expired in April this year.

The controversial dovecote has been the subject of extremely negative publicity and criticism not only from local residents but also from PiCAS UK who initially recommended the scheme to Regenesis - see archive news stories 9 May 2007 and 22 Oct 2007.

Regenesis ignored much of the advice provided by PiCAS UK when setting up the dovecote programme and as a result the dovecote was initially ignored by Leamington's pigeon population. In an attempt to force pigeons to use the dovecote Regenesis caught and netted an undisclosed number of pigeons inside the dovecote. This irresponsible and unnecessarily cruel operation was not only completely ineffective but undoubtedly resulted in a considerable number of pigeon chicks starving to death in nests when their parents were netted inside the dovecote.

The programme also failed to convey the message to those causing the problem by feeding pigeons in Jephson Gardens and on other sites throughout the town that they must feed only on the dovecote site. For a dovecote programme to be successful it must convey the right message to pigeon feeders in order to ensure that feeding ceases on existing feeding sites and starts on the dovecote site. The food source will quickly attract pigeons to the dovecote site and once the site becomes established as a feeding area by both pigeon feeders and pigeons, pigeon-related problems in more sensitive areas will reduce.

When feeding flocks of pigeons become familiar with the site they will start to roost and breed within the dovecote, thereby reducing roosting and breeding-related problems elsewhere in the town. Once pigeons start breeding within the dovecote their eggs are removed, as laid, and replaced with dummy eggs - this method of birth control will act to significantly reduce pigeon numbers throughout the area in a humane and sustainable manner.

According to the Programme Manager, Janet Alty, pigeons have now started using the dovecote facility and she has heralded it as a success. Ms. Alty believes that pigeon numbers in the town are already reducing although she admits that the public education element of the programme is not having the desired effect. The public are apparently still feeding pigeons in Jephson Gardens and until this source of food is reduced or removed altogether it will be impossible to attract significant numbers of pigeons to the dovecote and flock size will remain at existing levels.

Warwick District Council, who are working in partnership with Regenesis to provide the programme, must take responsibility for enforcing a pigeon feeding ban in all areas of the town in order to force persistent pigeon feeders to use the dovecote site for the purpose of feeding. Without this ban the programme will fail as a long-term control mechanism. One of the main reasons that PiCAS UK withdrew from playing any further part in the programme was the negative attitude of Warwick District Council and Leamington Spa's Town Centre Manager. For a programme of this nature to succeed there must be cooperation and understanding between all parties involved, including pigeon feeders, and a willingness to implement the programme as recommended in order to ensure its success.

July 2nd 2008

Wimbledon Questioned Over Legality of Pigeon Shoots
The All England Lawn Tennis Club, currently holding the world famous lawn tennis tournament, has been attacked by animal rights activists for shooting 4/5 pigeons prior to the start of the 2008 competition. International animal welfare group People for the Ethical treatment of Animals (PeTA) has contacted London's Metropolitan Police Wildlife Crime Unit claiming that the Wimbledon pigeon shoot was illegal.

PeTA's Vice President, Bruce Friedrich, believes that the pigeon shoot has compromised the terms and conditions of the General Licences which allow the killing of pigeons under certain circumstances. However, pigeons cannot be killed under the General Licences unless all non-lethal methods of control have first been tried and found to fail. Neither can pigeons be killed to protect the fabric of a building or to stop fouling. Furthermore, a severe and demonstrable risk to public health and safety must exist before any action to kill pigeons can be undertaken. Pigeons can only be killed as a last resort.

Mr. Friedrich of PeTA has written to the Chairman of the All England Lawn Tennis Club to object to the needless culling and has apparently received confirmation that no more pigeons will be killed on the site. Furthermore a PeTA spokesperson confirmed that they have had assurances from the All England Lawn Tennis Club that they will contact PeTA after the 2008 tournament to discuss a more effective pigeon control regime. PeTA said: "The (Wimbledon) spokesperson says they had the fellow with the hawk down there this morning and that they will contact us when the tournament is over in order to figure out the best way to work on pigeon control at the club in the future."

It would appear that the management at the All England Lawn Tennis Club have been ill advised by their pest control contractor, which is far from unusual, and as a result a great deal of negative publicity for the event has ensued.

Wimbledon organisers suggested that the pigeons were killed as a last resort and that they posed a health and safety risk to the players, but this is highly unlikely to be the case. In order to justify lethal control, if challenged, a severe risk to public health and safety must be proven and there is little doubt that 4/5 pigeons could not, under any circumstances, pose this type of threat. If the pigeons were perching in area where their excrement was causing a slip hazard to players then the roosting area could and should have been protected by deterrents. Deterrents are 100% effective and therefore lethal controls could not be justified on these grounds alone.

It is quite clear that the pigeons that were killed did not pose a severe and demonstrable risk to public health and safety and it is highly likely that these 4 pigeons were killed without first trying all non-lethal methods of control. Under these circumstances The All England Tennis Club could be prosecuted for compromising the terms and conditions of the General Licences within the Wildlife and Countryside Act 1981.

The All England Lawn Tennis Club currently uses the services of a falconer to control pigeons on the Wimbledon site and this is almost certainly why pigeon-related problems continue. Flying a hawk to control pigeons is not only expensive and totally ineffective as a control option but it is also a method of lethal control. Hawks used by pest control companies and falconers regularly kill pigeons. When pigeons are killed as a method of control a void in the flock is created into which other birds breed. Pigeons always overcompensate when breeding back after a cull and as a result pigeon numbers will rise rather than fall.

Falconry is a blood sport where a human being derives pleasure from seeing one bird kill another - it is not an accepted or an effective method of bird control.

Even in light of so much evidence which confirms that falconry is 100% ineffective as a method of pigeon control it is still the case that those suffering from bird-related problems throughout the UK are being conned by pest control companies and falconers alike into buying expensive falconry services. A vast majority of pest control contractors know little or nothing about effective bird management and it is certainly the case that few if any falconers have the slightest idea how to control problem birds.

It is critically important to seek independent advice when attempting to resolve a bird-related problem and advice should never be taken advice from a company that has a vested interest in selling a product, installation service or falconry service.

June 20th 2008

Hospital Gull Culling Operation May Have Been Illegal
PiCAS UK has learned that the Gloucestershire Royal Hospital has carried out an unnecessary and potentially illegal cull of gull chicks on the hospital site. Pest control operatives were seen removing distressed and screaming gull chicks from their nests and killing them, one member of staff confirmed.

A spokesperson for Gloucestershire Hospitals NHS Foundation Trust suggested that the hospital had tried many other controls but had been forced to resort to killing gull chicks.

In order to undertake a cull of gulls a special licence has to be obtained from DEFRA or Natural England. Criteria for this licence is strict but many pest control companies flout the law and use lethal controls without first trying all methods of non-lethal control. When the law is broken in this way it is the property owner that is legally responsible – in this case Gloucestershire Hospitals NHS Foundation Trust. If Gloucestershire Royal Hospital had not ensured that its contractor had fully complied with the conditions of the licence, confirming that all non-lethal methods of control had been tried and found to fail before resorting to lethal control, the Trust could be prosecuted. Furthermore the Trust must be able to prove that the resident gulls posed a serious risk to public health.

It is clear that egg-oiling could have been used to stop gull chicks being born (egg oiling is non-lethal and it is 100% effective) and therefore this killing operation is almost certain to have been illegal. Egg-oiling is undertaken once a year, after all the clutches of eggs have been laid, negating the need for further visits to gull nests until the end of the breeding period when nests are removed. Gloucestershire Royal Hospital's contractor must have accessed gull nests in order to remove and kill chicks and therefore they could have accessed the nests to oil eggs rather than killing.

June 17th 2008

Mallard Duck Saves Her Young Against All Odds
Six ducklings were separated from their mother after apparently being washed into a storm drain in a suburb of Newcastle on Tyne. The ducklings were then washed along the storm drain for nearly 2 miles.

Incredibly the mother followed the ducklings on the surface by listening for their cheeps of distress at each manhole cover the chicks passed under. This amazing feat on the part of the mother took her over a busy roundabout, across countless roads, a housing estate, two school playing fields and the grounds of a hospital!

The chicks' progress was halted when they finally reached a manhole access point in the middle of a housing estate. The mother then stopped and lay down on top of the manhole cover refusing to leave the chicks even though she couldn't get to them. Eventually a resident walked over to the mother and heard the chicks in the drain below the road. The manhole cover was lifted by residents and all 6 chicks were removed, one by one, with a child's fishing net. None were any the worse for their journey!

The RSPCA advised the rescuers to just allow the ducks to "wander off" but this advice was ignored (thankfully!) due to the fact that the ducks were in the middle of a large housing estate where they could, and probably would, have been hit by a passing car.

The mother and chicks were boxed up and taken by car to a nearby lake at Newcastle Airport and released. The rescuers watch mother and chicks swim off into the sunset!!

June 17th 2008

Research Confirms Pigeons' Self-Cognitive Abilities
Recent scientific research carried out at Keio University in Japan has confirmed that pigeons are one of the most intelligent species on the planet and have self-cognitive abilities (self-recognition) higher than a 3-year old child.

It was previously thought that these abilities were the sole preserve of humans and primates such as chimpanzees, but recent research has found these abilities to exist in dolphins, elephants and now pigeons. The pigeon is one of only 6 species on the planet that has been found to pass the 'mirror test' (being able to recognise its reflection in a mirror) and is the only non-mammal that has this ability.

The Japanese research found that a 3-year old child had difficulty recognising its self-image with a 2 second delay but pigeons were capable of discriminating video images of themselves with a 5-7 second delay. The pigeon has always been renowned for having much higher levels of intelligence than the average bird, with extremely high visual cognitive abilities, but this new research sets the bar even higher.

Incredibly, the team at Keio University also found that pigeons could discriminate between certain paintings, for example by Van Gogh and from another painter such as Chagall. Earlier research undertaken at Harvard University found that pigeons were able to differentiate between 2 different photographs and were even found to be able to differentiate between two human beings in a single photograph. The pigeon can also recognise all 26 letters of the English language and can even conceptualise, another ability that was previously thought to be the sole preserve of higher primates and humans.

Human beings have exploited the pigeon's extraordinary abilities and intelligence for centuries using the birds to carry messages in both wartime and for commercial purposes. Pigeons were first used as messengers in Syria and Persia in the 5th Century BC and then later in the 12th Century when all the major cities in Syria and Egypt were linked by messages carried by pigeons. Later, in the 19th Century, the first commercial airmail service using pigeons (known as the pigeon-gram service) was started in New Zealand between the Great Barrier Reef and Aukland. In the 1st and 2nd World Wars pigeons saved thousands of human lives by carrying messages and many birds were awarded medals for their bravery.

The Royal Navy has trained a number of pigeons to save human lives at sea with extremely high success rates. Project Sea Hunt found that pigeons were able to identify red or yellow life jackets when floating in water far more quickly than human beings. Pigeons were found to be much quicker than human beings to identify survivors from a sinking boat and also far more reliable. Much of this is due to the fact that pigeons see colour in the same way as human beings but they can also see ultra-violet, a part of the spectrum that the human eye cannot see, making them far better adapted to identifying the bright colours used on life jackets.

Probably the most extraordinary and baffling ability associated with the pigeon is its ability to return to its 'home' (or pigeon loft in the case of racing pigeons) when released from as far as 600 miles away. Many pest control companies offer cage-trapping services to their more sensitive clients suggesting that the trapped birds will be taken some distance away and then released, thereby resolving the client's problem. Although in a vast majority of cases the pest control contractor will simply kill all the pigeons regardless, some contractors actually release the trapped birds some distance away, in some cases several hundred miles away. In each and every case the pigeons will immediately return to the area where they were trapped, normally before the vehicle that transported them to the release site. Racing pigeons are also renowned for their ability to return to their lofts from incredible distances.

Although the pigeon has been an extremely faithful servant of man over the centuries it has now outlived its usefulness and as a result millions of pigeons are killed annually by the pest control industry, purely for commercial purposes.

June 12th 2008

Shopping Centre Wastes Money On Ineffective Pigeon Control
The Salford Advertiser has recently reported that managers at Eccles Shopping Centre in Manchester are to use a hawk in an attempt to scare pigeons.

Shopping centre manager Kyla Ankers has confirmed that pigeons are being attracted to the centre as a result of the public feeding the birds and confirmed that in her opinion the best method of resolving the problem would to reduce food sources. She also confirmed that she is working with litter enforcement officers to reduce the current levels of both littering and feeding.

The manager suggested that the premise behind using a hawk was to fool the resident pigeons into thinking that the bird of prey is nesting nearby and move them away from the centre permanently.

Pigeons are commonly attracted to shopping centres throughout the UK due to the high levels of public feeding that occurs in these areas. A steady growth in the popularity of street cafes and al fresco eating has resulted in a dramatic increase in pigeon-related problems. Although pigeons will exploit any food source and readily accept crumbs from people having their lunch in the open air however, the real source of the problem is daily feeding of pigeon flocks with large quantities of food by deliberate and persistent pigeon feeders.

In order for the management of Eccles Shopping to find a permanent and sustainable resolution to their problem they must deal with the source of the problem, not the problem itself. No matter what action is taken to control or deter pigeons, as long as persistent feeders are allowed to continue feeding the problem will continue and further entrench. Pigeons breed all year round and pigeon flock size is dictated absolutely by the extent of available food. If food sources remain in situ pigeons will continue to breed, producing up to 8 or even 10 young per pair in optimum conditions. If food levels reduce, however, pigeons will breed less or even stop breeding altogether if available food falls below a certain level.

Although anti-litter teams can monitor the problem and in some cases remove food before it is exploited by pigeons, they do not have the expertise necessary to deal with persistent pigeons feeders.

The use of a hawk to deter pigeons is a complete waste of money and a hawk will never scare pigeons away from any area permanently, particularly if the food source remains in situ. Furthermore, falconry is not only hugely expensive and completely ineffective as a bird control option but it is also a blood sport. Most companies offering this service in the UK are not bird control experts they are sportsmen that have jumped on the pest control bandwagon in the hope of making a quick profit. Most of them know little or nothing about bird management.

The use of hawks might appear to be a 'humane' and 'green' means of dealing with the problem but in reality it is far from that. It is impossible to train a raptor not to kill, it is instinctive for the bird to do so, and therefore it is extremely common for hawks to catch pigeons and many other species of birds during control operations. When a hawk catches a sick or injured pigeon it will tear the bird apart whilst still alive, normally in front of horrified shoppers. Harris hawks, the species most commonly used for bird control work, will never catch an adult pigeon as they are too slow in flight and therefore they pose no threat to pigeons – and pigeons know this.

There are numerous 'quick fix' methods of control recommended for pigeons, usually culling and the use of hawks, both of which are not only expensive and ineffective but also act to increase flock size rather than reduce it. The City of Liverpool Council even spent huge sums of public money on robotic birds of prey designed to scare pigeons away from the city centre. This laughable method of control may have provided a talking point for the media and highlighted the problem in the city, but it certainly didn't have had any effect on Liverpool's pigeon population.

In order to control and reduce the size of a pigeon population a well thought through strategy must be implemented acting on advice from independent bird control experts, not falconers and pest control companies that have a vested interest in selling a product or service. PiCAS UK offers a range of independent consultancy services designed to empower the client to resolve a bird-related problem holistically, cost-effectively and sustainably.

June 12th 2008

U-Turn Council Dubbed 'The Worst Council in Britain' By Experts
The Pigeon Control Advisory Service UK Division (PiCAS UK) has slammed Chester City Council for abandoning its no-cull policy where pigeons are concerned. In 2001 Chester City Council agreed to put aside its outdated and ineffective pigeon culling strategy and initiate a humane but effective pigeon control programme in Chester city centre, acting on advice from PiCAS UK.

PiCAS UK has learned that Chester City Council recently culled pigeons in St Martin's House prior to demolition, contravening the council's own no-cull policy and breaking a longstanding agreement made with PiCAS UK in 2001.

It was PiCAS UK that recommended the installation of a pigeon coup (or dovecote) in Kaleyards as a humane but 100% effective means of managing pigeon flock size in Chester city centre. The dovecote was designed to provide pigeon feeders with a legitimised feeding area to stop random feeding taking place throughout the city centre and provide problem birds with a daytime perching facility, thereby reducing soiling on properties throughout the city centre.

The concept behind a pigeon coup is to close down large-scale roosts such as St Martins House and allow the excluded birds to relocate into a dovecote facility such as the one in Kaleyards. Once pigeons have relocated and become established in the dovecote breeding can be controlled via egg removal and replacement with dummy eggs - flock size will then reduce dramatically.

This method is now being used throughout Europe with massive success. It is only successful, however, because it is a humane and non-lethal programme and as such is accepted and embraced by persistent pigeon feeders. In order to control an area-wide pigeon flock effectively there must be a degree of control over both breeding and food sources. By culling the council has not only dashed any hope of cooperation from Chester's pigeon feeders (the source of the problem) but it has wasted an opportunity to move more of Chester's pigeon population to take up residence in the dovecote where their breeding can be controlled.

Far from reducing the problem in the city centre Chester City Council's recent cull will actually increase pigeon flock size by between 15% and 30%. Scientific research and research undertaken by the PiCAS Group over the last 35 years has confirmed that pigeon flock size will rise back to the pre-cull level and exceed it within a matter of weeks following a cull. This is because pigeon flock size is dictated, absolutely, by the extent of available food. When a cull takes place food levels rise significantly for the remainder of the flock and mass breeding takes place – the result is a population explosion.

Chester City Council has wasted public money on culling pigeons in the city and yet the council was made abundantly aware that culling will only act to increase pigeon flock size as far back as 2001. Even in light of this the council went ahead with this barbaric cull.

Chester City Council's unprofessional and in some cases laughable attempts to deal with the city's pigeon problem over the last 7 years has now earned the council the dubious title of the worst council in Britain by PiCAS UK.

Chester City Council was offered a package by PiCAS UK that would have provided the city with a humane, cost-effective and sustainable programme that would have reduced and controlled pigeon flock size on a year by year basis. Instead Chester City Council has chosen to turn the clocks back and revert to 19th century methods of dealing with the problem.

Guy Merchant said: "It is almost impossible to believe how badly the city council has handled this problem. They are living in the dark ages where this issue is concerned. The council has completely ignored the advice provided to them, failed to introduce the wide-ranging package of controls recommended to them and bowed to pressure from the business community to cull. If Chester City Council had worked closely with PiCAS UK from day one the city would now have a unique and completely effective pigeon control system that would be an example to councils throughout Britain."

June 10th 2008

Norfolk Wakes Up to PiCAS Waterfowl Control Programme
It seems that Swaffham Town Council in Norfolk has realised the wisdom of providing a holistic and effective control system for the town's duck population resident on Northwell Pool. PiCAS UK has advised numerous councils throughout Norfolk over the last decade to adopt what is commonly known as the 'PiCAS Programme' in an effort to control and reduce the size of waterfowl populations, but all have been extremely resistant to even consider the concept.

Norfolk has a history of duck problems in towns and villages throughout the county with a majority of the problems being caused by residents' over-feeding the birds. Now Swaffham Town Council, working in partnership with Norfolk County Council, has agreed to fund a watered down version of the PiCAS Waterfowl Programme in Swaffham.

The 'PiCAS Programme' is designed to deal directly with issues relating to both over-feeding and resultant over-breeding, but it seems that Swaffham Town Council, and Norfolk County Council, have failed to fully understand this concept.

The scheme is apparently to provide artificial breeding islands to encourage ducks to breed on Northwell Pool itself rather than in resident's gardens (the main problem associated with the ducks) but this will simply act to increase the size of the duck population unless breeding is controlled by egg-oiling. Furthermore, if public feeding of ducks resident on Northwell Pool is not similarly controlled the programme will fail completely.

Most councils fail to understand that excessive public feeding is the main root cause of all waterfowl problems and many take invasive action, such as culling, in an effort to reduce population size. Heacham Parish Council is one of the many councils that have culled in recent years. Swaffham Town Council and Norfolk County Council must be applauded for having taken a non-lethal approach to dealing with the problem but if they fail to take expert advice on how to provide the programme it will inevitably fail.

The 'PiCAS Programme' is virtually 100% effective if all the components of the programme are provided in a structured manner with the needs of the ducks in mind. If a system of artificial breeding facilities is provided (floating islands with or without breeding boxes) along with landscaping of the areas around the pond to further encourage breeding, duck populations can be controlled very effectively. Nests are monitored and as soon as a batch of eggs has been laid they are 'oiled' by coating in paraffin BP – this blocks the pores of the eggs ensuring that the embryo fails to develop.

Alongside the breeding control programme a public education programme must be provided to ensure that public feeding of ducks is reduced. No matter how extensive the breeding control programme, if excessive public feeding continues unabated the problem will simply further entrench.

It is even more important to take expert advice when spending public money on a complex and multi-faceted programme such as the 'PiCAS Waterfowl Programme'. Without expert advice waterfowl control programmes such as the one proposed for Swaffham will fail and the programme itself will be blamed rather than those that designed and provided it. Many councils in East Anglia, such as East Cambridgeshire District Council in Ely, have provided waterfowl control systems based on the 'PiCAS Waterfowl Programme' but have failed to follow through. The result is that public money is wasted and a less than effective control programme is provided.

There must be an understanding that these control programmes are long-term proposals that will not bear fruit for 3-5 years but when they do bring about a reduction in waterfowl numbers, it will be a permanent reduction, unlike culling which only ever brings about a short-term reduction followed by a population explosion. We urge Swaffham Town Council and Norfolk County Council to contact PiCAS UK, who are the acknowledged experts where this issue is concerned, to ensure that the programme provided in Swaffham is holistic and deals with all the problems associated with the current duck overpopulation.

June 3rd 2008

Experts Question the Legality of Council Gull Control Strategy
A member of the public in Arbroath, Scotland has alerted PiCAS UK to the fact that Angus Council, who currently offer a gull nest removal service to the general public, may be acting outside the law.

Angus Council has confirmed that it provides a gull nest removal service for £18.50 which involves the removal of both nest and eggs but not chicks. The council also confirmed that it contracts out its nest removal service to a third party contractor and that an average of six visits may be needed to deal with each problem.

However, new legislation drafted by the Landscapes and Habitats Department of the Scottish Government, which came into force on April 1st 2008, confirms that anyone acting under the General Licence to remove gull nests must first meet much stricter criteria than was previously required.

In order to use any lethal method to control gulls (killing chicks, nest removal, egg pricking/egg destruction) a property owner or the authorised person, which in this case would be Angus Council and/or its contractor, must be able to prove that a serious threat to public health and safety exists before taking any action. Furthermore, the property owner or authorised person must be able to demonstrate that all methods of non-lethal control have been tried and found to fail before resorting to lethal control.

Most property owners that contract a pest control company, or their local council, to remove gull nests and/or kill gull chicks are unaware that they are legally responsible for any action taken on their behalf. If the company or council that they authorise to deal with the problem acts outside the law it is quite possible that they themselves will face prosecution as well as their contractor.

The new General Licence (No. 3), now requires that a detailed report is provided to the Landscapes and Habitats Division, by every property owner, council or contractor that removes gull nests or kills chicks. For the current period, 2008-2009, the report will have to reach the Scottish Government by January 2009.

The report will have to detail the following:

• The number of nests removed from each site
• The number of birds killed on each site
• The number of eggs destroyed on each site
• The month in which the actions took place
• The location of each site
• The types of non-lethal controls (i.e. installation of deterrents) used prior to
resorting to lethal control • Why these non-lethal methods failed
• If action was taken to guard public health or prevent the spread of disease
justification must be provided as to why gulls were considered to pose a threat to
public health and safety

In order for Angus Council to continue offering this nest removal service (whether or not it makes a charge for the service) the council, the property owner and the third party contractor will have to adhere to this strict criteria.

When PiCAS UK contacted Angus Council it was clear that the current procedure does not include a survey of the property to assess whether a serious threat to public health and safety exists. Nor does the survey include an assessment of which non-lethal methods of control have previously been tried and found to fail.

In order to act under the new General Licence (No. 3) the onus of responsibility is placed firmly on the property owner or authorised person undertaking nest removal to carry out a survey and satisfy themselves that the above criteria is met. Failure to meet these criteria prior to removing a nest or killing chicks may result in prosecution.

PiCAS UK also questions why 6 or more nest removal operations (currently charged at £18.50 per visit) are needed when one egg-oiling operation would achieve the same goal and cost the property owner significantly less. Nest destruction and egg-pricking simply results in the gull re-building its nest and re-laying immediately. Egg-oiling is carried out once at the start of the breeding period and no further visits are required to the nest. It would seem that property owners in the Angus area are paying for repeat visits when they are unnecessary. Clearly the council and its contractor are the main beneficiaries of this nest destruction service, whether or not it is illegal.

Nest destruction is the least effective of all the methods of gull control and if a gull nest is removed the area should be protected with deterrents immediately to prevent the gull rebuilding its nest and re-laying. Any council or pest control contractor that offers a nest clearance or egg-pricking service does not have the necessary expertise required to offer advice and should be avoided.

When dealing with a bird-related problem independent and expert advice should always be sought. Advice should never be taken from a pest control contractor that has a vested interest in selling a product or culling service.

June 2nd 2008

Racing Pigeon Fanciers Blamed for Peregrine Deaths
Two more cases of sickening cruelty against peregrine falcons have been uncovered in the Midlands by RSPB officers. The RSPB believes these illegal attacks have been undertaken by racing pigeon fanciers. The RSPB have offered a £1,000 reward for information that identifies the people responsible.

Close to one peregrine nest located at a quarry near Kingswinford, West Midlands, 3 spring-traps were found and all of the eggs in the nest had been smashed. Spring traps are illegal and indiscriminate causing huge suffering to any bird that becomes trapped in them.

At another location near Cannock in Staffordshire a male peregrine was found with its feet caught in a trap. The bird was so badly injured that it had to be put to sleep. Two chicks found in a nearby nest were recovered but were both close to starvation. Both orphaned chicks are now being cared for by a raptor organisation. There was no sign of the female bird and it must be assumed that she was illegally killed by the same people that set the traps.

Earlier this year PiCAS UK reported that a peregrine falcon was found dead in its nest in Swansea having been illegally poisoned. The RSPB confirmed that in their view racing pigeon fanciers were also responsible for this death.

The RSPB confirmed that there were 143 attacks on protected birds in Wales in 2006, an increase on the previous year of a staggering 57%. It is likely that many of these attacks would have been carried out by those involved in the sport of racing pigeons.

Anyone with information about the incident near Kingswinford can call West Midlands Police on 0845 113 5000, or with information on the incident near Cannock they can call Watling Street Neighbourhood Policing Unit on 08453 302010. Alternatively people can call Crimestoppers anonymously about either incident on 0800 555 111.

The RSPB has a highly informative webpage on wild bird crime where wildlife crimes can be reported: http://www.rspb.org.uk/ourwork/policy/wildbirdslaw/report.asp

The National Wildlife Crime Unit also has an interesting and informative webpage on wildlife crime at: http://www.nwcu.police.uk/pages/aboutus/aboutus.asp

May 28th 2008

Uses Humane Methods to Control Geese
It has been revealed today that George Best Belfast City Airport has chosen to act on the advice of their pest control contractor and use completely humane and non-lethal methods of controlling Canada geese and Greylag geese resident at nearby Victoria Park.

The geese are apparently breeding in the park and posing a threat to planes landing and taking off at the City Airport. Bird strikes can be devastating to aircraft and the City Airport had a total 16 strikes during the course of 2007.

Surprisingly in this case, a pest control contractor has advised a non-lethal and completely effective means of managing the problem rather than the usual response from the pest control industry which is to use lethal controls.

The contractor has recommended a method of control commonly recommended by PiCAS UK, called egg-oiling, which is a way of treating the eggs of a nesting bird to ensure that the embryo does not develop. The nest is visited once the whole clutch of eggs has been laid and the eggs are then immersed in paraffin BP. The paraffin oil coats the egg and blocks the pores, denying air to the embryo within.

Egg-oiling is the only method of egg interference that is effective – all other methods including egg-shaking, egg-pricking, breaking or removing eggs are completely ineffective as the adult bird will realise that the eggs have been interfered with. The immediate response from the parent will be to discard the eggs and lay another clutch.

This strategy adopted in Victoria Park, if continued for several years consecutively, will result in a large decrease in the numbers of chicks being raised on the site but will not be effective as a means of controlling population size in its own right. Public feeding of waterfowl in Victoria Park is undoubtedly the reason the birds are breeding to the extent they are and without taking action to control food sources other birds will move in to exploit the void created by a lack of young geese.

Many waterfowl programmes fail because the problem itself is dealt with but the source of the problem is ignored. A multi-faceted approach must be taken in order to control waterfowl that not only tackles the problem itself but, more importantly, tackles the source of the problem as well. Although the egg-oiling strategy is a step in the right direction the City Airport and the city council must draw up a public education strategy that deals with public feeding otherwise the problem will continue unabated.

PiCAS UK is only company worldwide that takes a holistic view of bird control and works actively with its clients to implement humane, sustainable and cost-effective strategies that deal with all the issues relating to the growth of wild bird populations.

May 28th 2008

Council Strategy Praised by Media
Alnwick District Council has, at last, received public praise for its forward-thinking approach toward controlling pigeons in the district.

The Northumberland Gazette has given Alnwick District Council some well overdue publicity for its decision to continue pursuing a wholly non-lethal approach in respect of pigeon control in towns across the district. The story can be read in full on the Northumberland Gazette website:

http://www.northumberlandgazette.co.uk/news/Pigeonproof-council-wins-bird-mans.4085554.jp

The council is also considering a scheme that will provide grants to property owners in Alnwick town centre toward the cost of pigeon-proofing their properties, an initiative fully supported by PiCAS UK.

This story was covered on the PiCAS UK News Page in April 2008 and can be found in the Archive News Page.

May 28th 2008


The latest assessment of the status of all of the UK's 246 regularly occurring birds - Birds of Conservation Concern 3 - shows 52 are now of the highest conservation concern and have been placed on the assessment's red list.

The revised red list now includes even more familiar countryside birds, including the cuckoo, lapwing and yellow wagtail, joining other widespread species such as the turtle dove, grey partridge, house sparrow and starling.

Alarmingly, red listed species now account for more than one-in-five (21 per cent) of all the UK's bird species. This is a far higher proportion than compared to the last assessment in 2002, when 40 species (16 per cent) were red listed. Most species on the red list have suffered a recent halving of range or population in the UK, or have undergone a historical decline since 1800.

Amongst the species new to the red list is a suite of birds visiting the UK in summer, notably the cuckoo, wood warbler, and tree pipit. These birds, are widespread, but rapidly-declining, summer visitors to the UK. Their addition to the red list is highlighting the concern that many long-distance migratory birds nesting in Europe and wintering in Africa are increasingly in trouble. Currently 21 of the birds on the red list are summer visitors to the UK, with the majority of these spending the winter in sub-Saharan Africa.

The continued decline of widespread farmland and woodland birds is a theme which has developed since the compilation of the last list in 2002. Lapwing, a formerly much-more widespread wading bird, and the hawfinch, a woodland bird largely confined to England, have both joined the red list in the latest assessment.

Three species of seabird join the red list for the first time. The Balearic shearwater - a smaller relative of the albatross - visits the UK from its Mediterranean breeding grounds regularly each autumn. This seabird, which is thought to face a higher risk of global extinction even than the giant panda - is the rarest bird to regularly occur in the UK. Highlighting concerns about the fortunes of seabirds around the northern coasts of the British Isles, the Arctic skua has joined the red list straight from the 2002 green list: the only species to do so. The familiar herring gull also joins the red list as its population has more than halved in recent times.

For the first time two winter-visiting birds have joined the red list. The dunlin, a starling-sized wading bird, and the scaup - a duck - have been placed on the red list because of declines in wintering populations. The ongoing decline of the dunlin population has seen this wader slump to its lowest levels since recording began.

While a link to climate change has not been demonstrated, the addition of five species on the southern edge of their nesting range in Britain (Temminck's stint, ruff, whimbrel, redwing and fieldfare) to the red list may provide some the evidence of range shifts. These species have only had a toehold in the UK in recent decades and now that appears to be slipping. (However, redwing and fieldfare are still plentiful visitors to the UK in winter).

However, the 2009 assessment does contain some good news. Six species (stone-curlew, woodlark, quail, Scottish crossbill, bullfinch and reed bunting) have been removed from the 2002 red list, largely because of a recovery in their numbers or range, or a better understanding of their populations. These species are now placed on the amber list.

The stone-curlew is a bird of farmland and open countryside. Virtually confined to Wessex and central East Anglia, the stone-curlew population has increased because of the fantastic efforts by landowners to improve the fortunes of this striking wading bird.

Improvements in land management, especially of heathland, have also led to a dramatic increase in the UK population of the woodlark, a heathland bird. The bullfinch and the reed bunting have also been placed on the amber list following modest recoveries in their populations.

The Scottish crossbill - the only bird species with its total world range confined to the UK - has also been removed from the red list. A survey (funded by RSPB and Scottish Natural Heritage) found approximately 13,000 individuals of this colourful endemic finch, and its population is currently thought to be stable.

The changing lists 2002 2009
Red 40 species 52 species
Amber 121 species 126 species
Green 86 species 68 species
Total species considered 247 246
Five species assessed in 2002 ( bluethroat, scarlet rosefinch, icterine warbler, hoopoe and snow goose) were not considered in the 2009 revision, because they failed to meet the qualifying criteria for inclusion. Four species not assessed in 2002 (Balearic shearwater; shorelark; yellow-legged gull; and hooded crow) were considered in the 2009 revision for the first time.

Birds of Conservation Concern 3 is compiled by a partnership of organisations, including the British Trust for Ornithology, Countryside Council for Wales, Game & Wildlife Conservation Trust, Joint Nature Conservation Committee, Natural England, Northern Ireland Environment Agency, RSPB, Scottish Natural Heritage, and the Wildfowl & Wetlands Trust

The full Birds of Conservation Concern 3 report will be published in the June edition of British Birds.

Quotes

Dr Mark Avery, the RSPB's Conservation Director, said: "An increasing number of charismatic, widespread and familiar birds are joining the list of those species most in need of help; this is scandalous. When the RSPB was formed 120 years ago, few would have been concerned about the cuckoo, lapwing, starling or house sparrow. Now these birds are some of our greatest conservation priorities. Most shocking is the more recently-observed and drastic decline of summer-visiting birds, typified by the cuckoo. "However, away from the doom and gloom, some birds, like the stone-curlew and the woodlark, are currently doing well. Thanks to a successful partnership between conservationists and landowners, the future for these birds looks more secure, at least for the moment. "Conservation works, but with a growing to-do list we have to strive even harder to retain the rich variety of wildlife that our islands possess."

Andy Clements, Director of the BTO, said: "Thousands of volunteer surveyors ensure we know what is happening to our birds, and it is their dedication that underpins this report. "Worrying population declines have caused 18 birds to be red-listed for the first time - species such as lapwing on farms, hawfinch in woods, and Arctic skua on northern islands. "A gap all of us will notice is the lack of the cuckoo's familiar song, their decline emblematic of downward trends in many long-distance migrants from Africa. That is why the BTO and our partners are working together, targeting research at understanding why migrant birds are in decline. "After all, as this report shows, when we know what to do, and there are funds to do it, we can improve the fortunes of birds such as stone curlew and woodlark. Success stories fire-up our volunteers, knowing their work can make a real difference to our birds!"

Rich Hearn, WWT's Head of Species Monitoring, said: "The inclusion of wintering waterbirds on the red list for the first time due to severe declines in numbers highlights an increasingly widespread phenomenon, that of climate-change driven shifts in distribution. These migrant waterbirds, along with many others on the amber list, are visiting the UK in smaller numbers. "Whilst they may not currently be declining at a population scale, uncertainties exist over whether such shifts will have detrimental effects in the longer term. Furthermore, our ability to track their status will become more difficult unless there is greater investment elsewhere in developing monitoring schemes like those well-established in the UK. "Breeding waterbirds are declining too. Our common scoter population has fallen by more than 80 percent, and almost 50 percent in the past 12 years. Despite this, relatively little is known about this unobtrusive duck and ecological research is thus urgently required in order to ascertain the causes of its rapid decline."

Peter Bridgewater, Chair of JNCC, said: "The review has highlighted the significance of UK marine areas for the globally threatened Balearic Shearwater. The importance of British waters for this seabird - where it occurs in significant numbers - was not previously known. The review demonstrates the international significance of the UK, especially its marine environments, for many species, and their conservation in the UK is an important foundation in protecting many birds across their international ranges."

Peter Thompson, of the Game & Wildlife Conservation Trust, said, "Our research on grey partridge shows that where targeted management is carried out then these and other farmland birds respond positively. However, the loss of set-aside has not helped declining farmland birds, and we believe a more radical approach is required that will reward farmers for conservation successes."

Poul Christensen, Acting Chair of Natural England, said: "Whilst the results point to some alarming trends, we shouldn't lose sight of the work that is being carried out to reverse these declines and some positive signs are already starting to show. Bitterns have had their best breeding season in over 100 years and along with the reed bunting - one of today's success stories - they have benefitted from wetland habitat restoration and targeted conservation work through Action for Birds in England (AfBiE).* The success of these programmes and of landscape scale projects like green farming schemes, conservation of traditional orchards and woodlands and focus on increasing urban wildlife habitat shows that the future of our UK birds and other threatened wildlife need not be one of ongoing decline."

Andy Douse, of Scottish Natural Heritage, said: "The decline of some of the scarce breeding species such as whimbrel is possibly another indicator of the impact of climate change. Whimbrel numbers have declined dramatically in parts of Shetland, their only stronghold in Scotland, and further survey work is needed to see if this decline is repeated in other areas where this charismatic northern species breeds. Climate change may also be affecting another species population, the Greenland white-fronted goose, an Arctic breeding species that has seen a marked decline in the flocks that winters on many of the islands of western Scotland. "However, it isn't all bad news and the recovery of the corncrake and apparent health of the endemic Scottish crossbill, is very welcome news, and shows what can be achieved when we understand the reasons behind these changes in numbers." -Ends-

For further information and to arrange an interview, please contact:

RSPB: Grahame Madge, RSPB press officer, on 01767 681577. Out of hours, please telephone: 07702 196902 (mobile)

BTO: Graham Appleton 01842 750050 or press mobile 07704 847935, or email graham.appleton@bto.org and David Noble on 01842 750050, or email david.noble@bto.org

Game and Wildlife Conservation Trust: Morag Walker, head of media, on: 01425 651000 JNCC: JNCC Communications Team, Telephone 01733 866839, or email communications@jncc.gov.uk

Natural England: Beth Rose, senior press officer, Natural England. Telephone: 0300 060 1405

Scottish Natural Heritage: Dr. Andrew Douse, Ornithological Policy & Advice Manager Telephone: 01463 725000 (switchboard) Direct dial: 01463 725241 E-mail: andy.douse@snh.gov.uk

WWT: Mark Simpson, WWT Headquarters PR Officer. Tel: 01453 891138; email: mark.simpson@wwt.org.uk

Photographs

Photographs are available to download free of charge from the RSPB Images website. To download images, visit the website and please enter the username and password below when prompted.

User Name: GM_BoCC3

Password: redambergreen

Please note these pictures are only to be used in conjunction with this story.

Broadcast-quality radio interviews

RSPB: To arrange an ISDN broadcast-quality radio interview with an RSPB spokesman please contact Grahame Madge at the RSPB press office.

BTO: Radio interviews can be arranged by calling 01842 750050

Sound clips

Sound clips of some of the species mentioned in this release, are also available. These can be obtained as MP3 files by email, or via the RSPB's ISDN line. Please contact Grahame Madge at the RSPB press office.

Editor's notes:

1. Birds of Conservation Concern 3 has been produced by a partnership of organisations, including: BirdLife International; British Birds; British Trust for Ornithology (BTO); Countryside Council for Wales (CCW); Game & Wildlife Conservation Trust (GWCT); Hawk and Owl Trust; Joint Nature Conservation Committee (JNCC); The National Trust; Natural England; Northern Ireland Environment Agency; Rare Breeding Birds Panel (RBBP); RSPB; Scottish Natural Heritage (SNH); The Scottish Ornithologists' Club; the Seabird Group; Welsh Ornithological Society; Wildfowl & Wetlands Trust (WWT).

2. Birds of Conservation Concern 3, the list in detail:

RED LIST

Species added to the 2009 Red list that were previously on the 2002 Amber list; cuckoo; dunlin; fieldfare; golden oriole; hawfinch; herring gull; lapwing; lesser redpoll; redwing; ruff; scaup; Temminck's stint; tree pipit; whimbrel; wood warbler; and yellow wagtail.

Species added to the 2009 Red list that were previously on the 2002 Green list: Arctic skua.

Species added to the Red list after their first assessment: Balearic shearwater;

The following species on the 2002 red list have remained on the 2009 red list: aquatic warbler; bittern; black grouse; black-tailed godwit; capercaillie; cirl bunting; common scoter; corn bunting; corncrake; grasshopper warbler; grey partridge; hen harrier; house sparrow; lesser spotted woodpecker; linnet; marsh tit; marsh warbler; nightjar; red-backed shrike; red-necked phalarope; ring ouzel; roseate tern; Savi's warbler; skylark; song thrush; spotted flycatcher; starling; tree sparrow; turtle dove; twite; white-tailed eagle; willow tit; wryneck; and yellowhammer.

AMBER LIST

The following species on the 2002 Red list have now been added to the 2009 Amber list: bullfinch; quail; reed bunting; Scottish crossbill; stone-curlew; and woodlark.

The following species on the 2002 Amber list have remained on the 2009 Amber list: Arctic tern; avocet; barn owl; barnacle goose; bar-tailed godwit; bean goose; bearded tit; Bewick's swan; black guillemot; black redstart; black-necked grebe; black-headed gull; black-throated diver; brent goose; chough; common gull; crane; curlew; Dartford warbler; dotterel; dunnock; eider; European storm-petrel; firecrest; fulmar; gadwall; gannet; garganey; golden eagle; goldeneye; great northern diver; great skua; green sandpiper; green woodpecker; grey plover; grey wagtail; greylag goose; guillemot; honey-buzzard; house martin; kestrel; kingfisher; kittiwake; knot; Leach's storm-petrel; lesser black-backed gull; little egret; little tern; manx shearwater; marsh harrier; meadow pipit; Mediterranean gull, merlin, mistle thrush, Montagu's harrier; nightingale; osprey; oystercatcher; parrot crossbill; pink-footed goose; pintail; pochard; puffin; purple sandpiper; razorbill; red grouse; red kite; red-necked grebe; redshank; redstart; red-throated diver; ringed plover; sand martin; sandwich tern; serin; shag; shelduck; short-eared owl; shoveler; Slavonian grebe; snipe; snow bunting; spoonbill; spotted crake; spotted redshank; stock dove; swallow; teal; turnstone; velvet scoter; whooper swan; wigeon; willow warbler; wood sandpiper; and woodcock;

The following species have been added to the 2009 Amber list from the 2002 Green list: black tern; common sandpiper; common tern; crested tit; glaucous gull; golden plover; great black-backed gull; Iceland gull; jack snipe; Lapland bunting; little grebe; little gull; mallard; pied flycatcher; short-toed treecreeper; smew; sooty shearwater; swift; tufted duck; water pipit; wheatear; whinchat; and whitethroat.

The following species have been assessed for the first time and added to the Amber list: shorelark; yellow-legged gull

GREEN LIST

The following species on the 2002 Green list have remained on the 2009 Green list: Blackbird; Blackcap; Blue tit; Brambling; Buzzard; Carrion Crow; Cetti's warbler; Chaffinch; Chiffchaff; Coal tit; Collared dove; Common Redpoll; Coot; Crossbill; Curlew sandpiper; Dipper; Garden warbler; Goldfinch; Goosander; Goshawk; Great crested Grebe; Great shearwater; Great spotted woodpecker; Great tit; Greenfinch; Greenshank; Grey heron; Hobby; Hooded Crow (first time assessed); Jackdaw; Jay; Lesser whitethroat; Little auk; Little ringed plover; Little stint; Long-eared owl; Long-tailed skua; Long-tailed tit; Magpie; Moorhen; Nuthatch; Pied wagtail; Pomarine skua; Ptarmigan; Raven; Red-breasted merganser; Reed warbler; Robin; Rock dove/feral pigeon; Rock pipit; Rook; Sanderling; Sedge warbler; Siskin; Sparrowhawk; Tawny owl; Treecreeper; Waxwing; Woodpigeon; and Wren;

The following species on the 2002 Amber list have been added to the 2009 Green list: Cormorant; Goldcrest; Long-tailed duck; Mute swan; Peregrine; Stonechat ; Water rail ; and White-fronted goose.

3. Action for Birds in England is a conservation partnership between Natural England and the RSPB. The partnership targets funding and conservation efforts on priority species and restoring important habitat.

The Royal Society for the Protection of Birds
The Lodge
Sandy
Beds
SG19 2DL
Press office telephone 01767 681577
Website: http://www.rspb.org.uk/
Registered charity no 207076

May 28th 2008

Council to Deal with the Source of the Problem
Ceredigion County Council has made the connection between the increase of roof-nesting gulls in the town of Aberystwyth and the provision of easily scavenged food sources in refuse bags.

Many councils fail to, or refuse to, make the connection between easily available food sources such as refuse in black plastic sacks and annual increases in gull activity. Gulls are renowned for exploiting this ready food source and can rip a black refuse sack apart in a matter of minutes and consume any food within it.

It seems almost incredible that councils suffering from this type of problem do not invest in a system of wheelie bins rather than continue using an outdated black bag system, particularly those with historic gull problems.

Ceredigion County Council now intends to fine householders who put their bin bags out in advance of the collection day but in a town like Aberystwyth, that has a large visitor population, this system cannot be used to any effect. Holiday-makers who rent a cottage or apartment for a week usually leave on a Saturday and any refuse resulting from their holiday is put out on that day. This inevitably means that the system will fall down in the summer months, precisely the time when roof-nesting gulls are at their most active when they are feeding their young.

Ceredigion County Council needs to think outside the box in order to resolve this problem and provide a holistic strategy that includes the provision of wheelie bins, a public education strategy and a system of egg-oiling to control roof nesting gulls. Without these measures in place the problems will continue to spiral out of control year on year.

PiCAS UK is the only consultancy service worldwide that provides expert and independent advice on the provision of holistic and sustainable bird control systems.

May 11th 2008

PiCAS UK Launches its
This week sees the formal launch of PiCAS UK's new Telephone Consultancy Service, an option previously only available for PiCAS's international clients through PiCAS International.

PiCAS UK's comprehensive list of professional services is now complimented by this unique and user-friendly service that offers the client a means of accessing expert and independent advice over the telephone or via Skype™. Previously, a site survey or office-based meeting was the only means of sourcing independent advice from PiCAS UK.

Although site surveys are often essential, particularly for entrenched problems or where area-wide issues are concerned, the benefit of being able to discuss a bird-related problem, in as much detail as is necessary, is considerable. There will always be an inevitable time-lag when booking an on-site survey or on-site meeting but it is often possible to book a telephone consultancy slot same day for urgent problems.

The major benefit of the Telephone Consultancy Service to most clients is having the ability to organise a 'virtual' meeting at a time that is convenient and at a venue that suits the client and any other party that may need to be involved, allowing colleagues working on different sites to take part and feed into the consultancy session. For Architects and other professional service providers the Telephone Consultancy Service also allows for their clients to be involved in the process and feed in where necessary.

Architects and those involved in the construction industry can use the service to discuss plans and drawings in an effort to design out bird occupancy. Likewise, anyone needing to protect an existing building can use the service to receive an independent and expert assessment of the various bird control products on the market and which products would be the most cost-effective and offer the greatest protection. The Telephone Consultancy Service is open to professional service providers, commercial property owners and the general public irrespective of the size or scale of the problem.

The client is asked to provide as much documentation as possible prior to the session in order to ensure that the consultant providing the consultation session is fully empowered to offer the most appropriate advice. This may include drawings, site plans, photographs, Google™ Earth images and any other information detailing the problem and the scale of the problem.

The Telephone Consultancy Service is charged on an hourly basis offering the client a transparent and cost-effective service without any hidden costs. All consultancy sessions are recorded, with the client's permission, in order that a transcription of the consultancy session, or an audio CD, can be provided if required. A further charge is made for both options. Should a client wish to book an immediate consultancy session, and assuming that a technical consultant is available, payment can be made by Paypal to facilitate this expediently. For further information on this service or any other service offered by PiCAS UK please see the Services page or Contact PiCAS UK direct.

12th May 2008

Peregrine Falcon Could Have Been by
Fears are growing that an adult peregrine falcon that was found dead in its nest on the 1st of May in Swansea city centre, was deliberately poisoned. The police are now carrying out forensic tests on the dead bird to identify the type of poison used.

Stuart Thompson of the RSPB suspects that pigeon keepers are responsible for the illegal poisoning. He said: "It is not uncommon for pigeon keepers to take such action against birds of prey to protect their own flock. There are no excuses for poisoning a peregrine falcon."

Some of the more extreme pigeon racing enthusiasts in the UK are known to target birds of prey because they are believed to attack racing birds. Some years ago several extreme pigeon racing enthusiasts in the UK even suggested that they would attach explosive devices to some of their racing pigeons so that when they were caught by a hawk or falcon both birds would explode.

Terry Tovey of the Gower Ornithological Society confirmed that numbers of peregrines have only recently started to increase after a slump in the 1970's and he believed that racing pigeon enthusiasts may be responsible for the death.

Crimes against raptors are on the increase worldwide with eleven pigeons fanciers from the USA facing prison sentences in 2007 after being charged with shooting, beating and suffocating dozens of protected hawks and falcons in an effort to protect their birds during racing events. One of the accused even admitted spraying the falcons that he had caught in traps with bleach and ammonia.

The RSPB have confirmed that there were 143 attacks on protected birds in Wales in 2006, an increase on the previous year of a staggering 57%. It is likely that many of these attacks would have been carried out by those involved in the sport of racing pigeons.

Although PiCAS UK agrees that the peregrine falcon could have been killed by pigeon racing enthusiasts, one option not yet considered is that the bird was illegally poisoned by pest control contractors as part of a pigeon control operation. PiCAS UK believes that this is a very real possibility. Although poisons are illegal in the UK, and licences to use them are rarely if ever granted by Natural England due to the fact that poisons cause unnecessary suffering, some more unscrupulous pest control contractors undoubtedly still use them. Several much loved peregrine falcons, and their young, were found dead in their nests several years ago in the city of Melbourne, Australia after they had caught and consumed pigeons that been poisoned by pest control contractors.

All poisons are indiscriminate, irrespective how, where or by whom they are used and more information on the commercial use of poisons can be found on the Lethal Bird Control page.

Anyone with any information relating to this crime can contact Swansea police on 01972 456999 or Crimestoppers anonymously on 0800 555111.

2nd May 2008

Hawks to be Used in an Attempt to Control Gulls
Yet again we see a hawk being employed in an attempt to control and deter roof-nesting gulls, this time on a Scottish Water building in Ayrshire. Scottish Water has brought in a pest control contractor, Rentokil, after experiencing problems with roof nesting gulls during the breeding period, an ever-growing problem for property owners in Scotland.

Apparently the hawk was brought in after it was revealed that nylon bird netting installed by Rentokil, at a cost of £40,000, had trapped and injured gulls on the same site. This type of cowboy operation is not uncommon when pest control contractors are contracted to deal with a sensitive problem of this nature that requires expertise, not brute force and ignorance. A vast majority of pest control contractors have little or no idea how to control gull populations and it is not uncommon for birds to be killed and injured in botched operations such as this. Rentokil succeeded in selling Scottish Water a completely inappropriate product at a huge cost to the client and when the product failed Rentokil then sold the client falconry services, another very expensive and completely ineffective control option. Pest control contractors are product installers, not bird control experts.

Incredibly, Scottish Water confirmed that it hopes to relieve problems for the nearby Prestwick Airport by taking this action to use a hawk, but the opposite is likely to be the case. Although the use of a hawk in an attempt to deter roof-nesting gulls from Scottish Water's properties will be a complete waste of time and resource, the increased activity resulting from adult gulls chasing hawks away from their breeding site will have a significant and detrimental impact on Prestwick Airport, not the reverse. When a hawk flies anywhere near a gull nesting site the adult birds will immediately mob the hawk and continue to do so until the hawk returns to the handler. In this case, if the hawk is chased over the airfield rather than away from it the results could have lethal implications for air traffic. Both Scottish Water and Prestwick Airport should treat this threat very seriously indeed and take steps to bring in real bird control experts to advise them before a bird strike occurs that results in a loss of human life.

The increase in the use of raptors to deter gulls is a worrying trend with unscrupulous pest control contractors duping clients into believing that this method of control is effective, 'green' and 'in tune with nature'; it is none of these things. The species of hawk commonly used to control gulls, the Harris Hawk, is not the natural predator of the gull and neither is it an effective deterrent. The use of falconry, a blood sport where one bird is used to kill another, cannot under any circumstances be described as humane or an appropriate method of bird control in the 21st century. In most cases the contractors that offer this service are falconers that are simply jumping on the pest control bandwagon with few if any having any experience or in-depth knowledge of bird control.

Independent and expert advice should always be sought before taking any action control to roof-nesting gulls and under no circumstances should advice be taken from a pest control contractor or a falconer. Gull control is a highly specialised area requiring complex long-term control systems rather than quick-fix and ineffective solutions as offered to Scottish Water by their contractor. For further information on humane and effective solutions for gull-related problems please contact PiCAS UK direct or see the Problem Birds page.

1st May 2008

to Install Ineffective Deterrent
Norwich City Council has applied for planning permission to install a pigeon control system on City Hall as a result of a build-up of pigeon droppings which, the city council suggested, are "eating away" the soft sandstone from which City Hall is constructed. Norwich City Council also confirmed that the extent of current soiling to the fascia of the building is compromising the beauty of the building. The story is highlighted in a piece in the Norwich Evening News.

Norwich City Council must be applauded for its decision to provide a wholly non-lethal and humane pigeon control system on City Hall, and the authority has indeed committed to a city-wide non-lethal pigeon control policy, but its application to install what is known as a 'post and wire system' to deter pigeons roosting on City Hall is a grave and potentially expensive error of judgement.

The 'post and wire' system, covered in more detail on the Deterrents page, is a system of 4" vertical steel posts which are drilled into the stonework of the building upon which stainless steel wires are suspended at 3"- 4" above the area to be protected. The steel wires are sprung via small steel springs attached to the vertical posts and when a pigeon attempts to land on the protected surface its feet touch the sprung wire, which moves making the bird feel unsafe, and the bird aborts its landing.

The 'post and wire' is a low profile system and as such is designed to maintain the aesthetics of the building upon which it is installed. The 'post and wire system' is not, however, an effective or a cost-effective pigeon deterrent and its installation can cause far more damage to the fabric of the building upon which it is installed than pigeon droppings will ever do. Most property owners are persuaded to have this system installed purely because it is a low profile system rather than because it will provide a high level of protection and, as a result, pay a much higher price in the long-term. When funding is coming from the public purse this lack of foresight is simply unacceptable.

The vertical posts that support the system must be drilled into the stonework and as the posts must be provided no more than a metre apart, and as multiple rows of the system will be required on each surface to be protected, thousands of holes will need to be drilled into the stonework. If these holes are not 'sealed' with silicone, and if water seeps into the holes, the water will freeze in sub-zero temperatures and expand, causing large cracks to appear in the stonework, particularly in soft stone such as sandstone. This happened on a council-owned building in Solihull when a 'post and wire' system was installed with large pieces of masonry falling to busy pavement areas below.

Not only is the 'post and wire' system highly invasive to install but it is one of the most expensive and one of the least effective pigeon anti-perching devices on the market. The steel wires constantly break and need to be replaced and pigeons can often be seen perching on or between the wires. On wide windowsills, where comprehensive coverage is cost-prohibitive, pigeons will build nests behind the wire installation and in some cases will even manage to build nests beneath the wires. Most pest control contractors recommend this product not only because it is highly profitable but also because it needs constant maintenance and repair, resulting in further work for the contractor concerned. PiCAS UK would never recommend a 'post and wire' system to a client for these reasons.

It seems incredible that the council's own Listed Buildings Officers are even considering such an invasive system to be installed on a listed building and it must be assumed that they are unaware of the potential for the system to damage the fabric of the building. Had the council taken independent and expert advice from PiCAS UK, rather than taking advice from a commercial contractor with a vested interest in selling a highly profitable product, other far less invasive and far more effective products would have been recommended to them.

Interestingly, the Dean of Norwich Cathedral also commented in the Norwich Evening News article that the birds (pigeons) are rats with wings and because of the diseases they carry they are a serious problem on the cathedral. Firstly the Dean is misinformed about the potential for disease to be harboured and spread by pigeons (see the Do Birds Spread Diseases page) and secondly the cathedral authorities have a problem with pigeons because they employ lethal methods to control the birds. In June 2007, after a pigeon had been enticed in the cathedral's café by food, the cathedral management brought in a pest control contractor to shoot the unfortunate pigeon, in broad daylight and in front of horrified diners. Onlookers reported blood and feathers everywhere. Apparently no attempt was made to evict the pigeon humanely. The use of lethal controls in an attempt to reduce pigeon numbers is discussed in more detail on the Why Lethal Control Fails page.

28th April 2008

Despite Success with Pigeon Egg Removal, Considers Cull
According to recent reports in the local press, Chester City Council is considering lethal methods of controlling pigeons in the city centre, despite spending thousands of pounds installing a dovecote in 2005 and encouraging the pigeons to feed and breed within it.

Based on the fact that all other complimentary controls recommended to Chester City Council were then ignored by the authority, the world-renowned bird control experts felt they had no choice but to withdraw their support for the council's strategy. Emma Haskell, Director of PiCAS UK said at the time: "It is extremely disappointing that Chester City Council has failed to work in consultation with PiCAS and has taken decisions that could have disastrous consequences for the pigeon control programme. As with every local authority, Chester City Council has a duty to its residents to implement this scheme as directed by their chosen consultant (PiCAS UK) and yet the watered down measures that the authority has decided to implement will, we believe, result in the programme being considerably less effective than it could or should otherwise have been."

It is therefore with little surprise that animal welfare groups and local residents are up in arms at the fact that the council is now considering a cull because previous efforts have failed.

Interestingly, a recent statement by David Hosker, the City Council's Environment Manager revealed that he, himself removed 30 eggs from the dovecote just last Tuesday. As per the recommendations made to Chester City Council back in 2001, PiCAS UK clients are instructed to remove eggs and replace them with dummy eggs on a weekly basis as an absolute minimum. If Chester City Council is following guidelines, and removing this amount of eggs every week, that means 30 pigeons are not being born every week and as a result pigeon numbers should have notably reduced since the dovecote was installed. The removal of 30 eggs every week would mean the strategy has been a resounding success!

Emma Haskell said today: "Regrettably this is all too common an occurrence; local authorities often fail to fully or correctly implement recommendations made by PiCAS and will then often attempt to put the blame for their own failures onto PiCAS UK and its strategy. If Chester City Council was to concentrate their efforts on implementing the pigeon control strategy as set out by PiCAS UK in 2001 and launch a public education/information programme to ensure feeders are aware of the designated feeding area provided, they will quickly see a permanent reduction in pigeon numbers in the city centre, without the need to waste tax-payers money on expensive and ineffective culling operations. The fact of the matter is that the authority has failed in informing members of the public about the designated feeding area and the strategy overall. While it is a positive step that the authority has now conceded that more signage is required, no doubt it'll be a while before any signage is actually installed. How long will Chester City Council wait before deciding a cull will be necessary?"

28th April 2008

Council Waste Public Money Trying to Tackle Gull Problem
Herefordshire Council has recently announced that it intends to deal with an ever-growing gull problem in the town by contracting a falconry company to disperse gulls and remove their nests.

What the authority has failed to understand is that the use a falconry, a bloodsport, is clearly not an appropriate method of bird control in the 21st century and, not only this, it is completely ineffective as a means of deterring roof-nesting gulls. The use of a hawk is not only hugely expensive, with some companies charging up to £150 an hour, but hawks are commonly 'mobbed' by gulls, particularly in the breeding season, and therefore this method of control cannot be effective. Bath and North East Somerset Council attempted to control roof-nesting gulls by using hawks in 2007 and although the council suggested that the scheme had been partially successful it attracted a derisive response from experts and wildlife groups alike.

Falconers are not bird control experts, they are people who derive pleasure from using one bird to kill another, and although the falconer contracted by Herefordshire Council may have given assurances that their birds will not kill the target species or other wild birds, including protected species, killing will take place with regularity. It is impossible to train a bird of prey not to kill – killing is an instinctive response in any raptor and they will attack any bird, not just the target species. Not only this, but removing gull nests is a complete waste of time and resource as gulls will re-build their nests and start laying again within 24 hours – any bird control expert would understand this and it just confirms that the company being used by Herefordshire Council has no idea what it is doing.

The only strategies that can effect a reduction of gull numbers in an urban area are holistic strategies that deal with the source of the problem as well as the problem itself. Most entrenched gull problems in urban areas are there as a direct result of fast food refuse and this problem must be dealt with before any action is taken to deal with gulls themselves. Street cleansing services must be upgraded with both the public and fast food outlets being educated to dispose of litter and kitchen waste in a responsible manner. Fines must be imposed on those that do not comply.

Once the source of the problem is identified and dealt with, gull breeding sites must be mapped out and a regime of egg oiling (coating the egg in oil to stop the embryo developing) undertaken and continued for at least 3-5 years. This combined with providing advice and possibly grants to those experiencing problems with gulls will be the most effective way forward. To use a falconer to control roof-nesting gulls is a worryingly irresponsible use of public money and almost laughably naive. Independent and expert advice must be sought from an organisation like PiCAS UK, particularly when spending public money, rather than from a company that has a vested interest in selling a service and one that clearly has little idea how to deal with a problem of this nature.

28th April 2008

Council Considers Grant Aid to Tackle Pigeon Problem
Alnwick District Council in Northumberland is considering the possibility of offering grants to property owners that are experiencing problems with pigeons. At a recent meeting of the Operations Scrutiny and Overview committee a decision was taken to consider all options to assist property owners and this included a decision to continue to support non-lethal methods of controlling pigeons throughout the district.

This forward-thinking local authority brought PiCAS UK in to advise them on humane, non-lethal but effective methods of controlling pigeon flock size in 2003. PiCAS UK surveyed the towns of Alnwick, Amble and Warkworth with officers from the Environmental Health Department and attended a meeting of property owners in Alnwick to discuss an effective and holistic pigeon control strategy for the town. Alnwick District Council is one of the most enlightened councils in the UK and has made a brave decision to support a wholly non-lethal and holistic regime.

The decision by the Operations Scrutiny and Overview committee to consider a system of grants for property owners is one that is applauded and supported by PiCAS UK. The District Council has understood that by reducing the impact of pigeon-related problems for property owners in Alnwick town centre, public perception of the problem will inevitably be reduced. Although some property owners have experienced entrenched pigeon-related problems in Alnwick, in reality the numbers of pigeons roosting, breeding and feeding in the town centre is relatively small, certainly compared to many similarly sized towns in the UK. If property owners can be persuaded to be proactive by protecting their properties with the added incentive of a grant from the District Council, complaints about pigeons should fall dramatically.

Where a system of grants is considered, however, it is essential that the process of assessing properties and identifying the most effective, cost-effective and aesthetically pleasing deterrent is overseen by a completely independent body that has no vested commercial interest in selling products or installation services. PiCAS UK has already offered to oversee the process on behalf of the District Council. Bird control products are extremely expensive and can also be invasive to install, often having to drill and bolt into the fabric of the building concerned to fix them. Alnwick has numerous listed buildings and therefore it is imperative that the process is overseen by an expert body to ensure that the deterrents which attract a grant do not aesthetically compromise the architecture of the town, nor do they compromise the status of listed buildings. As public money is to be used it is also essential to ensure that products and services are not miss-sold to property owners and to identify a standard whereby the correct product is chosen to resolve the problem being experienced.

If more local authorities in the UK followed the example of Alnwick District Council pigeon-related problems in UK towns and cities, and indeed the perception of those problems, would reduce dramatically. Alnwick District Council is one of only a handful of UK councils to adopt a humane but effective stance where this issue is concerned and we wish them every success in their endeavours.

1st March 2008

Venice City Council to Cull and Starve Pigeons
For generations people have associated St Mark's Square in Venice with pigeons. Tourists and residents alike have enjoyed the simple pleasure of feeding and interacting with pigeons. Not for much longer. Mayor Massimo Cacciari is set to outlaw all feeding of pigeons in St Mark's Square, and even the tradition of throwing rice after wedding ceremonies at the nearby Palazzo Cavalli, as of May 1st 2008.

Reports suggest that Mayor Cacciari, not satisfied with starving thousands of semi-domesticated pigeons to death, has ordered cage-trapping and killing operations in a further attempt to reduce numbers. Pigeons that are caught in commercially laid traps will normally have their necks broken or be gassed. It seems that Mayor Cacciari is following in the footsteps of Ken Livingstone, Mayor of London, who starved several thousand tame pigeons to death in Trafalgar Square, London during the winter of 2000/2001. In PiCAS's opinion, Mayor Livingstone deliberately outlawed pigeon feeding in Trafalgar Square at the start of winter to ensure that the maximum numbers of pigeons died of hypothermia induced by starvation. When pigeons were not found to die in sufficiently high numbers, or quickly enough, Mayor Livingstone ordered falconers to patrol the Square and use hawks to attack any pigeon that tried to feed - pigeons were seen being ripped apart whilst still alive and, incredibly, this was done in front of horrified onlookers including children, tourists and Londoners alike. These appalling acts of cruelty and barbarism on the part of Mayor Livingstone has earned him the reputation of being one of the most notorious, cold-blooded and hated animal killers in modern times, certainly by animal groups. We can only hope that Mayor Cacciari does not stoop to similar levels.

The use of conventional lethal controls to reduce the size of feral pigeon flocks is completely ineffective. However, when it is used to reduce the size of a tame and semi-domesticated flock that is wholly dependent on a deliberately provided food source it is likely to be completely effective. Particularly if the methods of killing include starvation and conventional lethal controls such as cage-trapping and shooting. This is because these semi-domesticated birds have been fed exclusively in one localised area for decades and as a result, when the food source is removed, they lack the instinct common in feral pigeons to forage for food elsewhere. Having said this, in the areas around St Mark's Square, as in the areas around Trafalgar Square, competition for food is extreme and therefore in order to survive these semi-domesticated birds would have to compete with and displace hardened wild birds. The likelihood of this happening would be virtually zero. Mayor Cacciari knows, as did Mayor Livingstone, that these tame birds will simply sit and starve to death because they lack the instinct and the ability to compete with their completely wild counterparts.

Prior to executing his plan to starve Trafalgar Square's pigeon flock, Mayor Livingstone was offered completely free and expert advice by PiCAS UK to explore humane but effective methods of reducing pigeon flock size in the Square, but Livingstone chose to ignore this offer. He did respond to PiCAS's letter however - over 2 years later, once the Trafalgar Square flock had been decimated. We hope that Mayor Cacciari will be more open to the idea of exploring alternative methods of reducing pigeon flock size in St Mark's Square.

Mayor Cacciari can be contacted at the following address and also by email:

Email: sindaco@comune.venezia.it
Postal Address: Comune di Venezia
Ca Farsetti
San Marco 4136
Venezia
Italy

4th January 2008

Wellington City Council set to in Midland Park
Wellington City Council in New Zealand has recently announced that it intends to cull an undisclosed number of pigeons in Wellington's Midland Park in an effort to control numbers.  Incredibly, the Council has even suggested that it will poison the pigeons.  Other control options suggested by the Council include shooting.

Although the extensive use of poisons such as Avitrol in countries like the USA comes as no surprise, for a New Zealand City Council to even consider the use of dangerous and indiscriminate poison in an effort to reduce pigeon numbers in a public park is almost unbelievable.  All poisons are indiscriminate and not only kill the target species but all types of wildlife in the area, with protected birds such as hawks, falcons and songbirds, as well as many animal species, falling victim to the poison. All will die a long and agonising death.

What makes Wellington City Council's announcement even more incredible is that  the use of lethal controls will not reduce the size of Midland Park's pigeon population but will actually increase pigeon flock size in the park by anywhere between 15% and 30%, and these are conservative estimates. Pigeon flock size and the incidence of breeding is dictated absolutely by the extent of available food and therefore by removing members of the flock through culling will simply increase food supply to the surviving members of the flock and increase the incidence of breeding. A mini population explosion will occur and flock size will exceed pre-cull figures within a matter of weeks. Wellington City Council must first deal with the source of the problem, almost certainly deliberate public feeding, before it can even start to arrest control of the problem itself.

PiCAS International urges Wellington City Council to contact the organisation for completely free and impartial advice where the reduction of pigeon flock size in Midland Park is concerned.  PiCAS International will provide the council with a tailor-made and sustainable control programme that will be humane, effective and indeed cost-effective, unlike the use of lethal controls. The use of lethal controls such as poison and shooting will achieve nothing other than  cause conflict with animal groups and absorb a great deal of public money without resolving the source of the problem or indeed the problem itself.

30th December 2007

The Debate over Continues to Rage
The debate over the use of Avitrol, a poison commonly used to control bird populations, continues to rage in the USA with an attempt by one wildlife rehabilitator in the city of Gardner, Massachusetts, to have the poison banned. Sigrid Warren has called upon Gardner's new Mayor Elect, Mark Hawke, to outlaw the poison in attempt to reduce the suffering caused to both pigeons (the species most commonly targeted by pest control companies that recommend Avitrol and other wildlife that die agonising deaths due to direct or secondary poisoning. PiCAS International fully supports Sigrid Warren's attempts to have this dangerous and indiscriminate poison banned in Gardner. PiCAS International has offered to work alongside Gardner City Council, and with any property owner experiencing an entrenched pigeon-related problem, to provide a humane, sustainable and cost-effective alternative to the use of poison or any other form of lethal control. The story can be read in full on the website of the Worcester Telegram and Gazette:

http://www.telegram.com/article/20071230/NEWS/712300405

The plight of Gardner's wildlife is not uncommon in the USA and other countries that allow the unregulated use of indiscriminate poisons such as Avitrol is commonly referred to as a "flock disperser' by those that recommend its use, it is, in reality, a dangerous poison that causes extreme convulsions in any bird that ingests it, eventually resulting in a long and agonising death. According to the manufacturer however, when the flock witnesses some of its members convulsing in agony, as a result of ingesting the poison, they are deterred. This is nonsense. Pigeons feed en-masse and therefore the entire feeding flock will ingest the poison simultaneously. All of the birds that ingest the poison will be affected, almost certainly with lethal consequences, assuming of course enough bait is distributed and the target birds feed long enough. Secondary poisoning is also common when, for example, a bird of prey takes a poisoned pigeon and dies as a result. The case of Melbourne's two beloved pairs of Peregrine falcons is a good example - there was a public outcry when both pairs of Peregrines, and their young, died as a result of taking pigeons that had been poisoned by a pest control contractor.

Avitrol, like most poisons used to control wild birds, is entirely indiscriminate. The poison is usually offered in the form of treated grain that can be taken by any seed-eating bird in the area in which the bait is distributed - as a result many protected species die having ingested Avitrol when it was intended for the control of feral pigeons only. Even the Environmental Protection Agency (EPA), the body that regulates and licences the use of poisons used to control animal and bird populations in the USA, noted, in a September report that Avitrol represents "an acute risk" to non-target species, including hawks and other protected species of raptor. Most European countries have banned the use of dangerous and indiscriminate poisons to control wild bird populations but to date only the city of New York currently operates an outright ban on the use of Avitrol in the USA. Elsewhere in the USA Avitrol is used extensively in attempts to control bird populations.

Not only does Avitrol cause 'unnecessary suffering' but it is also completely ineffective, and in fact counter-productive, where the control of feral pigeons is concerned. The use of Avitrol, as with any lethal method of pigeon control, results in a 10%-20% increase in pigeon flock size due to rejuvenation within the flock. The size of any flock of pigeons is dictated, absolutely, by the extent of available food. If the food supply increases, as it does when pigeons are physically removed from a feeding flock, the instinctive response from the surviving members of the flock is to breed until such a time as flock size is, once again, fully exploiting the food supply. Pigeons will always overcompensate when breeding to replace lost members of the flock however, and this factor, combined with an influx of pigeons from other feeding flocks that move in to exploit the new increased food supply, results in the 15%-30% increase. Every time lethal controls are used in an effort to reduce pigeon flock size the result is the same - a mini population explosion rather than a reduction in flock size. The only beneficiaries of lethal pigeon control operations are the pest control companies that sell the services. Property owners would be better to do nothing than to buy in lethal bird control services - at least population size would remain stable.

24th December 2007

PiCAS International Seeks Feedback from Test Sites
The debate over the use of the controversial pigeon contraceptive, OvoControl P, is heating up in the USA with many experts and pro-pigeon groups joining the long list of those opposing the use of this dangerous drug. Although groups such as People for the Ethical Treatment of Animals (PeTA) and the Humane Society of the United States (HSUS) are actively supporting and promoting the use of OvoControl P, the widespread use of this contraceptive could have disastrous consequences for feral pigeon populations in the form of reduced resistance to Coccidiosis, arguably the most devastating of all the pigeon diseases*.

The issue of pigeon control has recently hit the headlines in the USA with one New York City Council member proposing a total feeding ban in New York City, with $1000 fines for anyone found to be feeding pigeons. This has, inevitably, fuelled debate over the various control options that could be employed by the city council to reduce pigeon flock size in the city. Although PiCAS International does not condone the uncontrolled feeding of urban pigeon flocks, particularly where excessive feeding is concerned, a total feeding ban is unworkable. Before any action is taken to provide an area-wide pigeon control system in New York City, an independent in-depth study must be undertaken followed by a structured, humane and effective control programme.

One of the control options that have been proposed for New York City is the use of OvoControl P and, apparently, trials have already taken place within the city to assess the effectiveness of the new contraceptive. Other cities in the USA are also undertaking trials of the drug. Although PiCAS International is deeply opposed to the use of this drug to control pigeon populations, due to the inevitable increase in Coccidia amongst flocks that are being targeted, there is a need for an independent, expert and non-commercial body to collate information resulting from these trials. PiCAS International is therefore appealing to any organisation that has undertaken trials with OvoControl P, or is actively trialling the drug, to contact us and share information, particularly information relating to welfare assessments of target flocks.

*Wim Peters, Veterinary Surgeon and renowned expert in pigeon health

22nd October 2007

PiCAS UK Condemns Dovecote Scheme in Leamington Spa
PiCAS UK has today condemned the actions of the group calling itself Regenesis, based in Leamington Spa, after it was revealed that Regenesis staff trapped and caught an undisclosed number of pigeons and caged them in a dovecote facility they provided as part of a pigeon control programme. This barbaric action will have caused extreme and unnecessary suffering. Pigeons mate for life and breed all year round and therefore some, if not all of the pigeons caught will have been split from their life-long partners and will have certainly have had dependant young in nests. These young birds will have starved to death.

It is the view of PiCAS UK that the RSPCA should be considering a prosecution against Regenesis on the grounds of causing unnecessary suffering.

Not only this but the scheme implemented by Regenesis was, according to Regenesis, based on the PiCAS model of pigeon control. This is not the case. Although PiCAS UK had advised Regenesis some years ago, the organisation totally ignored the advice provided to them by PiCAS UK and, as a result, PiCAS UK formally disassociated itself from Regenesis and any pigeon controls provided by the organisation. The dovecote has been a complete failure due to the fact that Regenesis refused to be guided and take advice from PiCAS UK, not because there is anything inherently wrong with the programme itself.

PiCAS UK, once again, wishes to disassociate itself from this poorly thought through and badly executed control programme. Had Regenesis taken heed of the advice provided by PiCAS UK in the same way that Surrey Heath Borough Council (in Camberley) has done, Leamington Spa would now have a highly effective and humane pigeon control programme that would have reduced and stabilised pigeon numbers in the town without causing unnecessary suffering or wasting public money.

6th August 2007

Pigeon Pill Trialled in Hollywood
This week sees the start of a trial for a new oral contraceptive drug called OvoControl P, specifically designed for use with pigeons.  This new pharmaceutical, produced by an American company called Innolytics, is being trialed in Hollywood, USA by the Argyle Civic Association.  The trial is being supported by two leading US animal welfare organisations, People for the Ethical treatment of Animals (PETA) and the Humane Society of the United States (HSUS).  Although residents in Hollywood had apparently shown interest in PiCAS International's tried and tested system of breeding control (involving the use of artificial breeding facilities combined with egg removal/replacement), they were persuaded to use OvoControl P rather than the egg removal/replacement programme by PeTA representatives.

There are many reasons why PiCAS International is not backing this new oral contraceptive drug, but the main reason for this stance is that PiCAS International does not feel that it is appropriate to feed pharmaceuticals to wild birds when there is a perfectly acceptable and risk-free alternative in the form of PiCAS International's own breeding control programme.

The main disadvantage of this new oral contraceptive is the raft of operational restrictions imposed on the use of OvoControl P by the manufacturer:

• The drug cannot be used in the rain
• The drug cannot be used within 20 feet of any body of water
• The drug must be distributed 365 days a year including weekends and public
holidays
• The drug must be distributed early in the morning
• The human distributor must be able to recognise the difference between the target
species and non-target species and remain on-site for up to an hour following
distribution (in all weathers) to ensure non-target species do not take the drug
• The human applicator must be available to remove the drug if rain starts to fall to
ensure that no contamination takes place
• The human applicator must thoroughly assess pigeon activity on the site prior to
distribution of the drug and undertake a pigeon head count each day
• The human applicator must ensure that children and pets do not come into contact
with the drug
• The human applicator must increase/reduce the amount of drug distributed each
day to ensure optimum coverage for the flock
• The human applicator must ensure that no protected species of birds are attracted
to the site (and attempt to exploit the drug) as it is an offence to feed treated bait
to protected, threatened or endangered birds in the USA
• Daily observations for non-target birds must be undertaken throughout the 5-14
day acclimatisation period and once a week thereafter
• The drug can only be distributed on rooftop areas or paved areas where public
access is restricted
• The human applicator must wear protective clothing including goggles, long
trousers and a long sleeved shirt and all protective clothing must be washed
before re-use
• The human applicator must wash thoroughly before eating, drinking or smoking

This extensive list of operating restrictions imposed on the use of the drug will undoubtedly render it prohibitive in terms of cost alone, irrespective of whether or not the drug proves to be effective.  No property owner with an on-going pigeon-related problem will even consider using the drug based on the fact that a contraceptive will not provide relief from day to day pigeon-related problems.  The only means of reducing the impact of pigeon-related problems on a building is to provide an artificial breeding facility (which will encourage pigeons away from their existing roosts) and operate and egg removal/egg replacement programme combined with the installation of deterrents, where required.  This method of control will attract a one-off cost of £200-£300 and will require one visit a week, at any time of the day, to remove newly laid eggs and replace with dummy eggs. This operation will take approximately 5-10 minutes.  Cleaning would be carried out once every 3-6 months and would take approximately half an hour.  The costs associated with operating a PiCAS programme pale into insignificance when compared to the cost of using OvoControl P.

In order to provide the contraceptive as recommended by the manufacturer, an employee would have to be identified that has the ability to recognise both target species and non-target species and who would be available to be on-site every day, 365 days a year early in the morning for up to 2 hours.  Attending a site in the early hours of the morning would undoubtedly attract overtime payments.  Clearly the drug is not attractive to individual property owners so who is the drug aimed at?  The answer must be local government bodies and yet the average pigeon control budget for a UK Council is less than £1,000 a year.  PiCAS International's local government clients often react extremely negatively when asked to spend 5-10 minutes, once a week, servicing an artificial breeding facility.  To expect those same councils to pay overtime payments to an employee for up to 2 hours a day, 365 days a year is just pushing the envelope a little too far.  These payments would be over and above the cost of the drug itself.

Finally, and probably most worrying of all is the issue health and safety for the target species.  The active ingredient used in the contraceptive (nicarbazin) is commonly used to control Enteritis (notably Coccidiosis) in intensively farmed poultry. Coccidiosis is a common avian disease which most fit and healthy feral birds never contract, but when a bird is affected the outcome is normally death. Because of the way that OvoControl P has to be distributed (365 days a year), and because much larger quantities of nicarbazin need to be used in OvoControl P than is used in the treatment of enteritis in commercially farmed birds, pigeons will inevitably loose any natural resistance to fatal diseases such as Coccidiosis. In the long term this will result in pigeons becoming highly susceptible to contracting Coccidiosis and feral pigeon flocks will be decimated as a result. Urban pigeons will die in their thousands. Because pigeons live in such close proximity to man this represents a very real threat to public health and safety, to say nothing of the welfare implications. Although pigeons do not pass diseases onto humans under normal circumstances, when thousands of birds die of a disease than can affect people as well as pigeons the threat is considerable and cannot be underestimated.

Clearly the manufacturer of OvoControl P has understood that health and safety issues must be addressed for the human applicator, but what protection is afforded the pigeon?  OvoControl P will cause "moderate eye irritation" to the human eye, but no mention is made of the effect on the avian eye.  Any substance that causes moderate eye irritation in the human eye must have the same effect on the avian eye.  Until issues such as this are resolved and until guarantees are provided by the manufacturer that the drug is safe for pigeons as well as people, support for the drug will inevitably be limited.  The predecessor of OvoControl P, a drug called Ornitrol, was removed from the market in the early 1990's as a result of the fact that the drug was found to cause muscle tremors in pigeons when used for long periods.  Based on the experiences of Ornitrol it is quite clear that any drug recommended for long-term use with pigeons must be tested rigorously for extended periods.  The lack of information relating to humane trials of the drug on the Innolytics website suggests that the drug has not been trialled in the long-term.

23rd June 2007

Norwich Cathedral Slaughters Pigeon in front of Visitors
Norwich Cathedral has been in the news recently after a pigeon that had become trapped in the Cathedral's restaurant was shot by a pest control contractor brought in by the Cathedral's management.  A decision was quickly taken to call in a pest control contractor to slaughter the trapped bird rather than try to remove the bird alive and in a humane and compassionate manner.  Incredibly, the pest control contractor entered the restaurant and simply shot the bird in front of horrified diners.  One witness said that the pigeon was shot but only wounded and fell to the ground flapping around in agony before the pest controller caught the bird and despatched it.  There was blood and feathers everywhere.

Ely Cathedral was also found to be killing pigeons and many other species of birds on the cathedral roof in the late 1990's, but when questioned about the type of controls that were being employed the Bursar of Ely Cathedral vehemently denied that any type of  bird control was being undertaken.  After weeks of denying that they were slaughtering pigeons the Cathedral was forced to admit that it had been lying and had indeed been cage-trapping and killing pigeons for years.

Although this almost unbelievable action on the part of Norwich Cathedral (and Ely Cathedral) may be considered to be a 'one-off', the reality is that most religious groups demonstrate a preference for lethal bird control rather than the humane and non-violent options.  PiCAS UK receives a considerable number of enquiries every year from religious groups about pigeon control, in particular the Church of England and the Roman Catholic Church, but in almost every case the humane options are ignored and lethal controls such as shooting and cage-trapping (and killing) are used instead.

26th May 2007

Racing Pigeon Fanciers Face Prison for Cruelty
Eleven pigeon fanciers from the USA face prison sentences after being charged with shooting, beating and suffocating dozens of protected hawks and falcons in an effort to protect their birds during racing events.  One of the accused even admitted spraying the falcons that he had caught in traps with bleach and ammonia.  The combination of these chemicals causes chlorine gas to be created so the falcons would have eventually died of suffocation after having experienced extreme pain for some considerable time before death.

The charged men also admitted clubbing falcons to death in cages and shooting the birds with pellet guns.  Some of the men also admitted shooting hawks and falcons with shotguns.  One defendant even admitted to keeping a bucket full of talons cut from the hawks and falcons that he had trapped and slaughtered.

Following a nationwide undercover operation to investigate Californian racing pigeon clubs it was estimated that pigeon enthusiasts illegally kill between 1,000 and 2,000 hawks and falcons each year, and that is just in the Los Angeles area alone.  The eleven charged men face a maximum of 6 months in prison if found guilty.

Some years ago several extreme pigeon racing enthusiasts in the UK even suggested that they would attach explosive devices to some of their racing pigeons so that when they were caught by a hawk or falcon both birds would explode.  Although most pigeon racers and fanciers are adamant that they are passionate about the pigeons they breed and race it is quite clear that in some cases at least this is very definitely not the case.

20th May 2007

Pigeons Freed from Nylon Bird Netting
Yet another instance of pigeons becoming trapped behind nylon bird netting, this time installed as a bird exclusion device by pest control contractors in the town of Visalia in California, USA.  Firefighters and animal control officers were called out to free trapped pigeons after a concerned member of the public called Valley Oak Society for the Prevention of Cruelty to Animals to report the incident.

Firefighters managed to free at least one trapped pigeons but it was clear that other pigeons had died having become entangled in or trapped behind the bird netting.  The bird netting was installed under the eaves of the post office to prevent pigeons from nesting and roosting. It is clear that the use of netting, in this application, was entirely inappropriate and had the property owner installed anti-roosting spikes or wire mesh, instead of the nylon bird netting, the issue would have been resolved at considerably less cost to the post office and without harming or killing any pigeons.

Incidents such as these are becoming more and more common in towns and cities worldwide as those experiencing pigeon-related problems are sold inappropriate and expensive products and services by the pest control industry.  It is also the case that a majority of pest control contractors have a little or no understanding of the problems that they are paid to resolve and this incident in Visalia is just another example of this.  In a vast majority of cases nylon bird netting is the most expensive and least effective pest control product available and yet nylon netting is the most widely sold bird exclusion product on the market. This is because installing nylon bird netting is a revenue-rich service and when combined with culling, another revenue-rich and completely ineffective control, the contractor maximises profit at the expense of the client.

PiCAS International will never recommend nylon bird netting as an exclusion device based on the high cost of the product, the fact that the product degrades extremely rapidly (particularly if it is inexpertly installed) and because nylon bird netting requires regular maintenance which adds to the overall cost of the product. The only instance where nylon bird netting may be considered as an option is when heavy-duty net is used (anti-litter net) and where its use has been recommended by an independent source such as PiCAS UK. Advice on the choice of deterrents should never be taken from a pest control contractor that has a vested interest in selling the product.

For further information of bird deterrents and bird exclusion devices please visit the Deterrents page.

9th May 2007

Regeneration Group to Launch Dovecote Facility
A regeneration group called Regenesis, based in the town of Leamington Spa, opened a dovecote facility recently as part of a town-wide pigeon control system.  The dovecote has already been dubbed 'controversial' by the local media, only a week after its launch, with one local newspaper already suggesting that pigeons are uninterested in the cote.  The fact this type of control typically takes several months before it is regularly used by pigeons appears to have been ignored by the newspaper concerned.

The dovecote facility was recommended by PiCAS UK some years ago when Regenesis and PiCAS UK were working together to find a solution to the town's perceived pigeon problem.  The dovecote was recommended as only one part of a complex and multi-faceted control programme. It appears that much of the advice originally provided by PiCAS UK has been ignored by Regenesis and the focus of the programme has been centered solely on the dovecote facility. As a result the two organisations are no longer working in partnership and PiCAS UK has distanced itself from both the programme and Regenesis itself.

Regenesis must be applauded, however, for their persistence and determination to provide a wholly humane and non-lethal pigeon control system having fought a running battle with planners and residents in Leamington Spa that were objecting to the scheme.  Planning permission was finally granted for this second choice site and the scheme is hoped to be the success it was originally intended to be prior to the PiCAS preferred site being rejected by planners and residents.  It appears that the main reason that the original site was rejected was lack of communication with residents. Although Regenesis has a positive attitude to dealing with Leamington Spa's pigeon problem, its partners, Warwick District Council, do not.

Apparently, Regenesis has plans in the pipeline to encourage pigeons to use the cote and we hope that these plans will include a designated feeding area where residents and visitors to the town can feed the pigeons and further encourage the birds to take up residence in the dovecote facility. We wish Regenesis every success with this new pigeon control system and hope that the system is given a chance by both residents and the media.

9th May 2007

Pigeon Scarer Deemed a Nuisance
An electronic bird scarer that was installed under a railway bridge in the town of Taunton by Network Rail to control pigeons is now to be re-assessed due to the fact that residents and passers by are becoming disturbed by the constant noise emitted by the device.

The device is apparently having no effect whatsoever on the resident pigeons but is having a considerable effect on residents!  According to a local newspaper, Network Rail has promised to "...change the noise to stop frightening passers by."

In the opinion of PiCAS International none of the many electronic scaring devices on the market have any affect whatsoever on pigeons.  The principle of a sonic device is that audible noise is emitted that is either unpalatable to the target species or that mimics the distress callof the target species.  The former has little chance of being effective due to the fact that noise levels experienced when directly under the rail deck of a railway bridge are so high that the birds roosting there would never be able to hear the noise emitted by the device let alone being scared by it. As pigeons are one of the few birds that have no distress call, the latter has no chance of being effective either.

Although Network Rail must be applauded for investigating non-lethal pigeon control systems, the company is responsible for the deaths of huge numbers of pigeons each year. Network Rail order regular dedicated culling operations of pigeons resident under railway bridges, many of which commonly receive highly negative publicity together with allegations of cruelty, mainly as a result of pigeons becoming trapped behind nylon bird netting erected by 'cowboy' contractors.  Even though trapping pigeons behind netting is an offence the authorities appear to be powerless, or unprepared to act, to stop large companies like Network Rail from breaking the law by causing unnecessary suffering. The RSPCA, even though it is constantly alerted to these acts of cruelty, rarely if ever brings a prosecution in these circumstances.

For further information on electronic deterrents (sonic and ultrasonic) please see the Deterrents page.

12th April 2007

Riot Sparked by Pigeon Killing
A riot was sparked in Mumbai, India, after several boys from the village of Belpada stoned pigeons that were being fed by residents of Vakratund Towers in Kharghar.  Apparently the village boys started stoning the feeding pigeons and killed one bird.  It appears that the village boys wanted to take the dead pigeon back to their village for food.

Two brothers resident in Vakratund Towers, Vilas and Praveen Sharma, tried to reason with the village boys to stop the killing but their pleas were misunderstood and the boys starting beating them up.  The brothers then went to the local police to register a complaint.  The brothers were taken to Belpada village by the police in order to identify the attackers.  The boys that had killed the pigeon were identified but the police insisted on simply giving the boys a warning rather than arresting them.

When the police returned the brothers to Vakratund Towers angry residents argued with the police until a mob of some 350 armed villagers from Balpada village were seen approaching the building.  One scared resident said: "We had just come back to the building with the police when we saw 350-odd armed men from the village approaching us.  We all, including the police, ran inside the building for safety."

For 20 minutes the mob smashed windows in the housing complex and damaged cars parked outside.  Some residents were also beaten up before they could take shelter.  The mob dispersed when two police vans arrived on the scene but two residents had to be admitted to hospital as a result of their injuries.  Subsequent to the riot the police posted officers at Vakratund Towers to ensure that there would not be a fresh wave of violence.

The pigeon is revered in India and many people feed pigeons on a daily basis both for pleasure and in some cases for religious reasons.  Mumbai has been in the news recently when a long-standing bird feeding area was closed by the City Authority in an effort to control and reduce the size of pigeon flocks feeding in the city.  The closure was unpopular with many residents vowing to continue to feed pigeons whether there was a designated feeding area or not.  This is a common response to this type of poorly thought out action on the part of Mumbai City authority.

4th April 2007

Pigeon Rescued from Nylon Bird Netting
Here is yet another story of a pigeon becoming trapped in nylon bird netting, on the same building, in less than a week.  The pigeon was seen hanging from bird netting installed above the HSBC bank in the town of Axminster.  Although this is not the first time birds have become trapped in this netting installation, no legal action appears to have been taken against those responsible for installing the netting or the property owner. Anyone that causes unnecessary suffering to a bird, irrespective of its status as a pest, can and should be prosecuted under the Animal Welfare Act 2006.

Horrified customers in a cafe opposite the HSBC Bank watched as the pigeon writhed in distress and cafe owner Gina King said: "The poor thing was distressed and wouldn't stop flapping."  Members of the public called the RSPCA to report the incident but incredibly the RSPCA did not send an officer out to free the bird until the following day.  The pigeon would have suffered very considerably during that 24 hour period.

Gina King said:" After quite some time he (the RSPCA officer) managed to cut the netting and push the bird free with a pole and it fell straight to the pavement below with a thud.  Amazingly it was frazzled but still alive."

This type of unprofessional response from the RSPCA is not uncommon.  To have left a bird hanging in nylon bird netting in obvious and extreme distress for 24 hours is totally unacceptable and simply confirms the RSPCA's attitude toward the feral pigeon.  For the officer to have then simply used a pole to push the bird free from the netting is almost unbelievably unprofessional and confirms that the officer concerned, as with so many RSPCA inspectors, simply did not have the requisite training, or the necessary compassion, to undergo a rescue operation of this nature.  The officer should have called Fire and Rescue Service immediately to remove the bird using a platform.  It is highly likely that the injuries sustained by the bird when falling to the pavement below would have been far more serious than the injuries the bird might have sustained whilst trapped within the bird netting.

The HSBC Bank should have been prosecuted for cruelty on both occasions as it is an offence to entrap a wild bird or animal, whether it is done deliberately or otherwise, and to cause unnecessary suffering as a result.  This is the second time that pigeons have been trapped in netting on the HSBC Bank premises and therefore a prosecution should have been automatic, if for no other reason than to act as a warning to other property owners.  Unfortunately the RSPCA is one of the only UK-agencies that have the power to undertake a prosecution on the grounds of cruelty and/or causing unnecessary suffering and yet it rarely if ever prosecutes property owners for offences of this nature.  If the RSPCA were more proactive in this respect incidents such as these would reduce dramatically.

Most property owners are generally unaware that it is they that are liable for prosecution should a deterrent installed on their behalf by a pest control company harm or trap a wild bird or animal.  As a result, pest control contractors have no incentive to provide high quality installations because it is the client that will face prosecution should the netting degrade or trap a bird, not the contractor.

Many thousands of pigeons and other birds die having become trapped in nylon bird netting every year and yet legislation exists to protect wild birds and to stop unscrupulous property owners and pest control contractors breaking the law - unfortunately the RSPCA fails to use its extensive powers and very considerable resources to bear on this problem. Anybody seeing a bird trapped in nylon bird netting, or any other device installed to protect a property, should contact PiCAS UK for advice before contacting any other agency.  PiCAS UK will respond immediately and will never leave a bird hanging in netting overnight.

The PiCAS group will never recommend nylon bird netting as a deterrent and neither will it recommend the services of a pest control contractor.  Nylon bird netting is one of the most expensive and one of the least effective pest control products on the market and should never be used to protect a building unless advice has been sought from an independent source such as PiCAS UK. For further information on deterrents please see the Deterrents page.

3rd April 2007

Scientists Claim Success for Homing Research
German scientists believe that they have discovered how pigeons, and many other migratory birds, manage to find their way back to their breeding sites.  It is claimed that tiny iron particles located in the birds' beaks allow them to navigate by using the earth's magnetic field, in the same way as we use a compass.  Through the signals picked up via the particles in their beaks the birds are able to assess where they are in relation to their breeding site and navigate the most direct route 'home'.

There has been much debate on the subject of how racing pigeons find their way 'home', in some cases over huge distances, and this appears to be yet another theory.  One recent theory suggested that pigeons follow roads in order to return 'home' and in the film 'Valiant' it was suggested that pigeons navigate by using the sun and the stars.

This recent research, led by Gerta Fleissner and published in the latest edition of Naturwissenschaften, used x-rays to examine the upper beak of pigeons.  It was found that within the nerve branches of the skin there are tiny iron containing particles arranged in a 3-dimensional pattern. Fleissner concluded that these particles allowed the bird to react to the external magnetic field of the planet and as a result navigate its way 'home'.  Fleissner also claimed that these particles are found in a number of other species of birds including robins and warblers and suggested that this navigation theory may also apply to other species of bird.

26th March 2007

Pigeon Dies Trapped in
A pigeon caused a great deal of public interest in High Wycombe town centre when it became tangled in nylon bird netting installed above a restaurant in the town.  The bird netting had been inexpertly installed by a pest control contractor in an attempt to stop pigeons perching on a window box above the restaurant.  Fire-fighters were called to the building to remove the distressed bird which had obviously been trapped in the netting for several days, unable to move.  The pigeon was taken to a local wildlife hospital to be treated but died some days later.  The manager of the hospital said: "Normally pigeons are pretty robust, they don't succumb.  He'd had terrific trauma where he was.  He was very thin and very distressed."

This is a classic example of why nylon bird netting should never be used as a deterrent.  The PiCAS Group receives hundreds of calls each year from members of the public and property owners alike who have found dead or dying birds trapped in degraded or poorly installed bird netting. Tens of thousands of birds, many of which are protected, starve to death each year in the UK having become trapped in poorly installed nylon bird netting.

What most property owners do not realise is that if they instruct a pest control contractor to install nylon bird netting on their property, and if a bird becomes trapped in the netting installation, it is they that are legally liable, not the pest control company.  The penalties for acting outside the terms and conditions of the General Licences, or in contravention of the Animal Welfare Act 2006, are serious and may result in prosecution for the property owner. More information on bird control and the law can be found on The Law page.

A vast majority of nylon bird netting installations provided by pest control industry are not only poorly installed but they rarely the most effective or cost-effective option for the client.  Pest control contractors will always recommended nylon bird netting wherever possible because this product, together with culling operations, are the most profitable services that any pest control company can sell to its client base. For more information on nylon bird netting and other more effective and cost-effective deterrents, please see the Deterrents page.

15th March 2007

Pigeon Feeding Causes Neighbour Dispute
Two neighbours in Kansas City, USA are locked in a dispute over pigeon feeding.  Jane Schmidt regularly feeds seeds to pigeons in her garden but her neighbours, Donald and Paula Staton, are sick of clearing up after their neighbours feathered visitors.  The Statons say they have no objection to the birds as long as they do not perch on their property.  Paula Staton said: "They've pooped on my house, they've pooped on my car, they've pooped on my dog." In spring and summer, she said, "there are so many pigeons they make a dark cloud over our house."

Jane Schmidt reacted by saying: "You will see they don't bother her at all," Schmidt said. "They come and they eat and they leave." Schmidt has a soft spot for birds, especially during cold spells.  "Anywhere I go, if I see hungry birds I feed them," Schmidt said. "If you abuse animals and don't take care of them when the weather's (cold), that's bad."  Schmidt went on to say: "I don't have any problems with other neighbors, she is the only one who is complaining."

The Statons tried, without success, to get neighbours to sign a petition aimed at getting Schmidt to stop feeding pigeons because their area is not represented by a neighbourhood association that could take up their cause.  Believing that pigeons are a nuisance, their excrement is a health hazard and that bird seed could attract rats, the Statons turned to city council for help.  The city council encouraged Schmidt to reduce the amount of food she gave to pigeons but they were unable to stop her, or anyone else, from feeding pigeons according to Bert Malone, interim deputy director of the Kansas City Health Department.

"There is no specific ordinance dealing with feeding of birds," Malone said "while pigeons are a problem in some parts of town, no one but the Statons has complained about Schmidt."  Excess food could attract rats Malone said but the city found no evidence of rats in the Schmidt case. While the Statons said the pigeon excrement can be unhealthy Malone said it would not cause diseases, although excessive excrement concentrated in one location can cause respiratory fungal disease.

Another step to resolve neighborhood disputes would be to seek mediation by the Kansas City Human Relations Department. The Statons suggested that, but Schmidt didn't think it would do any good. Mediation is used quite often to resolve problems between neighbours or between landlords and tenants, said Brenda Harris, manager of community relations and dispute resolution services for the Human Relations Department. Mediators handle more than 700 cases a year, at no charge, she said.  "Both parties must say that they want to resolve the problem," Harris said. "If they can agree on that, negotiations come afterwards. Nine out of ten times they reach an agreement."

This type of neighbour dispute is common worldwide with one neighbour feeding large quantities of food to pigeons and other birds in their garden on a daily basis and their neighbours having to put up with large numbers of birds perching on their roof.  There is no easy solution to this type of problem and the PiCAS UK regularly receives calls from Councils and other similar bodies asking PiCAS UK to become involved in mediation.  PiCAS UK is the only expert body in the UK that offers mediation services to councils and individuals that are experiencing problems with birds that have been attracted by deliberate and persistent feeding.

Unfortunately these issues are rarely resolved to the satisfaction of either neighbour with Council mediators often lacking the skills and the relevant subject knowledge in order to find a resolution or compromise.  It is also the case that many people who actively attract pigeons to their garden for the purposes of feeding are often deeply reluctant to either stop feeding or to reduce the volume of their daily feeds.  The most common reason given for this stance is that they believe the birds they feed will die of starvation if they are not fed every day.  This is of course not true.  Most birds, and pigeons in particular, will have multiple feeding sites and food sources which they visit each day and therefore, if one source of food dries up, they simply spend more time on other feeding sites.

Deliberate and persistent feeding of pigeons in urban residential areas is a selfish act on the part of the feeder for two reasons; firstly because they ignore the protests of others (as with Paula Schmidt) and refuse to recognise that the birds they attract may cause problems for their neighbours and secondly because the most common response by property owners to large numbers of pigeons congregating in a specific area is to call in a pest control contractor to kill the birds.  Although most persistent bird feeders claim to be passionate about the birds they feed, the reality is that they do it because it is a pleasurable experience. Many persistent feeders will continue to feed even when told that the birds they feed will be killed if they do not stop.  In most cases persistent bird feeders put their personal pleasure before the welfare of the birds that they feed.

14th March 2007

Bombay City Council Removes Pigeon Feeding Area
A 50 year old bird feeding area situated in the city centre of one of India's largest cities, Bombay was removed on March 10th by the city's Civic body, the BMC.  This historic and well-used bird feeding area has sustained a majority of Bombay's wild bird population, including large flocks of pigeons, for the last 50 years.  The birds have been fed daily by residents and visitors to the city alike.  The BMC confirmed that it has taken this deeply unpopular decision on the basis that the removal of the feeding area would somehow 'clean up' the city centre area of Bombay.

Guy Merchant, Director of PiCAS International said: "It is quite clear that the BMC are simply jumping on the bandwagon put in motion by Ken Livingstone, Mayor of London, following his removal of Trafalgar Square's bird feed seller in 2000.  Livingstone's actions resulted in many thousands of pigeons starving to death in the winter of 2000/2001 due to the fact that he deliberately refused to allow a 'cooling off period' in order for the birds to adapt to the removal of a food source that had sustained the flock for over 50 years. Clearly Livingstone's goal was to starve as many pigeons to death as possible".

Public reaction in Bombay has been highly critical of the BMC.  One regular visitor, Franklin Edward, expressed his strong resentment against removal of the bowl. He said, "Pigeons are the part of nature. We are the offenders in fact. We have to be punished for disturbing their life. We have been occupying the places, which belongs to them. We did not even bothered whenever we had cut huge trees in which resided. We were quite selfish, as we need more and more land to live and build the commercial areas. Now, when these pigeons are trying to adjust and feed themselves, it would be very rude to snatch their eating-place. The authority should give their bowl back."

Another senior citizen, Ganpath More, said, "Pigeons never annoy anybody. They are at their own little place in a group. They don't make the place dirty in fact they help the civic bodies to keep the premises clean by devouring on discarded food items, left behind by visitors. The civic body should try to stop other dirty activities that are happening all over the city. People eat pan and gutkha and spit exactly at the place where it is written spitting is prohibited. Why don't the authorities go and trouble them and stop targeting these innocent pigeons?"

Another visitor, Vitesh Patel suggested an idea to serve the pigeons as well as to keep the place clean. He said, "The authority should build a railing around the same small place and restrict pigeon feeding only in that area. This will help to keep the area clean as well as to carry on feeding the pigeons."

This intelligent and practical suggestion is exactly what PiCAS UK proposed to Mayor Livingstone in 2000, in an effort to maintain one of London's oldest and best-loved tourist attractions (pigeons) and at the same time reduce perceived problems caused by the flock.  Livingstone's reaction to this suggestion was to reject it out of hand and bring in falconers masquerading as pest controllers to fly hawks in Trafalgar Square.  Livingstone suggested that the hawks were there simply to deter pigeons but the reality was that the falconers 'threw' their birds at juvenile, sick or injured pigeons and watched the pigeons being ripped apart, whilst still alive, in front of children and visitors to Trafalgar Square.  All this at huge cost to the taxpayer.  Even this drastic action had no effect on the Trafalgar Square flock as it had already been decimated by starvation in 2000/2001.  For further information on the use of a hawk as a method of control please visit the Lethal Controls page.

It is with sadness that we report the loss of this well-used and popular feeding area in Bombay because it reflects global attitudes towards the pigeon and many other species of wild birds based on propaganda pumped out by the pest control industry.  What the BMC has failed to understand is that this drastic action will have no effect on cleanliness in the city centre, nor will it reduce or resolve pigeon-related problems for property owners.

If the BMC wishes to control wild bird populations in Bombay city centre it needs to provide a control programme based on the PiCAS model and think through the implications of its actions.  This type of knee-jerk reaction to complaints about wild birds will simply alienate those that feed and sustain them - a lesson that Livingstone has already learned.  Without the support and cooperation of those that sustain bird populations by persistent feeding, any type of control designed to reduce food sources will be completely ineffective.

10th March 2007

Columbiana City Council Considers Pigeon Relocation Operation
Columbiana City Commissioners together with a local businesswoman (Ms Halverstadt) in Lisbon, Ohio (USA) are currently considering plans to relocate pigeons that are roosting on the County Courthouse and adjacent buildings.  The plan apparently involves cage trapping adult pigeons that are perching on the Courthouse as well as moving nests, complete with young birds, from Ms Halverstadt's building to a new site a few blocks south.

Ms Halverstadt has been provided with information from the US-based group People for the Ethical Treatment of Animals (PETA) in order to come up with this plan.  Ms Halverstadt has confirmed that she does not want to harm the birds and said: "They (pigeons) will go where their nests are."  Ms Halverstadt also suggested that once the birds have been moved, the next generation accepts the nests as their own and once the flock increases to 300 in number it will not increase further in size.  Once the birds have been successfully relocated from the Courthouse, and the building adjacent owned by Ms Halverstadt, the Courthouse will be professionally cleaned and then protected with anti-roosting spikes.

Although PiCAS applauds Ms Halverstadt's humane approach, and indeed the City Commissioners instruction to have the birds released following the trapping operation rather than having them killed, the operation cannot be to be successful and it will almost certainly involve the deaths of all of the baby pigeons that are moved. Pigeons are not particularly attentive parents and will desert both their nests and their young if they are interfered with or moved.  Even if the nests, in this case, had simply been moved from one area of the building to another the parents would not have continued to rear their young.  In this proposed re-location operation the nests and contents are being moved several blocks and so in reality there is no chance whatsoever that the adults will continue to feed (or find) their young.

It is also the case that when pigeons removed from their roosting and breeding areas, by whatever means, and are then released elsewhere, they will immediately return.  Even if the birds are taken several hundred miles away and then released they will arrive back 'home' before the vehicle that drove them to the release site!  In this case the trapping and nest relocation operation will not resolve the City's pigeon problem although the installation of deterrents on the Courthouse will hopefully resolve roosting issues on that building.

Ms Halverstadt's view that flock size will grow to 300 birds, but not exceed that figure, is incorrect.  Pigeon flock size is dictated absolutely by the extent of available food and if food sources increase the instinctive response within the flock will be to breed until such a time as the flock size has grown to the point where it is fully exploiting the food source.  If food sources reduce, however, then the incidence of breeding within the flock will reduce accordingly.  Pigeons control their own numbers quite efficiently without any interference from man.

We sincerely hope that both Ms Halverstadt and the City Commissioners, manage to resolve their respective pigeon-related problems but unless area-wide controls are introduced to reduce flock size, based on PiCAS methodology, pigeon-related problems will continue unabated.

9th March 2007

Pigeon Feeding Ban Considered
PiCAS International has learned that the city of Mill Valley in California, USA is currently considering whether to implement a ban on the feeding of pigeons in the downtown area of the city.  The ban is being considered after the City Authority received numerous complaints about pigeon excrement on sidewalks in downtown areas.  The City Authority is also considering a $100 fine for anyone found to be feeding pigeons.

Responses from the public appear to be mixed.  One shopper said: "I realise that pigeon droppings are a nuisance, but I think we are living in a society where Big Brother is watching over us way too much".  Another shopper said: "People also make a mess too".

Some businesses said that pigeons and pigeon soiling issues were driving shoppers away and yet businesses said that they felt that a ban on feeding might cause other problems.  One shop owner, Dave McDonald, said: "It's not the way to get rid of the problem.  You get a young person that throws half a muffin down, this could be the hundred dollar fine in the future.  You got an old person sitting on a bench, that's their only joy feeding the birds, there'll be a big fine for that".

Although PiCAS International agrees that reducing food to pigeon populations is by far and away the most effective and humane method of control, certainly if carried out as part of a structured control system, in this case the ban is unlikely to have any effect on those that currently feed pigeons in the downtown area.  This is because people that feed pigeons deliberately and persistently on a daily basis will never agree to stop feeding pigeons altogether.  At best the city will see a change in the way that pigeons are fed, with regular feeders changing their routine to avoid detection by the City Authority, but certainly not a cessation of feeding.  Pigeon feeders will simply go underground; feeding after dark and in the early hours of the morning and this will simply mean that rodents exploit the food rather than pigeons, resulting in an increase in the city's rat population.

There is only one effective means of dealing with an area-wide pigeon problem in an urban environment, particularly where deliberate feeding is considered to be the root cause of the problem, and this is by providing a control system based on the PiCAS model.  It was PiCAS that pioneered the dovecote and pigeon loft system, now used all over Northern Europe to such great effect, and by implementing this system alongside a hard hitting public information and education programme, any city authority can provide a humane but effective pigeon control system.

28th February 2007

to use Hawks in an Attempt to Deter Gulls
PiCAS UK has today learned that Bath and North East Somerset Council has put in place a strategy to control gull populations that are breeding and feeding within Bath city centre.  This control programme will include the use of industry standard controls such as egg oiling and distress calls to both reduce gull numbers and to deter gulls from using existing breeding sites within the city centre.  Both of these controls should be included in any multi-faceted gull control programme and are PiCAS approved.

The programme is also to involve the use of Harris Hawks to disperse gulls and "..make them feel unsettled..", according to Cathryn Humphries, Environmental Health Manager at Bath and North East Somerset Council.  Unfortunately this element of the programme will have zero effect on the resident gull population and when this point was made to Ms Humphries the response was that the authority "…needed to be seen to be doing something".  This is a common response from a vast majority of officers tasked with controlling problem birds.  Although there is an acceptance that this method of control will have no effect on the problem, there is still a willingness to spend large sums of public money in order to be seen to be taking the problem seriously.

Gulls are renowned to 'mob' hawks flying anywhere near their roosting, breeding or feeding sites and therefore this method of control cannot, under any circumstances, be effective as a method of gull control and should play no part in any overall gull control strategy.  It should also be understood that the Harris Hawk is not the natural predator of the gull and gulls will be immediately aware of this, thereby further rendering this method of control ineffective.

Apart from the fact that gulls will not be 'unsettled' by a Harris Hawk, there is another even more serious problem associated with the use of a hawk to control bird populations in urban areas - hawks catching and ripping apart both target and non-target species when being flown as part of a bird control operation.  This happens every day in London's Trafalgar Square, in front of children and visitors to the city, where hawks rip pigeons to bits as part of Ken Livingstone's "humane" pigeon control programme.

Nottingham City Council also made a huge error of judgment when employing a falconer to fly a hawk in an effort to control pigeons in Nottingham city centre at a cost of £5,000.  The hawk was regularly seen ripping birds to pieces, whilst still alive, in the city centre as residents and tourists watched in horror. The council quickly withdrew the falconer admitting that the scheme had been a public relations disaster and had been totally ineffective as a control option.

Bath and North East Somerset Council has suggested that their gull control programme will, amongst other things, be humane.  If the council continues to employ falconers to fly Harris Hawks in the city the word humane cannot, under any circumstances, be used to describe what residents and visitors to the city will witness. PiCAS UK has already received reports of hawks attacking and killing pigeons in Bath city centre, confirming that hawks cannot be trained to focus solely on the target species.

A vast majority of pest control contractors that fly hawks as a commercial service are simply falconers who use their hawks to kill other birds and animals for pleasure and sport.  Falconry is a blood sport and employing falconry services is clearly not an appropriate use of use of public money, yet some Councils like the GLA continue to spend huge sums of public money on this barbaric and ineffective control option.  Falconers are not bird control experts, they are people who are jumping on the bird control bandwagon in the hope that they will make a quick profit before the world wakes up to the fact that the service they offer is worthless.

Bath and North East Somerset Council has taken commercially biased advice from a pest control company that has a vested interest in selling products and services. Incredibly, the Council did not approach the PiCAS UK for independent and expert advice even though PiCAS UK is the only wholly independent source of expert and non-commercially biased advice on bird control in the UK.  It remains to be seen whether Bath and North East Somerset Council has any success with this control programme but there is one certainty – the most expensive element of the programme, falconry, will have no effect on Bath's resident gull population.

PiCAS UK will never recommend the use of a hawk to control bird populations.  This method of control is discussed, in some detail, on the Deterrents page.

3rd January 2007

Praised for Pigeon Control Scheme
PiCAS UK, the leading independent authority on bird control worldwide, today praised Surrey Heath Borough Council for their humane pigeon control initiative.

In 2001 PiCAS UK met with representatives of both Surrey Heath Borough Council (SHBC) and Camberley and District Animal Welfare Group (CDAWG) to advise on the provision of a humane and effective pigeon control programme for Camberley town centre. PiCAS UK recommended a system that has been used to great effect in towns and cities worldwide but which, at the time, had not been trialled by any other local authority in the UK.

This system, pioneered by the PiCAS Group and using pigeon lofts as the main control option, has been proven to reduce pigeon flock size by as much as 95% in 5 years without the use of invasive and ineffective complimentary controls such as culling. Many local authorities in the UK still use culling as a control option even though killing pigeons as a method of control has been scientifically proven to increase pigeon flock size.

SHBC and CDAWG, working in tandem with the Management Team at The Mall Shopping Centre, installed a purpose built pigeon loft on a rooftop close to Camberley Town Square in 2003. It is in this area of the town that the Princess Way pigeon flock has historically roosted and been sustained by deliberate and persistent public feeding. A recent progress report, produced by SHBC, has confirmed that pigeon numbers in and around the area has remained stable for the last 3 years. This is due to the fact that a majority of the flock is now housed in the purpose built pigeon loft. Breeding within the loft is controlled by removing pigeon eggs, as laid, and replacing them with dummy eggs.  The day to day task of collecting eggs, cleaning the loft and removing sick or injured birds to a wildlife rehabilitator in the area is carried out on a voluntary basis by CDAWG.

Emma Haskell of PiCAS UK said: "Surrey Heath Borough Council has adopted a bold and forward thinking approach to dealing with this age old problem and we have nothing but praise for their attitude and tenacity. This is the first time that any local authority has used this system to such great effect in the UK and as a result Surrey Heath are setting an example and leading the way for other local authorities throughout the country. We would also like to extend our thanks and gratitude to Camberley and District Animal Welfare Group as well as The Mall Shopping Centre, without whose help and hard work this programme would not have been implemented".